"We want to try and make sure they don't influence the community"
The impact of COVID-19 has seen a major shift in primary care within Birmingham, West Midlands, especially with general practice.
Hence, this has affected how Drs and health care professionals see and manage patients.
General Practitioners, nurses, managers, team leaders and patients from the British South Asian communities have all been impacted in some way or the other.
The general practice for example is adopting remote consulting techniques where possible.
Having said that Drs and health care professional are seeing patients face to face where required.
We investigate the impact of coronavirus on Newport Medical Practice and St James Medical Centre. This includes the impact on staff and patients.
NEWPORT MEDICAL PRACTICE
Remote Working, Impact and Services
The COVID-19 outbreak, which hit the UK severely in March 2020 saw a change for Newport Medical Practice in Birmingham.
The general practice on 234 Stoney Lane, which falls under the Sparkbrook constituency remains open.
However, lead General Practitioner Dr Bashir Ahmed says they have had to operate "remotely" where possible to lessen the risk of COVID-19:
"One of the risk factors for getting COVID is contact. So, we reduce the number of face-to-face consultations and increase remote consultations.
"So, we can do consultations by text message, by video, by telephone, by email."
Hence, with the aid of technology patients do not have to visit the surgery so frequently.
Amy Innes, the Advanced Practitioner Nurse at the general practice told us that she was already busy pre-COVID.
However, Amy tells us that she was also busy when the pandemic hit the UK, concentrating on certain priorities:
"We started doing telephone triage. We had to start thinking about looking after, keeping our patients safe and keeping our staff safe."
Rifat Bano Bashir, Team Leader, at the general practice who is facilitating telephone triage feels that the surgery is almost like a "call centre."
She also points out that initially, they had to cut staff hours due to low "foot flow", but with the vaccination roll out the general practice is extremely busy.
COVID-19 was also impactful for Practice Nurse, Marium Ahmed:
"It's impacted me because I just came straight into community nursing. March 2020 is when obviously COVID started. "
"And it was kind of different to what I normally had experienced."
Despite the general practice not operating under complete normality, it remains busy with many prevention services still running. Advice and guidance are also available.
Immunisation, bowel screening, smears, cervical screening, cancer referrals, covid clinics, wound management, blood and urine samples are a few of the services that are functioning.
South Asian Risk Factor and Implications
Dr Ahmed states that the outcome may not always be good when South Asians in the UK get COVID-19:
"What we do know is once they get COVID. They have more deaths; they have a more severe illness. They're more likely to end up in ITU.
Dr Ahmed also mentions that there is no definitive indication of the causes. Though he does not dismiss its link with other diseases:
"The incidence of diabetes in Asians is probably double that of the Caucasian population and probably that does have some impact."
Dr Ahmed describes COVID-19 as a "multi-system disease" which-can potentially affect any organ long term.
He points out that some people can fully recover from COVID-19, with 10 % having long-term implications. This he refers to as "Long Covid."
Dr Ahmed also touches on why the mortality rate is higher in the UK in comparison to Pakistan and India:
"I suspect that the demographics in Pakistan and India you have a much more younger population."
Thus, Dr Ahmed is also encouraging everyone to have the vaccination and even calling the most fragile.
Actuality, Mental Illness and Treatments
On the issue of some people not believing the existence of COVID-19, Dr Ahmed says:
"There's some people who believe that no one ever landed on the moon, it was just a Hollywood studio.
"So, you know, they're always going to be people like that.
"We want to try and make sure they don't influence the community at large."
Dr Ahmed acknowledges that COVID-19 has had an impact on mental health, especially as "stress levels are very high."
He emphasises that if any patient had suicidal thoughts and there was 'great risk', admission is a strong protocol.
Amy Innes also talks about mental health and the support they can give:
"In our area, because we are an inner-city, we have a lot of patients suffering from mental illness and anxiety even before COVID started.
"With the lockdown, isolation, unemployment and uncertainty about the future, we've come across even more anxiety."
"We have a counsellor and prescriber. Someone to talk to. Someone to help them to relieve their tension.
"And just by talking to them. We have talking therapy."
Dr Ahmed confirms with the NHS facing disruption due to COVID-19, some investigations are taking longer.
He terms it as a big battle, with patients having to wait for some treatments.
Though he reassures cancer patients do have priority, with the disease having a potential "life-threatening nature."
He is hopeful, with the COVID-19 vaccine having a positive impact, things will get better.
Dr Ahmed confesses it has been a stressful time for him and his patients, but everyone will get through in the end.
Watch this Video Documentary here: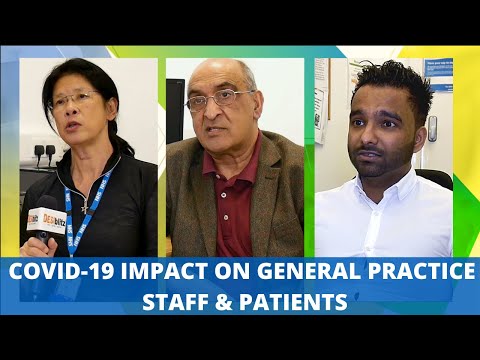 ST. JAMES MEDICAL CENTRE
Working Remotely, Effects and Services
St, James Medical Centre on 85 Crocketts Road, Birmingham, B21 0HR is operating as normal with certain limitations and resources.
However, it has also seen a change in general practice and for the patients due to the coronavirus pandemic.
General Practitioner, Dr Thuva Amuthan from St James Medical Centre shares his thoughts on this stating:
"It's truly changed, the way we as General Practitioners practice.
"And of course, it's changed the way patients take care from general practice in many ways."
He goes on to say that there has been a shift from visiting the surgery in person frequently to a triage service:
"Patients call us first and speak to a GP or another health care professional on the phone.
"We see if we can resolve the issues over the phone. Only if they absolutely need to be seen physically, do we call them in to be seen."
He claims this process is to "protect everyone" so that we can all get back to some normalcy going forward.
Although he does state, that some elderly patients who are not tech-savvy sometimes have to come in.
This is when the issue of concern cannot be taken care of over the phone or via Zoom and Webex calls.
Dr Thuva also reveals that services are operational be it with limits. This includes anyone needing physical examination, cancer screening and diagnosis, along with potentially serious conditions such as asthma.
However, he does accept those investigations like blood samples and x-rays can face delays in comparison to pre-COVID days.
Pav Athwal, Service Manager, Ophthalmology, Cardiology and Neurology also divulges how COVID-19 was initially impacting work:
"We all use to be based at one site. We had a massive team. We've got about 17-20 services.
"So, with COVID, we had to self-isolate quite a lot of our members of staff who've got issues with their health.
"And then we've had a lot of people social distancing as well. So, we've had to move people into different sites.
"With the staff, keeping daily contact with them from different areas of work, it's been hard."
Pav, however, suggests "with things settling down" they are "socialising a little more with the staff.
This is via "Zoom calls, team meetings and phone calls," which she says is "a lot better." She also reflected to March 2020, expressing:
"When the first lockdown hit, it was quite hard.
"Just trying to get into the step by step of how things are going to work on a daily basis with patients, doing the screenings, doing the temperature checks and how things are going to work within the job role."
Pav confirms that all services have resumed, with cardiology, having always been running:
"Cardiology was one of the services that carried ongoing and we were seeing a lot of our elderly patients that suffer with heart problems."
She testifies that services such as ENT, ophthalmology, gynaecology and related screenings are taking place.
Jasbir Chagger, Team Leader, Cardiology and Neurology also felt that the coronavirus had impacted her and the staff:
"So, initially, COVID-19 we were aware of it. Work was slow and we were all afraid. We did not stop working…and carried on.
"Patients were afraid and so were we. How easily is it to catch.? Are we going to take it to our families?
"There were a lot of unanswered question at that time. But as we progressed you know more about it, we've got a lot of things in place. We've got screens put in place.
"We wear the mask. So, a lot of precautions are taken. So I think it's a lot more easier than it has previously.
"Obviously, the element is always there, you are a bit, 'you know'."
She further adds that it is as if her role has changed when supporting patients:
"Before, it was talking to patients, booking the patient, but you become like a social worker. You have to put them to peace of mind.
"Patients obviously ask, what precautions we're taking to keep them safe. And then you tell them everything that we are conforming to the government guidelines.
"We don't have too man patients in the building at any one time. So, patients, are more confident to come in."
"So, they are coming to a small community clinic rather than a hospital. There is not much interaction with other people. So, we, try and do our best for them."
Relating to cardiology, she verifies certain services that they provide. They include performing an echocardiogram (heart scan) as well as blood pressure monitoring.
She also says other services that they provide include neurology, dermatology, x-rays and audiology.
South Asians: High Risk, Inequality and Diet
Dr Thuva recognises that British South Asian patients are at a "higher risk" from COVID-19 due to co-morbidity.
Besides, conditions such as "Diabetes and Vitamin D deficiency," Dr Thuva outlines one major reason:
"We've known for years that health inequality is a big thing in this [England] country, in a modern democracy that we call ourselves. It's a big problem."
"And only has COVID-19 shed light on this in the public domain. Why have we waited this long?"
He pinpoints "access to health care" as another core reason:
"We as GP's are expected to deal with patients in another language with an interpreter with different health beliefs.
"And tackle those problems in the same ten minutes we have with a British patient who we have a rapport with and able to converse easily with.
"Because the resource isn't there. No one has ever paid attention to this problem until today. Because we've seen the death tolls and it is that serious.
"I am not sure how much we are doing. Are we doing enough? I don't think so personally."
Dr Thuva also believes that the South Asian community have been "shocked" by COVID-19.
He stresses that this is new territory for everyone, especially with most people not having witnessed something of this sort.
Whilst everyone has been deprived of living a normal life, Dr Thuva elucidates why it is shocking for the community:
"I think it's particularly a shock for the Asian, black and minority communities because of the fact that information takes a lot of time to filter through to these communities factually."
"There are a lot of rumours that get through to those communities and propagate rapidly for the wrong reasons with detrimental consequences."
He further advises that factual information should be provided to these communities.
With diabetes being so prevalent in South Asian communities, Dr Thuva thinks it is an area, which requires more care.
He alludes to the fact that during the pandemic it can be poorly managed in some cases.
Dr Thuva concedes there are no stringent six-monthly or annual check-ups and "care package" for many, especially during these unprecedented times.
He also mentions that diet, particularly greasy and oily food is a fundamental issue with South Asians.
Dr Thuva who is of Sri Lankan heritage explains there are more COVID cases in the UK in comparison to Sri Lanka, with reasoning:
"We have to consider those countries are less vastly populated. People live quite further away from each other.
"Health is completely different there. They are working active jobs on a day to day basis.
"You can also consider that pollution isn't so bad. There's no circulation of air because of reduced urban areas."
Therefore, it is not surprising that Sri Lanka has hardly been affected by the coronavirus.
Mental Health, Vaccine and Long-Term Effects
Dr Thuva believes that COVID-19 has seen a "rise in mental health" with "people deprived of their right to go outside."
He advises anyone suffering to talk with family or friends if they feel more comfortable with that.
He goes on to say that people can reach out to charities such as Mind and Samaritans. They are good to have a chat with, especially as they understand mental health concerns.
St. James Medical Practice addresses "physical health needs."
Though, Dr Thuva also reassures that he and his colleagues are here to assess any "mental health needs" with referrals if required.
Dr Thuva is adamant about finding an appropriate solution for any mental health issues.
He also expresses misinformation about the vaccine has had a negative impact on South Asians taking it up. He summarises some of the reasons:
"One of these is that information takes a little while to get to them in terms of crossing the language barrier.
"Cultural barrier and health belief barriers before it reaches them.
"Secondly, because these communities tend to be well-knit in their certain circles and misinformation propagates very quickly in those circles.
"And unfortunately, we've had a lot of misinformation creating things on social media from countries abroad and in our own country.
"All sorts of myths that microchips in vaccines, all sorts of myths that gone out."
"And when it really sank in for me was when I went home. My mum was like, 'what's this, I hear they've got microchips in the vaccine'.
"I was like, 'first of all, that's not actually feasible even with today's technology that wouldn't be the case. Why would we do that? And it's just so far-fetched."
So, Dr Thuva feels that South Asians in the UK and overseas have to "debunk" these myths, with the help of cultural and faith leaders.
Dr Thuva tells us with the support of health care professionals and colleagues they are reassuring patients, particularly the vulnerable to take the vaccine.
"[We are] putting out information in their own language, encouraging them to come in and have it.
"We are putting out photos of ourselves, having the vaccine to say, 'look we've done it'. We surely wouldn't do it if there was any risk to it."
He also reminds us of a "COVID-19 bus" going around vaccinating patients, especially for those who cannot come in and during clinic out-of-hours.
He also shares similar views to Dr Ahmed in that some patients may suffer from a "Long Covid Syndrome."
Dr Thuva cites ongoing fatigue and tiredness, along with the impact on the lungs and brain as possible effects of long COVID.
However, his opinion is that it will take some time and further research to understand COVID properly.
But he is confident that the medical fraternity will get to the bottom of this "uncertainty."
Dr Thuva also considers obesity as a major issue developing as a result of COVID-19. Hence, this might need a core focus.
There is no doubt that General Practitioners and their respective staff have been working hard during the pandemic.
Whilst some patients may be critical of their general practice, they have been trying their best to manage and facilitate under the circumstances.