Simon is as sharp as a needle even with a detonator taped to his hand.
The mid-season finale of Quantico Season 1 introduces another highly suspicious character, Elias Harper.
The lawyer is an analyst trainee at Quantico and develops a huge infatuation with Simon Asher.
After he voluntarily terminates his training after an assignment, Elias returns in the New York timeline as Alex Parrish's lawyer.
But you would be wrong to think he is on Alex's side, or anyone else's for that matter.
Just like back in his training days at Quantico, Elias is and has always been concerned about his own interest only.
Not to say he's not a team player, but he would have no problem with being the first to run for the door in a time of crisis.
He turns up at the FBI command centre and leads the team to find Simon, who was kidnapped in the previous episode, in the hotel where the Democratic National Convention is being held.
Even with a remote detonator taped to his hand, Simon is as sharp as a needle. Elias's attempt to criminalise him proves futile, as Simon skilfully redirects everyone's suspicion towards Elias.
He says:
"I know you would do anything to save your own skin. Just like when we were at that test at Quantico.
"You get what you wanted, all that time at Quantico…you were just trying to get close to me so you can find out all about my weaknesses. Get inside my head, so you can frame me."
He practically forces Elias's hand when he threatens to blow up the second bomb unless the now-number one suspect comes clean.
He confesses to being under threat to frame Alex for attempting to attack Grand Central and then to set up Simon for the second bomb.
There is so much frustration and pressure in the room that Alex, Nimah and Nathalie struggle to tell their lies and truth apart.
Putting that aside, they put their heads together to figure out the location of the second bomb, and warn Liam O'Connor to begin evacuation.
As Miranda confirms the bomb has been disarmed and Simon lets go of the detonator, a moment of relief is soon interrupted by the sound of a blast and shattering glass.
The FBI command centre is the real target of the terrorist, making it look more and more like an inside job.
Though Elias commits suicide before the FBI can take him into custody, his involvement with the terrorist remains suspicious.
But all eyes now turn to Caleb Haas, as we are shown a different timeline when he was part of a dangerous 'cult' and visited the building where the command centre is set up.
We also see how concerned Shelby is with his past – attempting to suicide bomb a courthouse under the influence of a 'cult'.
Yet, Claire Haas (Marcia Cross) tells Shelby at a New Year's party that her son is not dangerous and that he is simply very easily influenced by the wrong people.
Sadly, this doesn't stop Shelby from breaking up with Caleb.
Meanwhile, chemistry is sparking between Alex and Liam, after she runs into Ryan's ex-wife and finds out he is lying to her again.
Watch the trailer for the next episode here: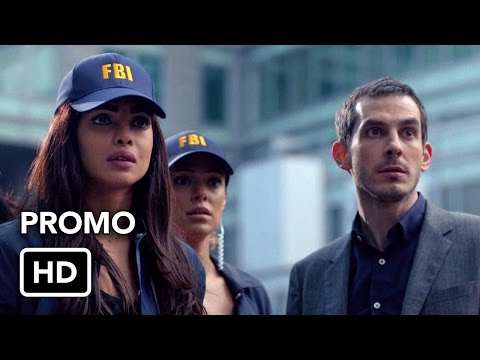 The 12th episode of Quantico will air on ABC on March 6, 2016.