Ryan is pleased they are both committed to making it to the end of the road.
There is a familiar feeling to the brand new first episode of Quantico Season, starring Bollywood star Priyanka Chopra in the lead.
The show's format is same as Season 1, where the story and key events are presented by juxtaposing two timelines.
The present timeline starts one year after Alex Parrish (Priyanka) joins the Central Intelligence Agency (CIA).
The old timeline is not too far back – six months after senior agent Matthew Keyes successfully recruits the half-Caucasian half-Indian former FBI agent.
Despite being put behind a desk at Langley, Alex is enjoying a healthy and loving relationship with Ryan Booth (Jake McLaughlin).
But the real highlight of the episode is when he reveals to Shelby Wyatt (Johanna Brady) the engagement ring that he is about to give to Alex over dinner at a restaurant.
Alex, however, receives a cryptic blue Post-It note and phone call that orders her to leave immediately because she has been 'chosen for training in the national clandestine services'.
It looks like the much-awaited proposal has to wait, since Ryan also receives a call that leads him to a CIA training facility called 'The Farm', where Alex has just arrived.
They obviously find it hard to believe the FBI and CIA have are co-running a secret operation to uncover a rogue group with an agenda against both agencies.
But it is even more frustrating for them to have to pretend not knowing each other for the next six months.
At the same time, they must try their best to infiltrate and take down their number one suspect and lead instructor, Owen Hall.
After a mentally and physically testing round of assignments that involve jumping out of a plane and learning that one of the recruits is in fact their co-instructor, Ryan decides to propose to Alex.
At the safe house, he pulls the ring out of his pocket and gets down on one knee. When Alex realises what is about to happen, she holds his hands and tells him:
"When this mission is complete, and when we've gone through this together, show me then."
Ryan agrees, feeling pleased they both want the relationship to work and are committed to making it to the end of the road.
As to whether they will get married by the end of Season 2, it all hinges on how events unfold in the present timeline where they are no longer together.
We are yet to find out what has broken them up again, but it wouldn't be a stretch to assume it may be related to the terrorist attack at the G20 summit in lower Manhattan, where Ryan is in charge of security.
After waking up from a tear gas attack, US President Todd hands out a pardon for the requested prisoner in an attempt to save his wife.
But the terrorists, addressing themselves as the 'Citizen's Liberation Front', proceeds to threaten to behead the First Lady.
Meanwhile, Alex discovers Jeremy Miller, one of the eliminated recruits at The Farm, is one of the terrorists. He jumps out of the window to escape.
Watch the trailer for next week's episode here: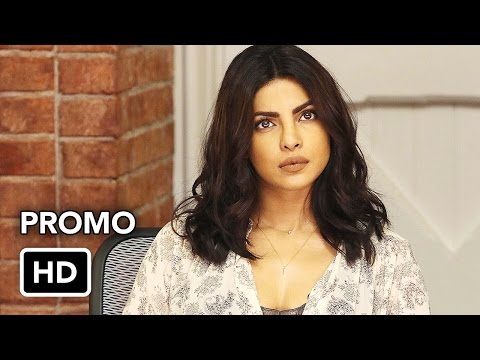 The 2nd episode of Quantico Season 2 will air on October 2, 2016 at 10pm (US time) on ABC.