"When Raj ji called me over for narration, I laughed so hard I was like this is a film that I should definitely do."
Shahid Kapoor's new release Phata Poster Nikhla Hero (PPNH) hits the big screen with Ileana D'Cruz as his leading lady.
The much anticipated trailers of PPNH had us sitting on the edge of our seats ready for the grand release that took place September 20, 2013.
The film has been described by D'Cruz as 'an out and out Rajkumar Santoshi film'. Combining romance, comedy and action all in one, the film is a great entertainer.
Rajkumar Santoshi has worked in a number of great films in the past including Andaz Apna Apna (1994) and Ajab Prem Ki Ghazab Kahani (2009).
Santoshi's new directorial venture, PPNH, is about Vishwas Rao (played by Shahid Kapoor) who is raised by his mother (played by Padmini Kohlapure). His mother has desires for him to become a police officer, but he has other plans to become a film hero.
After helping out a social worker Kajal (played by Ileana D'Cruz), whilst dressed as a police officer for a photo shoot, she mistakes him as a real officer, and instead of correcting her, he plays along.
After travelling to Mumbai to pursue his acting career, his is published in the newspaper by mistake as a police officer, which his mother also sees. She arrives to Mumbai believing her dream has come true. Circumstances arise for Vishwas to carry on his fake cop act not only for Kajal, but his mother as well.
Critical reception toward the film so far has been mixed. The film carries a hangover from Santoshi's last hit film with Ranbir Kapoor and Katrina Kaif, Ajab Prem Ki Gazab Kahani. PPNH also takes much inspiration from David Dhawan comedies and Abhinav Kashyap's Dabangg (2010), especially in the action scenes.
But Shahid is keen to defend the entertainment value of the film: "You will see these really loud in-your-face moments followed up by really stupid funny moments," he says.
Ileana D'Cruz takes a different turn after her super hit film Barfi! (2012) with Ranbir Kapoor. Ileana explains that she loved her fun, less serious role in PPNH:
"It was a conscious choice. In fact Anurag told me before Barfi was released – he said make sure you don't get stuck in that character – your being a serious actor – because you have done commercial films.
"In fact, Barfi! was my first film that had that much potential to perform. So I did want to do something commercial. I wanted to be something completely different and this seemed like the right film.
"When Raj ji called me over for narration, I laughed so hard I was like this is a film that I should definitely do. It was definitely a fun role. It was a challenge to do," she adds.
Shahid and Ileana complimented each other nicely at the PPNH music launch which also saw the film's first song 'Tu Mere Agal Bagal Hai' released.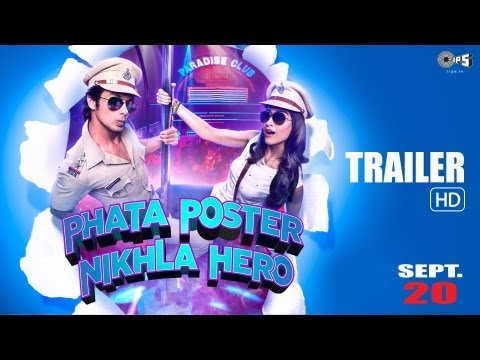 The music of the film has been composed by Pritam Chakraborty, with the lyrics written by Irshad Kamil and Amitabh Bhattacharya. The song has been sung by Mika Singh.
With the film having five tracks between the action and antics that take place, an item number featuring Nargis Fakhri has generated some criticism, as the song does not seem to fit with the mother dying. The song is sung by Neha Kakkar and Nakash.
Jyoti Prakash rated the album 4.5 out of 5 stars. Jyoti stated: "On the whole the soundtrack on offer is refreshing, impactful and at the same time it is quite soulful. This one will surely go down as one of Pritam's finest work till date."
Phata Poster Nikhla Hero has proved to be Shahid Kapoor's biggest opening hit yet. Taran Adarsh has given the film a 3.5 rating saying: "PHATA POSTER NIKHLA HERO brings back memories of old-fashioned comic entertainers. There's not much of a plot here, but you go with the flow without making much effort.
"You laugh, celebrate the silly gags and by the time the story reaches its conclusion, you realise that the film has won you over with its unfussy plot and basic characters, who don't have a serious bone in their body."
"On the whole, PHATA POSTER NIKHLA HERO is an entertainer all the way. If you relished AJAB PREM KI GHAZAB KAHANI from the team of Taurani and Santoshi, chances are you will also lap up this vibrant, kaleidoscopic, light-hearted entertainer," Adarsh says.
As it hit a decent opening in the Indian market, the film received mixed reviews overall, managing to make a decent business of Rs 6 crore on the first day of its release. The production cost of the film amounted to Rs 40 crores.
Despite it's mixed reaction, PPNH has become a mini success story for Shahid, especially compared to his last two films Teri Meri Kahaani (2012) and Mausam (2011). Director Rajkumar Santoshi is adamant that this latest film will bring even more success to Shahid in the future. Phata Poster Nikhla Hero saw global release on September 20, 2013.