"He's Punjabi in heart, in mind and everything. He's a great ambassador and leader."
Panjab FA crashed out of the 2018 CONIFA World Football Cup after suffering a 2-0 defeat to Padania in the quarter-finals.
The last eight match took place at Larges Lane in Bracknell town on 05 June 2018. Bracknell Town is a famous commercial centre, with companies like Siemens and Fujitsu based there.
European champions Padania from Italy went into the match unbeaten. While Panjab won, lost and drew one game in the group phase of the tournament.
Despite being ranked No.1 in the world, Panjab were somewhat the underdogs. Whereas many felt Padania the number two side had a slight edge.
Vitalii Mazin from Ukraine was the referee for this do-or-die knock out game. His three fellow countrymen also assisted him during this match.
Panjab came onto the pitch wearing a blue kit with yellow highlighted in their emblem. Padania wore their traditional green and white outfit.
Following the national anthems of both sides, it was kick off at 3 pm BST.
Panjab had plenty of possession early on with defender Arjun Singh Purewal heading just wide in the first few minutes of the game.
But each time Panjab pressed too far ahead they looked vulnerable at the back against the counter-attack from the Italians.
Meanwhile, off the pitch, a spectator kept on playing the dholki and chanting 'Oh Ho, Ah Ha' to create a buzzing atmosphere in the stadium. There was a real community spirit inside the ground, with fans enjoying the food and drink on offer.
Panjab had a reprieve when Padania striker Frederico Corno failed to convert a one-on-one chance against their keeper. Star goalie Yousuf Ijaz Butt from Pakistan spread himself and saved his team. What Yousuf did right was not to rush out and commit early.
A few moments later, Yousuf produced another great save. He dived low to his right to deny midfielder Gabriele Piantoni after a clever 1-2.
Even though the first half was exciting, there was a sense of caginess.
At half-time, the question on everyone's mind was could the Lions roar to the semi-finals. Speaking exclusively to DESIblitz during the interval, Harpreet Singh, Chairman of Panjab FA said:
"It's a very competitive match, Padania from Northern Italy are a quality side. We played them before, two years ago in the semi-final. We won 1-0. Mohammed Omar Riaz scored the winner then. So we know their quality."
"And the manager and the coaches have set them up in the right way. They have managed the first 45 minutes. Now its a case of managing the next 20 minutes or so. And then looking for the execution."
In reply to a question about Yousuf and his wonderful saves, Harpreet added:
"Yousuf is a quality goalkeeper. He is an International goalkeeper. He represents Pakistan as the national team goalkeeper as well. And he originates from Lahore. He's Punjabi in heart, in mind and everything. He's a great ambassador and leader. And he demonstrates it on the pitch."
Padania started the better of the two teams in the second half with a few close headers. Panjab had to compose and really push themselves hard in the midfield.
A tamed effort by Piantoni from the edge of the box once again could not trouble Yousuf.
In an effort to consolidate, Padania made their first substitution. Gianluca Rolandane replaced Stefano Baldano in the midfield.
A little while later Panjab had a big let off as midfielder Aaron Minhas cleared from the line. But by now the inevitable was just around the corner. And that is exactly what happened.
On 59 minutes, Giacomo Innocenti scored from the penalty spot, following a foul inside the box on Marius Stankevicius. Yousuf going the wrong way could not pull off any heroics this time around.
At this stage, Panjab could not step up their own game. Panjab had to also keep a really cool head when Andrea Rota was awarded a yellow card for a late challenge on their defender.
Panjab then brought striker Gurjit Singh to replace Rajpal Singh Virk on the pitch.
At the other end, Padania broke fast on the counter run and continued to cause trouble. The Panjab defence at times had to dig in deep.
With the game reaching a critical point, both teams made further substitutions.
Gurjit Singh and Amarvir Singh Sandhu made good runs going forward. But they could not quite manage to create the chance they were desperately looking for.
Panjab finally had a great opportunity, but Padania goalkeeper Murriero fist the ball to deny Amar Singh Purewal an almost certain goal.
In the closing stages of the match, tempers flared up with the referee handing out further yellow cards to Padania.
With 5 minutes to go, frustration got the better of Panjab. Defender Jhai Singh Dhillon was given a yellow card for a rash challenge.
In the dying moments of the game, Panjab was awarded a free kick near the penalty area, but could not execute their innovative plans.
To make matters worse, the Men in Blue lost the ball to Innocenti who went on the attack. With very few men back defending for Panjab, Innocenti slid the ball to Nicolo Pavan who comfortably scored into an empty net in the 90th minute.
The second goal for Padania shattered the dreams of Panjab FA and their loyalist and exuberant fans.
The match finished 2-0 in favour of Padania. This was a terrific result for the Italian side, considering they had lost to Panjab in the 2016 CONIFA World Football Cup semi-final.
Watch our special interview with the Panjab FA team here: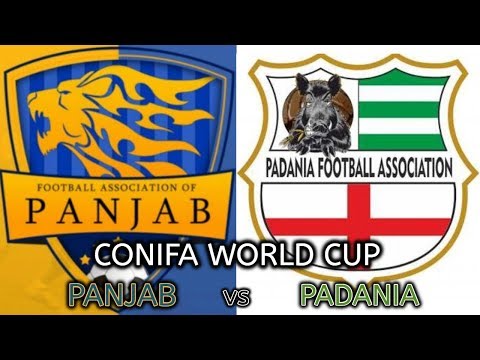 Naturally, for Panjab, this loss is a very tough pill to swallow.
With this result, Padania has made it through to their second consecutive semi-final.
For Panjab, they need to go back to the drawing board. They need to work and improve on their attacking element. Apart from their first Group D game against Kabylia (8-0), they have struggled to break their opponents.
On a personal front, it has been a good tournament for Amarvir Singh Sandhu who scored two goals in Panjab's opening match.
It remains to be seen if Reuben Hazell will continue as Head Coach of Panjab. Though one feels he could still be the best man to take them forward.
Panjab FA will need to play more like Lions in the future if they wish to lift silverware and hopefully win the 2020 CONIFA World Football Cup.
DESIblitz congratulates Padania on their awesome victory against Panjab.
See more images from the match in our gallery below: