"Calling all movie buffs! We are writing history and we want you to witness it"
After the revival of Pakistani cinema, the industry releases their first online film, Oye Kuch Kar Guzar, on 3rd December 2016, taking their productions into the digital sphere.
In a series of episodes, through YouTube, the film will inspire the Pakistani youth into discovering their prospects and true calling in life.
With a unique twist to allow viewers to choose their own story by using annotations, cards and end screens. This film brings Pakistan's creativity into the mainstream.
Remarkably created by DJuice Pakistan, a youthful digital platform, the film features versatile Pakistani stars who enthusiastically encourage the viewers to reach for their dreams.
In particular, it aims to empower the youth to break the norms, creating their own space.
At the same time, it will highlight the significance of digital space, as a useful means of communication.
#OyeKuchKarGuzar
The catchy phrase, 'Oye Kuch Kar Guzar', carries complexity.
In general, it means to launch oneself. Often associated with educational, career and profession contexts.
Or, as DJuice says: "Take the plunge."
Alternatively, the 'Oye,' adds in a sense of taunt, a rather sarcastic mock.
Oye Kuch Kar Guzar has been filmed in a way that gives various endings and options to each episode. This, in turn, keeps the audience wanting to watch the next one.
In other words, it is a unique interactive movie, with alternative choices for an ending. As such, it is split into several parts, each with a contrasting setting.
Therefore, the remote control is in the hands of the viewer. In effect, the viewer has the accessibility to select in which direction they want to take the story.
The first episode features the energetic figure, Ali Safina, as the lead actor. Along with the Canadian-born Pakistani actress, Ushna Shah, singer Uzair Jaswal, and the versatile actress, Mahjabeen Habib. In addition, it includes Nayyar Ejaz, famous for his negative roles, with his trademark voice.
Titled, 'The Journey Begins', it starts on how a son, who is an aspiring singer, makes a bet with his father, who is a mechanic.
Illustratively, it shows a career deal between a father and a son.
Travelling to chase his dreams of becoming a rock star, the son is joined by four strangers on a train journey. And so, the journey begins!
All you need is YouTube and a good internet connection to enjoy Oye Kuch Kar Guzar!
Watch it here to see what #OyeKuchKarGuzar has to offers its target audience: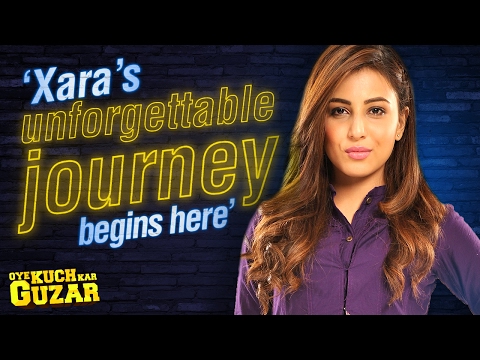 DJuice
DJuice stands for 'Digital Juice,' belonging to the telecommunication industry.
They are commonly known for their youth based mobile phone plan, in collaboration with the prominent Telenor Group.
When describing their brand, DJuice says:
"We first launched with the tagline 'Fun to be Young' in order to commit ourselves to a brand dedicated solely to the youth.
"We focused on the need for the Pakistani youth to speak out for change."
Launched in various countries, including Bangladesh and Norway, it is one of the largest networks of Pakistan.
And now, they proudly present Pakistan's first online movie, saying:
"Calling all movie buffs! We are writing history and we want you to witness it!"
What do the Stars say?
The talented stars of Oye Kuch Kar Guzar speak about their new and exciting journey. In particular, they mention how this first digital film experience is a great opportunity for Pakistan. To be able to reach global audiences, through the largest platform, YouTube.
Speaking to Hip In Pakistan, Uzair Jaswal says: "Oye! Kuch Kar Guzar revolves around the taboos of society."
He further adds: "It's the first online movie so let's see how it goes. Despite the risk involved, it looks like a good investment and a step towards the future."
Ushna Shah is already celebrating: "What a brilliant response to our project."
Bilal Kazmi, the chief marketing Officer of Telenor Group says:
"This relatively newer genre will enable viewers to direct the story according to their whims. We believe that the internet has a massive potential to serve a digital entertainment resource.
"DJuice has set the precedent and we will continue to create special online content in the future."
Additionally, the director of Oye Kuch Kar Guzar, Haris Rasheed, describes how he can relate to the struggle portrayed in the film.
He further encourages the youth to break free from the norms of the society. Instead, saying: "[Find your] own voice in this world doing what you love is what this story is all about."
Also, the creative manager of DJuice, Bissmah Mehmud tweets: "Just reading the comments on YouTube on Oye Kuch Kar Guzar. I feel like crying with happiness. Such amazing feedback."
What does the audience say?
YouTube viewers have been largely supportive of this unique way of delivering an innovative Pakistani idea.
One YouTube user, Mohib Irshad says:
"Wow! just wow. An amazingly innovative way of storytelling. This is the first time I am ever commenting on YouTube and believe me I couldn't be any more proud to say that this is a product of my country. Hats-off."
However, some Twitter users have mentioned the previous ban on YouTube in Pakistan. And, how the entertainment industry has welcomed the decision that has lifted the ban.
Ahsan Saeed tweeted: "A year ago, there was no YouTube in Pakistan and we are going to see a first online movie on YouTube. This is actually great!"
From the revival of its cinema to entering the digital world, Pakistan proudly takes the country to unexpected heights.
You can click here to visit the DJuice Pakistan twitter page, to keep up-to-date with this distinct journey.