"He would understand me musically, I admire his style and innovation as an artist."
Tasha Tah is bursting back on to the British Asian music scene with her most recent hit single, 'Oye Oye'.
The summer anthem marks the beginning of what could be a massive year for the singer-songwriter.
She will release more brand new music in coming months after spending much of 2016 touring and recording.
Speaking of fresh releases, Tasha Tah says: "I've recorded so much new music with the very distinct UK Asian sound. I hope to fly the flag high for British Asian girls globally this year, starting with Oye Oye."
In an exclusive gupshup, DESIblitz speaks to the Urban Punjabi star about her sensational career so far. We also hear what Tasha thinks of Honey Singh and the changing British Asian music scene.
Tasha Tah ~ 'Oye Oye'
'Oye Oye' is the most recent hit single by the sassy British Asian artist, Tasha Tah.
She gave DESIblitz, and some lucky fans, a special sneak preview of the song when performing at BBC Future Sounds back in September 2016. And from that moment, it was certain that 'Oye Oye' would be yet another Tasha Tah hit.
The fast paced track is lighting up dancefloors worldwide, and continues Tasha's trademark urban-Punjabi style of music.
She describes 'Oye Oye' as a summer jam with an upbeat mix of R&B and Punjabi vibes.
Speaking to DESIblitz, Tasha says: "By combining my Punjabi singing with a reggaeton beat, it is definitely in line with my urban Punjabi sound. It's a style which I'm very comfortable with and one which my fans have come to enjoy."
The fun and fiery dance track is the latest in a string of popular releases from the singer.
But just months since its release, 'Oye Oye' already has more YouTube views than 'Kurbaan', 'Lak Nu Hilla', and 'Malang'.
Although her explosive debut single, 'Haan De Munde', is still the fan's favourite, 'Oye Oye' shows that Tasha Tah isn't finished with music just yet. After her short break to record new material, there is now so much more to look forward to.
With Hasinth Pathirana, the director behind the 'Haan De Munde' video, once again teaming up with Tasha for 'Oye Oye', we could see even more sexy music videos for her future releases. You can watch the official music video for 'Oye Oye' here.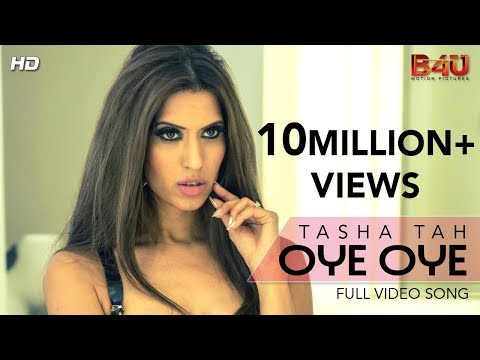 Tasha Talks Fusion Bhangra
Tasha Tah is well known for her unique fusion of different sounds. In 2017, she is preparing to bring her distinctive style back to the top of the British Asian music scene.
However, is UK bhangra the same as she left it? Here's what Tasha says:
"It's evolving so quickly. People are not just into pure bhangra anymore, fusion bhangra is at the forefront now. Social media has completely changed the way we listen to music. It's a great platform for up and coming artists but it also means that it's a lot more competitive."
So in this challenging, and constantly changing music scene, could fans expect to see Tasha collaborate with another experimental artist?
She says: "I would love to collaborate with Honey Singh, I think he would understand me musically. I really admire his style and innovation as an artist."
Or could it be the Canadian rap star, Drake, who works with Tasha Tah in the future? Speaking to DESIblitz, she says: "I love his flow. It's unique, and it would be interesting to see what we could come out with by fusing east and west."
Fans will surely be brimming with excitement if either of those collaborations were to happen.
Tasha Tah's Journey
The British singer-songwriter draws her inspiration from her musical family heritage and growing up around legendary icons.
As a child, Tasha was in a household which was heavily involved in the Indian music industry. She says: "I met some of the biggest names, from Amitabh Bachchan, to Jagjit Singh, Gurdas Maan, and Anuradha Paudwal."
It is this exposure which has helped make music feel natural to Tasha. She explains: "It's where I truly feel comfortable and I can express my art. It's been an amazing journey to date, I am very fortunate that I was exposed to such great art and inspiring people."
The support of her parents was crucial in Tasha being able to pursue her dreams. She explains: "Not a lot of Asian children get the support that I did from their family. My parents encouraged me at every point. But that doesn't mean I haven't experienced any struggles."
She continues: "The industry can be tough, especially for a woman. I was made to feel that I couldn't go it alone and had to be tied to some sort of group or clique."

Tasha Tah first broke into the mainstream music scene alongside Mumzy Stranger, Junai Kaden, Char Avell, and Ramee. Collectively, the five artists made up Stranger Family, and shot straight to stardom with their first track, 'Ghetto Refix'.
Tasha, though, is an extremely independent woman, and she went on to produce her own tracks. She says: "It took some courage but I'm here now, and I'm glad I took that step. You have to be the master of your own destiny and set an example to other females."
So what advice would Tasha Tah give to those in a similar position as she once was?
She says: "Perfect your craft and surround yourself with positive people. Stay focused on your goal and be your own boss."
Find out more about Tasha Tah
Another one of Tasha's hit songs is being talked about at the moment too. Her track, 'Malang', featuring RaOol, is part of the new Bollywood film, Dobaara: See Your Evil.
The new release stars Huma Qureshi in an Indian remake of an American horror movie.
You can find out more about how Tasha Tah supported young Asian artists at BBC Future Sounds by clicking here.
With Tasha also set to release a whole host of new music in the near future, you'll definitely want to keep up to date. And the best way to do that is by following her on Twitter.
'Oye Oye' is now available to download legally on iTunes.