"Shahrukh bhai asked me to do a song [and] I couldn't refuse!"
Superstars Shahrukh Khan and Deepika Padukone have joined forces for a one-off song that pays tribute to Tamil cinema icon Rajinikanth. Titled 'Thalaivar Tribute (Lungi Dance)', the song is sung and composed by singer and rapper Honey Singh.
The song is not part of the upcoming blockbuster, Chennai Express, but is a bonus track for the public alongside Shahrukh's film which will hit cinemas on August 9, 2013.
Honey is not new to the Bollywood scene. His first venture was with Miss Pooja in 2010 in her film Punjaaban in which he was the Music Director. He has also produced songs for Cocktail (2012), where he sang disco anthem 'Main Sharabi', Khiladi 786 (2012) and Race 2 (2012).
He also reportedly charged Rs. 7 million for new film Mastaan starring Naseeruddin Shah. His fee makes him the highest paid musical artist in Bollywood.
Honey started off as a session and recording artist and later went on to became a Bhangra producer. He also raps and has ventured into acting with two films, Mirza – The Untold Story (2012) and Tu Mera 22 Main Tera 22 (2013).
In May 2011, when he collaborated with Diljit Dosanjh, their song 'Lak 28 Kudi Da' reached the number one spot in the BBC Asian Download Charts.
He has also received a number of awards, including the ETC award for the Best sound in 2006 for his song 'Glassi' and the PTC award for the Best Folk Pop Award 2009 for Rebirth and PTC Punjab Best Music Director 2011.
Now his new track with SRK is expected to break all records. Honey admits that Shahrukh approached the singer out of the blue.
A source close to Singh shared: "He was surprised to get a call from Shahrukh about a special song." Singh later said: "What can I do? Shahrukh bhai asked me to do a song [and] I couldn't refuse!"
"I was very surprised and happy to hear from Shahrukh bhai. He said he wanted me to do a particular song. I wrote and composed the song while I was in Mauritius. Both Shahrukh bhai and I are huge Rajinikanth fans. This number is our tribute to him."
Honey Singh strongly believes that the song will impress both Shahrukh and Rajinikanth fans: "I can tell you this much. When the song comes out it will be a craze among not just Shahrukh and my fans, but also among Rajini sir's fans."
Singh and T-series chairman Bhushan Kumar had approached Shahrukh a few days beforehand with the idea of the song dedicated to the southern hero, who is given the title Thalaivar (supreme leader) by his fans.
Confirming this, Shahrukh said: "Who isn't a fan of 'The Rajinikanth'? I had met Honey Singh and Bhushan Kumar and he made me hear the song, which is titled 'Thalaivar Tribute (Lungi Dance)'."
"I found it very apt for Rajini sir and wanted to be a part of it as a fan of one of the greatest actors we have."
King Khan himself couldn't say no because he is a huge fan of the "global cultural icon Rajinikanth", and its theme is very close to Chennai Express.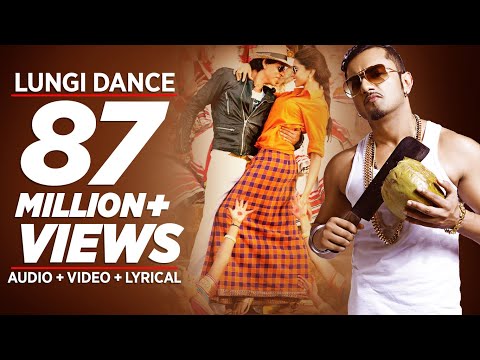 The video of the song, 'Lungi Dance', has now been released by T-Series has drawn a lot of interest so far. The track is a fun up-beat song with quirky lyrics that represent Southern star Rajinikanth perfectly:
"Mucho ko thoda round ghumake, Anna ke Jaisa Chashma Lagake, Coconut mai Lassi Milake, Aajao sare mood banake," sings Honey on the track.
Actress Deepika Padukone, SRK's co-star in Chennai Express is also a part of the special song:
"Deepika, on my request, happily agreed to be a part of the song because even she is a huge fan of Rajini sir. The song is fun, happy and completely Rajinikanth Style," said Shahrukh.
Rajinikanth is in the hearts of many all over the world. He has worked in over 150 films across India,  in the Tamil, Hindi, Telugu, Malayalam and Kannada film industry. He also has many awards under his belt including six Tamil Nadu State Film Awards, and a Filmfare Best Tamil Actor Award.
Rajinikanth was bestowed the Padma Bhushan, India's third highest civilian honour in 2000. Other than acting, he has also worked as a producer and screenwriter.
His popularity has been down to 'his uniquely styled dialogues and idiosyncrasies in films, as well as his political statements and philanthropy'.
Many find reasons for Rajinikanth's popularity as coming from his larger-than-life super-hero appearance in many films, supported by gravity-defying stunts and charismatic expressions, all while attempting to maintain modesty in real life.
Remarks trade analyst Taran Adarsh says: "Rajinikanth is the ultimate star of the masses. It's not as if he's unaware of his stardom but he's warm, friendly and down-to-earth when you meet him. His humility shines through and this is what his fans pick up on."
A fan said on his object of worship: "He is not like any other actor. His biggest movie is out today and he is a superstar, but I am sure he is sitting at home calmly, without even caring to shave his beard. Such is his simplicity."
With the tribute song now out, favourites SRK and Deepika can be seen doing the 'Lungi Dance'. The masala movie, Chennai Express releases August 9, and has got the whole world waiting in eager anticipation. With this tribute song as a bonus, it will make this film one to remember.