"It's powerful when women who are routinely silenced find their voices"
British Asian musician and artist Samia Malik's new album 'Azaadi: Freedom' has come at a very pivotal time in Asian culture.
Released as part of her national tour, the album, which celebrates freedom, creativity and expression is a culmination of many years of work.
Featuring Urdu and English songs and poetry, 'Azaadi: Freedom' is a kaleidoscope of Samia's own experiences as a young woman growing up in Bradford.
It explores how she has overcome the barriers of cultural traditions to become the empowered woman she is today.
An Asian Woman's Journey
'Azaadi: Freedom' is a narrative that retells much of Samia Malik's own life journey. The singer-songwriter has previously spoken about growing up as a Pakistani girl in Bradford, being married at a young age and given very little in the way of independence or freedom as a woman.
It was only after she removed herself from this toxic and oppressive circle that she began to find her own voice. As Samia tells DESIblitz:
"Born as the third daughter in a culture that worships the first son, it was always going to be an uphill battle. In the album and show, I tell the story of how I tried to be so many things to fulfil society's expectations until I found the only person who could help me was me."
The show itself takes audiences on an hour long journey of finding one's own voice. It shares the struggle of an ethnic woman overcoming cultural shackles and finding strength in simply being herself.
Many of the songs that feature on the album speak about being the "third daughter" and Samia's struggle to find an identity of her own in a misogynist society. While Samia describes herself as a "political feminist", arguably the album reaches beyond even that.
It offers hope for any individual who is oppressed – it speaks to minorities of gender, race and class as well. In a world where we are becoming more attune to divisions, 'Azaadi' in fact celebrates difference, individualism and originality:
"My work explores my contemporary experiences through extending developing and subverting traditional forms.
"My work has always been strongly and unapologetically political and feminist. It's powerful when women who are routinely silenced find their voices. My work empowers others to find their own voices.
"My work questions the motives of those in power, whether in the political or domestic sense, who seek to divide us, diverting attention away from what we could achieve if we were united as people."
Musical and Visual Storytelling
For Malik, true expression comes through the arts. The artist combines song, dance and visual art to express individual thought and creativity, which sadly for some oppressed ethnic women, is not a basic human right.
"I believe art and our reaction to it – through music, through images, through words – may make us realise we see that we are bigger than the limiting boxes we were born into – woman, man Muslim, white, poor, disabled etc etc – and that what unites us is more powerful than that which divides us."
"My work shows it is possible to transform challenging experiences into something beautiful which is real and honest, which the same time raises important questions about our common humanity," Samia says.
Malik adds that it has taken this long for her to put the album together because of the life experiences she has had to go through to become and understand the woman she is now. Samia tells DESIblitz:
"Azaadi: Freedom is thirty years of work condensed into one hour – a labour of love – original Urdu Ghazals with English translations that make the work accessible with visual art that further supports that understanding by mapping a parallel visual journey."
Her English and Urdu ghazals are accompanied by the sitar, dilruba, violin, harmonium, bass guitar and tabla. The album also includes a 32-page booklet of lyrics, translations and Malik's own visual art for listeners to explore.
The 'Azaadi: Freedom' Tour
Samia is joined by a number of talented artists and musicians on stage for the 'Azaadi: Freedom' national tour throughout. Most notable is Baluji Shrivastav OBE, described as a "world-class sitarist to the stars". Speaking about their live musical collaboration, Samia Malik tells us:
"This is the first time my teacher/guru Baluji Shrivastav and I have shared a stage.
"As a young woman I went to him for lessons and when I was too shy to sing out loud, he immediately asked me 'Who did this to you?' He could see how I had been taught all my life to not make a noise, to be seen but not heard.
"Little did I guess then that 25 years later I would be sitting in that same room rehearsing for an Arts Council funded national tour with that same teacher! It's been an amazing journey!"
Watch a preview of Samia Malik on her 'Azaadi: Freedom' tour here: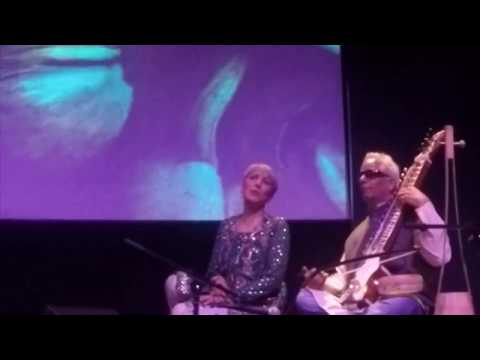 Also on stage are multi-instrumentalist Sianed Jones and virtuoso tabla player, Sukhdeep Singh. Moving image artist Seemab Gul provides the compelling visual backdrop of Samia's art and translations. All together audiences can expect a mix of art, song and music in one captivating multimedia show.
During the tour, Samia Malik is also proud to be running songwriting workshops in women's organisations, to give other women a chance to express themselves and ultimately find their own voice:
"The performances and workshops have been incredible – such positive reactions from diverse audiences, standing ovations, people reporting they are moved to tears and then such intense joy.
"In workshops, women have assured me these issues are very current and it is so necessary to open about them the dialogue within our communities. People have seen their own stories reflected in the narrative and have said they felt inspired, empowered and uplifted."
The 'Azaadi: Freedom' national tour, which began in May, is expected to continue until August 2017.
Samia Malik and her band are visiting Bradford, London, Harwich, Cambridge, Norwich, Southburgh Festival, Night of Festivals in Leicester and Folk East.
For more details about the tour, please visit Samia Malik's website here. The 'Azaadi: Freedom' album is now available for online purchase here.