"This is like Jack-Sparrow-meets-Clash-of-the-Titans-post-apocalyptic-pirate."
Ranveer Singh appears in his most mouth-watering role to date.
The star, known for his adventurous approach to choosing movies and creating memorable cinematic characters, has been signed on as the brand ambassador for Ching's Secret.
Hope you all have already seen the latest music video of the sizzling hot Ranveer Singh for the brand titled – 'My Name is Ranveer Ching'!
In case you are wondering if Ranveer has changed his name falling prey to numerology and astrology, the music video in fact has been shot especially for the Chinese food brand 'Ching' hence the quirky title to the song, 'My name is Ranveer Ching'.
One will surely agree that Ranveer brings his idiosyncratic style, his signature moves on to the screen for the video. The actor apparently loves rapping and has done the 'Manchow Rap' in this song.
Ranveer fans will already know that he has done a similar 'Do the Rex' music video for Durex condoms earlier in 2014. However though the concept is a little recurring, Ranveer has made sure to go larger than life this time and doesn't bore the viewer even once.
Ranveer delivers a stunning performance in the video along with his amusing frolics and choreography.
The music video has been directed by Shaad Ali, famously known as the director of Saathiya (2002) and Jhoom Barabar Jhoom (2007) along with the music given by maes-trios Shankar, Ehsaan, Loy and lyrics penned by none other than Gulzar himself.
The music video is taken to another level of high-energy by the choreographer Ganesh Acharya, who has also formulated a signature 'Ching' move.
The song has been sung by the current favourite sensation Arijit Singh and news is that Ranveer has also belted out the 'Manchow Rap' in his uniquely original style adding the spicy Schezchow punch to the chartbuster. Not just that, he himself has written the lyrics for the rap.
One can also see Ranveer dressed up as a warrior. A lot of research and thought was put into the costume designing by Nitasha Gurav and her team.
Ranveer Singh describes his costume by saying: "This is like Jack-Sparrow-meets-Clash-of-the-Titans-post-apocalyptic-pirate. I have been doing subtle stuff lately. I feel like I'm back to home territory.
"This is loud and colourful and muddy and exciting to another level for me because the last absolutely crazy song I did was 'Tune Maari Entry' more than a year ago. That's why 'm so excited about the costume. I went for it."
Praising the designer more, Ranveer said: "I always get praised for my dressing style. All credit goes to Nitasha who indulges in my quirks. The hat was imported from London, the stuff on it was hand-picked from chor bazaar and the shoes with wings made me dance more."
Ranveer, who is known to choose his endorsements very shrewdly, is super thrilled with his involvement: "I'm really happy to be associated with Ching's Secret.
"I am personally a Hakka Chinese fanatic. So I leaped at the offer when the good folks at Ching's Secret approached me to be their brand ambassador."
"I'm a big fan of their noodles, soups and their masalas – they're really, really hot and spicy – just the way I like it. I am proud to be the face of the pioneer brand of the Hakka Chinese flavour in India and the world. Ranveer Singh and the secret of Ching – forward together," he says.
Ching's Secret is indisputably the brand that is partly accountable for making Chinese food one of the most popular gastronomies in India!
Always keeping in mind the demanding Indian appetite that desires Chinese food with a desi touch, Ching's has regularly come up with modern, do-it-yourself Chinese food products.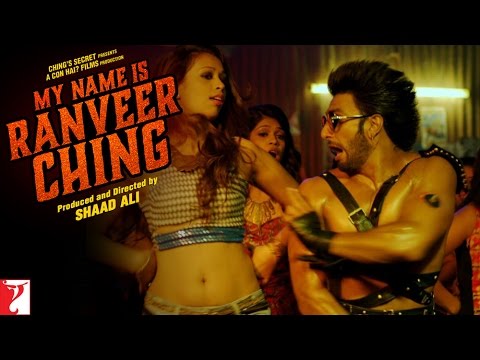 From the unique Schezwan Chutney to the Instant 'Schezchow Soup' or the variety of Chinese Miracle Masalas for a fast, 3-step approach to making Chinese food, die-hard customers can indulge in instant Chinese.
Ajay Gupta, Managing Director of Capital Foods says: "A hatke brand like Ching's needs an equally hatke brand ambassador. Ranveer Singh, being the hottest and most hatke star of his generation, is a perfect brand fit.
"As a brand aimed at today's youth and young housewives, we felt Ranveer was the ideal youth icon who had pan-Indian appeal across all age groups."
When a multitalented actor like Ranveer and an exhilarating brand like Ching's join hands – the consequences can only be explosive. Watch out for My Name is Ranveer Ching – appearing on a television screen near you.