"It is a really unique film, I really enjoyed it. It's crazy. You could relate to all these people."
Finding Fanny is based on a road trip in beautiful Goa. It is an English and Hindi satirical film which is directed by Homi Adajania.
Homi is well known for the Cocktail fame which released in 2012. His latest venture, Finding Fanny is produced under Maddock films by Dinesh Vijan and is presented by Fox Star Studios.
The film stars the cream of Bollywood talent. Starring Deepika Padukone, Naseeruddin Shah, Dimple Kapadia, Pankaj Kapur and the new young recent talent Arjun Kapoor in leading roles. They all play a pivotal part in the film.
The bunch of unusual friends embark on a journey to find Fanny, who is the long lost love interest of Ferdie (played by Naseeruddin Shah).
Ferdie had written a letter 46 years ago to the love of his life Stefanie Fernandes. He proposed to her after pouring his heart out in a letter.
He realises that it was never delivered. Aware that he wasn't rejected and his feelings were unknown to Stefanie, he decides to find her.
Is she still waiting for him? Is she married? Is she for real? You will have to embark on the journey with the crazy bunch to find that out for yourself.
Ranveer is seen in a Cameo role in the movie as Deepika's husband-to-be. Deepika plays a young virgin woman who sadly becomes widowed on the day of her marriage to Ranveer Singh; rumoured to be Deepika's actual boyfriend.
The chemistry between them has always been admired in previous films as well, and it will be a delight for the couple's fans to see them on-screen together again.
Arjun Kapoor plays a mechanic who is oblivious to the fact that he is not the be all and end all. He is living in denial. His rough and rugged look from the trailer is definitely liked by many and he plays the love interest for the quirky Deepika in the movie.
The exceptionally talented cast were required to attend numerous workshops for the movie, prior to filming.
The director states that this was required to get the body language and characters in line to what was expected in the script.
On doing a very different non-commercial film Deepika said:
"I love commercial cinema but I also get a rush from doing clutter-breaking stuff like Finding Fanny."
Homi has also roped in another Cocktail actor Dimple Kapadia. Dimple Kapadia even had a prosthetic posterior for the film, where she plays a pompous and out-spoken lady.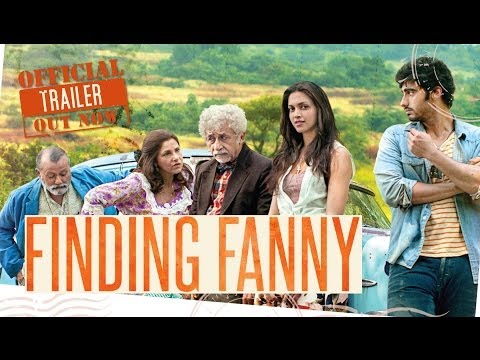 So how did Deepika feel about working with another member from the Cocktail crew? Deepika says: "Dimpleji pampers me and spoils me. She treats me like her daughter."
The movie has already had its fair share of trouble when the censor board decided to take the word 'virgin' out to give the movie a U/A certificate.
This led to the entire crew leaving no stone unturned to let the board know their disgust for its inconsistency. The censor board finally retracted their decision and allowed the word 'virgin' to be used in the film again.
Every Indian film has some complimentary music to give it the complete Bollywood feel. The main song which resonances with the title of the film 'Fanny Re' is sung by Mukhtiyar Ali and Mathias Duplessy.
With some Mediterranean influence the song has a happy feel to it. 'Shake Your Bootiya', though not a dance number, is good enough to get into the mood.
It's refreshing to have only a limited numbers of songs, as they are not forced to make up time in the movie. Nothing bores an audience worse than having to endure numerous unwanted songs while watching a film in the cinema.
The film's pre-screening has seriously impressed many prominent personalities like Hrithik Roshan and Karan Johar. Karan called it a 'complete directorial victory'.
Imtiaz Ali also added: "It is a really unique film, I really enjoyed it. It's crazy. It's the director who has made it very crazy and interesting. You could relate to all these people. Very enjoyable, very funny."
There is a buzz all over India as people are waiting for the release of this movie. It promises to be something different from the regular Indian cinema that most are used to seeing.
Finding Fanny can be described as something crazy that is set in the real world and embarks you on a happy and funny journey.
Finding Fanny is predicted to be a major success. The film will release in both English and Hindi. The film had its premiere in India on September 1, 2014 and is scheduled for release worldwide from September 12, 2014.