Players end up rooting for the torn up lovers.
Video games are a place of adventure and action, but it is also a place where love and romance blossoms on screen.
With protagonists fighting to save the city, alongside their lover, or couples battling it out together in order to rescue everyone, romance definitely plays an important part in the video gaming experience.
DESiblitz looks at some of the best couples in video games, alongside the weird and unconventional ones.
Ellie and Riley (The Last of Us: Left Behind)
You don't get much of a chance to see characters fall in love, or even have long lasting friendships in post apocalyptic survival games.
So seeing Ellie and Riley have a day off and have fun was a real treat.
As well as this being an LGBT relationship, it's also a very cute one, filled with teenage curiosity.
It is surely one of note, and the script writers Neil Druckmann and Bruce Straley really pulled off showing the nuances and their emotional moments in a game that is very bleak and focused solely on survival.
 Kafei and Anju (Legend of Zelda: Majora's Mask)
This little side quest may have been tedious to some, but this tale of love can warm even the coldest of hearts.
Kafei becomes cursed by the dreaded skull kid and is turned into a child, and losing the sun mask makes it so that he and Anju cannot be together.
With the help of Link over the course of the three days, players help reunite these lost lovers.
As these two reunite with only a few minutes left, they are content.
This couple capture the essence of romance, as their world is literally ending, but they don't care because they are able to be together.
Garrus and Shepard (Mass Effect)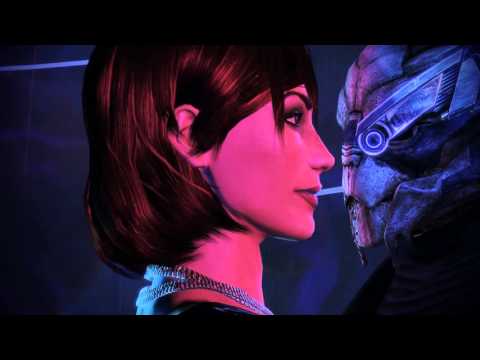 For all the flexibility gaming gives you, cross-species relationships don't happen as often as you'd think they would.
With Shepard falling in love with a dinosaur looking alien and engaging in many intimate moments, this is surely a romance that is on the weirder side.
But with all the options available, the Mass Effect series are great at including LGBT and cross-species love, which is a nice change from the straight boy-girl love we're bombarded with.
Nathan 'Rad' Spencer and Mrs Spencer (Bionic Commando)
Many gaming childhood's revolved around playing Nathan Spencer and jumping from level to level using the handy dandy bionic arm whilst fighting against enemies.
However one of the more stranger twists in games comes with the relationship between Mr and Mrs Spencer, taking the vows, 'till death do us part' to a whole different level.
In layman's terms, Mrs Spencer is the bionic arm. Yes, you read that right.
Its also funny because in order to achieve a perfect sync with the bionic arm, you need to have an emotional and physical connection. What better way to do this than to make it your wife?
Sam and Lonnie (Gone Home)
This love is told in a unique way. Usually in games we rely a lot on the visuals and graphics in order to see the emotions and feelings.
But in Gone Home, the Fullbright Company decided to forgo this completely and opted to show this love through letters and audio diaries.
They told the tale of the teenager Sam and her flirtatious relationship with Lonnie, a girl in her class. This love resonated with many as we've all been there, especially in high school.
We can all relate to the many decisions that come with the environment as every teenager struggles to fit in and make friends.
When Sam realises than her feelings for Lonnie are not platonic, this is executed really well and we can really feel the excitement and terror of their young romance.
Sonic and Princess Elise (Sonic the Hedgehog 2006)
Sonic is usually paired with the louder hedgehog counterpart Amy, but in the 2006 edition, he goes for a human.
It's hard to know whether it's beastiality if it's in a game, but this pair shook things up for fans of the franchise. Some found it interesting, but others hated it with a passion.
It's a weird combination and we're honestly not sure if it works, but it's definitely a better love story than Twilight!
The variations of couples shown in video games really adds to the experience, even though we come for the action, we stay for the characters.
In many cases, we even root for characters fighting alongside each other and for each other, and hope that they will get together in the end.