"The push to diversity is about telling a greater variety of stories of all kinds"
80 Days is a visual novel and mobile adventure game made by Inkle Studios and written by London based, Meg Jayanth.
Based on the classic Jules Verne novel, Around the World in 80 Days, the game released to great critical acclaim in 2014.
Nominated for four gaming BAFTAs and Time's Game of the Year 2014, the game also received a PC port in 2015.
In an exclusive Gupshup with DESIblitz, the game's writer, Meg Jayanth, tells us how the game came about, and what lies ahead in the future of mobile gaming.
Adapting a Classic
Many will agree that 80 Days is something special.
Part adventure game, part visual novel, the mobile game is an alternate take on the classic tale of Phileas Fogg's attempt to circumnavigate the globe in 80 days.
What makes 80 Days so special is that it tells multiple tales at once, and each story differs wildly depending on the path you take.
Meshing real world history with quiet, fantastical elements, the game manages to be inventive without straying too far from its source material:
"It was Jon Ingold and Joseph Humfrey [co founders of Inkle] that decided to make a game based on 80 Days," Meg tells DESIblitz.
"So they approached me with the concept already in mind – though the fact that it was a colonialist, historical work probably contributed to why they thought I'd be a good fit.
"Those are the kinds of issues I'd been working on in my previous game, Samsara, set in Eighteenth century Bengal," Meg explains.
Samsara, a browser-based adventure from 2010, was not only an exploration of cultural history, but also the mythology and mysticism of the period. In many ways, 80 Days is an evolution of this kind of storytelling.
Being able to ground the more fantastical elements of a story in a familiar way allows a writer a great deal of creative freedom without alienating the potential audience.
But the storyteller often finds themselves with a moral dilemma of how to approach the darker elements of history.
In a blogpost on her website, Jayanth points to a 'third axis' between fantasy and history, which she calls respectfulness:
"I was constantly conflicted – there is no right answer here, it's a constant struggle to balance respectfulness and invention. It should be an active process, [one] that you're always questioning.
"I thought about every story, every instance, every interaction, and how it would be interpreted – whether my approach felt justified," Meg says.
"But I struggled particularly with depicting slavery – on the one hand, I did not want to whitewash the past, or downplay the horrific abuses of the period.
"But at the same time I wanted to be really careful about how the player understood and experienced it through the eyes of a white-passing, male, French protagonist.
"I didn't want to show a parade of suffering black and brown bodies, I didn't want to let our player just feel sorry for other people's victimhood – because that's the story that gets told over and over again."
"I wanted to tell multiple stories, from multiple perspectives – I didn't want the player to get away with dismissing all slaves or enslaved peoples as objects of pity, to be dismissed."
By framing the cultural pluralism of the narrative through the mouth of a 'white-passing' lead, one could easily interpret 80 Days as holding a mirror to a mass market industry that doesn't quite 'get' diversity.
But Meg argues that it is not so simple as that:
"I really think we need more approaches," Meg admits, when asked about the state of diversity in gaming narratives.
"You know, this debate is so often framed as, 'We're telling people what they shouldn't do', but the truth is, all I want is more. More games, more diverse protagonists, more types of narrative structures and possibilities.
"The push to diversity and inclusion is so much more about telling a greater variety of stories of all kinds; tightly controlled narratives, and choice driven ones, and triple-A experiences, and tiny indie games and Twine and accessible games of all kinds … all of it.
"There is no one right way to do diversity."
Mobile gaming is still something of a dark horse in the cultural sphere, with free-to-play games dominating public perception of the platform.
80 Days, and other titles, have shown that there are developers out there who want to break away from mobile gaming's casual market stigma.
But what needs to be done to achieve this?
"I think mobile developers are making some of the most exciting, interesting and innovative work in games right now," Meg explains.
"But there's still a struggle with discoverability in the mobile stories. And with the pricing of the market, with people either expecting their games for free or not to cost very much at all, which is hard on developers who want to do good, difficult, consuming work.
"80 Days is about the cost of a cup of coffee at a big chain, but it's still thought of as a 'premium' game on the store, which is ridiculous right? But I think that's slowly changing.
"A lot of our reviews actually pointed out that we didn't have in-app purchases, that you pay once and then the game's yours – and that counted in our favour."
There is room for everyone in the industry, big budget and independent alike.
But what would Meg make, if budget and licensing regulations weren't a crippling problem?
"I would so love to do an Assassin's Creed game set in pre-colonial India, with the British East India coming in with their ships and soldiers, and these sumptuous magnificent Maharajah's palaces you could climb, and sprawling, colourful cities to explore.
"That would be ridiculously fun."
Watch the trailer for 80 Days here: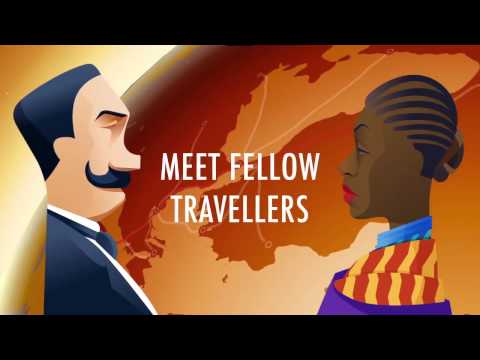 80 Days is available on iOS, Android and Windows. 
Meg Jayanth will be giving two talks at the Game Developers Conference in 2016, titled: 'Forget Protagonists: Writing NPCs with Agency for "80 Days" and Beyond', and '10 ways to make your game more diverse'.