"She is someone you cannot do without but... she is probably the most difficult person to be with."
One man is wild whilst the other is pretty much an angel. Manmarziyaan provides quite the dilemma for Taapsee Pannu in this upcoming rom-com.
Fresh off her recent success with Mulk, Taapsee takes on another meaty role as she portrays an unpredictable Punjabi girl.
She stars alongside Abhishek Bachchan, whose appearance in the film, marks his return after a two-year absence from Cinema.
His last cinematic release was the commercial hit, Housefull 3 (2016). Audiences are gearing to see him make his return to the silver screen.
To complete the triangle is the breakthrough star, Vicky Kaushal who has had an amazing 2018 with critical and commercial successes. Manmarziyaan could be another.
The film is directed by Anurag Kashyap who was praised for his critically acclaimed drama series Sacred Games. The first Indian Netflix series.
Amit Trivedi serves as the composer for the soundtrack which has been well received by audiences.
It will be screened at the Toronto International Film Festival 2018.
The Good Boy vs The Bad Boy
The complicated story of Manmarziyaan sets its scenes in Amritsar, Punjab, rich in culture and sights.
Rumi (Taapsee Pannu) turns to the idea of an arranged marriage when her commitment-phobe boyfriend, Vicky, is not ready to settle down.
She meets a handsome and traditional suitor, Robbie (Abhishek Bachchan), and the two fall in love. The complicated part? Vicky comes back into the picture.
Whilst Vicky and Robbie tug at her heartstrings, Rumi faces the dilemma of choosing between the two men who are complete polar opposites.
The Stars
The Pink actress describes her character in a behind-the-scenes video,
"It's very very difficult to define Rumi. I will not get into that. I just say one thing for Rumi. She is someone you cannot do without but when you are with her, she is probably the most difficult person to be with. She speaks before she thinks."
Taapsee's co-stars have nothing but love for her portrayal as they elaborate in the video.
Abhishek said,
"Taapsee doesn't really need to act when she has to be Rumi. It's just her. I just knew she would be brilliant."
Meanwhile, Vicky praised her unpredictability,
"Taapsee is Rumi. Taapsee is as crazy as Rumi. She is a very spontaneous actor. When you work with her, you don't know how she is going to deliver her dialogues, which makes you alive as an actor."
Vicky Kaushal spoke to PTI about his recent success which he describes as,"humbling, surreal and overwhelming."
He said,
"When people say I've become a star, it takes time to sink in. My mom asks me, 'I can't have my feet on the ground as a parent, how are you feeling? What are you going through?' I feel there's a constant sense of happiness and gratefulness in me,"
The film went through a few production and casting changes with big names tied to the project at some points.
It was reported Dulqer Salmaan, Bhumi Pedneker and Ayushmann Khurrana were originally cast in the lead roles with Sameer Sharma as the director.
Unfortunately, producer, Anand L. Rai was unhappy with the rough cut and the changes were made. However, we are thrilled the current lineup was given this opportunity. They will not disappoint!
The Soundtrack
Amit Trivedi blesses the audience with his musical talents yet again, as he composes the soundtrack consisting of 10 tracks. Meanwhile, Shellee and Sikander Khalon pen the lyrics.
The soundtrack appropriately draws upon traditional Punjabi and Bhangra beats that get your shoulders popping. It features an array of talented vocalists.
Beginning on the 10th August, the filmmakers released a song every day with the #WakeUpWithManmarziyaan campaign to promote the film.
The song 'Daryaa' has been a hit, with the fans adoring the singers, Ammy Virk and Shahid Mallya harmonious voices.
In the description for the video, it is described as "a rustic Punjabi love ballad set to beats that shall leave you grooving and longing."
Watch the Video for the song 'Daryaa'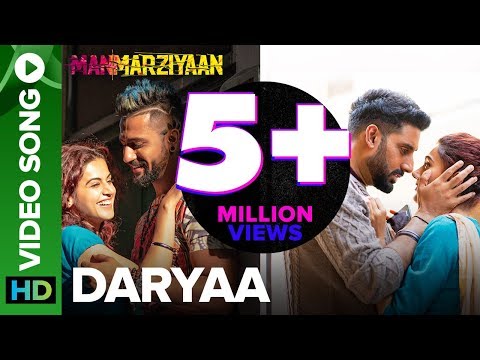 Other popular songs include 'Chonch Ladhiyaan' and 'Halla'.
Harshdeep Kaur and Jazim Sharma duet for 'Chonch Ladhiyaan'. A soft and sweet romantic song that will leave you swaying from side to side.
'Halla' is performed by Jyoti Nooran and Romy in what is a passionate song that emerges as a result of the passion of the main characters. It contains an essence of Sufi combined with a modern beat.
Leading up to the film's release, the filmmakers are looking to host Manmarziyaan concerts across India to promote this wonderful soundtrack.
Hats off to Amit Trivedi, Shellee and Sikander Khalon and all the artists involved!
Fans Expectations
The reception the film trailer has received has been nothing but positive. Audiences are eagerly waiting to see Abhishek Bachchan have been off the screen for two years.
They are just as excited as we are with this talented trio, we should expect them to be blown away.
Watched the #manmarziyaantrailer , awesome work @juniorbachchan you always rock . @taapsee well done waiting to watch the movie

— Gourav Ajmani (@gajmani) August 15, 2018
#ManmarziyaanTrailer had me at
Love isn't complicated, people are. ??

Looking forward to an @anuragkashyap72 style love triangle!

— Manav Chawla (@insaanchawla) August 12, 2018
@taapsee u r just mind blowing in #ManmarziyaanTrailer
Ur choices of film #Pink, #NS #Mulk n nw #Manmarziyaan is incredible.
u r gonna rock in this.U just go Girl.More power to U.@vickykaushal09 I m a fan.@juniorbachchan eagerly waiting for dis one. @anuragkashyap72 @aanandlrai

— Manish Surushe (@manishsurushe) August 11, 2018
Watch the Trailer for Manmarziyaan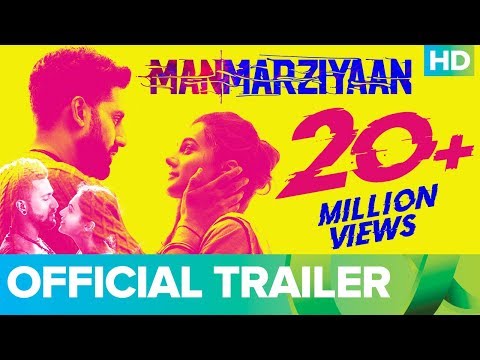 Whilst Manmarziyan's release draws upon, fans can anticipate Abhishek Bachchan reuniting on the silver screen with wife, Aishwarya. The Bollywood power couple will star in the upcoming film, Gulab Jamun.
He is also slated to be the leading male in a Bhansali Productions film about the poet Sahir Ludhivani and author Amrita Pritam. No doubt this will be a spectacle.
Manmarziyaan will be Vicky Kaushal's 5th film of 2018. He starred in high grossing films such as Raazi and Sanju and as well as the Netflix films, Love Per Square Foot and Lust Stories.
This star's future is only getting brighter. He is currently a part of Karan Johar's all-star ensemble cast of Takht. A film that is described, by Johar, as the K3G of the Mughal era. It is slated for a 2020 release. Definitely looking forward to that!
But for now, he is focusing on filming, Uri, which will be released in 2019.
Meanwhile, Taapsee Pannu has had a hectic year. Manmarziyaan is her 6th film in 2018 with two more films to be released! Her next film, Baarish aur Chowmein, a ZEE5 film that takes on the struggle of interfaith relationships.
Her 8th 2018 film, Tadka, a remake of the Malayalam blockbuster, Salt N' Pepper is set to be released at the end of the year.
Manmarziyaan releases in cinemas on 14th September 2018