No amount of sincere apologies and hook-ups can ever seem to resolve their trust issue.
The love seeds planted by the writers of ABC's hot new drama, Quantico, have finally sprouted.
Even better, it is a love triangle between our Bollywood sweetheart Priyanka Chopra aka Alex Parrish, her colleague Ryan Booth and superior Liam O'Connor.
Avid followers of Quantico will remember those fireworks that burst so brightly between Alex and Ryan during their first meet on the plane.
Unfortunately, when they fight, it is no less explosive – even destructive at times.
Trust is an enormous issue for the good looking pair. No amount of sincere apologies and hot hook-ups can ever seem to resolve that.
The latest episode opens with Alex and Ryan being on peaceful and loving terms, but ends with Ryan's decision to exit the FBI training academy and resume his official role as an FBI agent.
And it's all because of one person – Liam.
After confessing to Alex about a large-scale cover-up at the FBI in the previous episode, Liam breaks down and tries to drink his sorrows away.
It is obvious Alex feels partly responsible for his mental state, as her father was involved in the cover-up that killed many innocent people as well.
Besides, it also reminds her of the times when her father used to come home as a drunken mess and needed taking care of.
It is therefore not impossible that her unresolved father issue has led her to develop feelings for Liam.
Alex's concern for him is suspicious to Ryan, nonetheless:
"I know you want to go see him. What I don't know is why you don't wanna tell me about it."
Being ditched on a night out with the trainees is the last straw for Ryan, as he confronts Alex:
"Is this what it's come to now? We hoping that you're not gonna chase after the guy who tries to destroy both of us? He's playing a game with you."
She defends: "It was exactly like this with my father when I was younger. I need to help him."
Though she manages to help Liam get back on his feet, Alex has lost one of her closest bond at Quantico, as Ryan tells her he is going to accept Liam's offer to be reinstated.
Her relationship with Liam has not crossed the line. With Ryan's exit and a hint of Liam's feelings for her in the first episode, we shall see where her heart truly belongs.
Back in present day, Alex turns herself in and gets locked up in a high security vault, only to be taken away by a 'High Value Interrogation Group', sent directly by the US President to handle the interrogation.
Meanwhile, Elias Harper arrives as Alex's lawyer and coordinates with Shelby Wyatt, Caleb Haas, Simon Asher and the twin sisters to help prove her innocence.
Things take a turn for the better when they convince Nathalie Vasquez to switch over to their side and make their case to Liam.
The plot also gets a big twist – Alex pleads guilty to court while Simon meets his accomplice to collect a USB drive containing blueprints of all train stations in New York.
There is no doubt more quirks and surprises within one twist, as we have seen before in the show. All eyes are now on the second bomb and Simon.
Watch the promo trailer for the next episode here: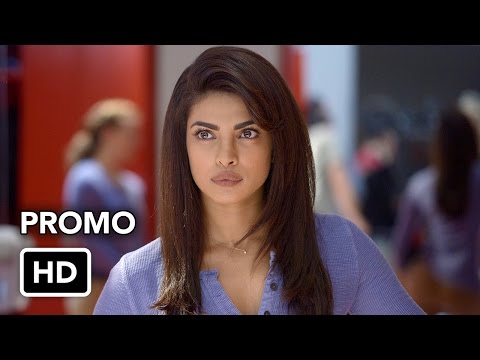 The tenth episode of Quantico will air on December 6, 2015 at 10pm (US time) on ABC.