"You get a chance to start over, control how people see you. Can you disappear?"
Bollywood babe Priyanka Chopra has never looked more stunning in her US TV debut!
We finally get a glimpse of her breathtaking beauty in its full glory in the fifth episode of Quantico.
PeeCee, who plays FBI trainee Alex Parrish, leaves her military-style uniform in the wardrobe and puts on her sexy little black dress.
All that glam for a stylish party and a day off from training? Not quite – the recruits are sent undercover in a conference to get close to the CEO of a Fortune 500 company.
But a training exercise in the real world would be no fun without a last-minute twist from their mentor, Liam O'Connor.
Instead of using the undercover identities the recruits have researched deeply and masterfully created, he instructs them to swap them around to test their adaptability.
Liam says: "You get a chance to start over, control how people see you.
"Can you create a person so real that you convince the world you are who you say you are? Can you disappear?"
Strangely, Simon Asher appears to be most nervous, triggering alarm bells for analyst Elias Harper even further.
It is no secret Simon is not what he says he is and is good at maintaining his cover at Quantico, giving Elias all the more reason to find out what he is really up to.
Nimah and Raina begin to form a super undercover that is as tight as a drum. Trading places every hour has not weakened their identities and even gets them an audience with the CEO.
Onto our favourite couple, Alex and Ryan. They also successfully complete their mission with charm and secure a private meeting with the CEO.
Sitting in a luxurious hotel, Ryan will not let an opportunity to spend quality time with Alex go to waste.
A few drinks and kisses later, they slip out of their undercover and make passionate love to each other.
Being outside the training base also prompts Shelby Wyatt and Caleb Haas to drop the flirtatious bickering and act out their physical attraction.
Fast forward to nine months later, Alex's life takes a drastic turn as her face is plastered all over the media and branded as 'terror babe' and 'Jihadi Jane'.
But it is no longer just her credibility and career on the line. Ryan and Simon warn her that the FBI will shoot to kill her on site.
She meets with two hackers, who help Alex live stream a video interview where she pleads her innocence.
The FBI tracks her location, but fails to capture Alex who walks right out of the front door of a temple among an ocean of worshippers.
Alex regains Shelby's trust and picks up a new identity. The media begins to question if she has been framed. Will she win over the public too?
Watch the promo trailer for the next episode here: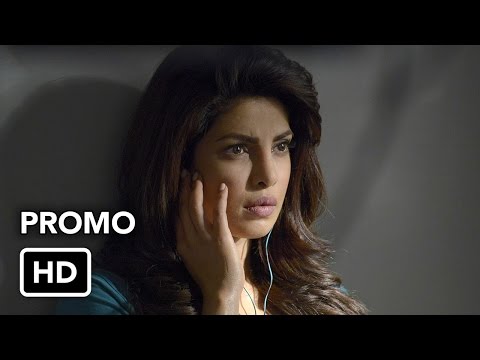 The sixth episode of Quantico will air on November 1, 2015 at 10pm (US time) on ABC.