"You may be on the same mission, but you are not on the same team."
Alex Parrish officially begins her CIA training and undercover operation in the second episode of Quantico Season 2.
Without a doubt, the classes and assignments at The Farm are not designed to make life easy for Alex and her fellow trainees.
To be a spy in the group and doing this alongside her boyfriend Ryan Booth definitely add to the challenge.
Yet, the worst part is as Miranda Shaw warns them:
"You may be on the same mission, but you are not on the same team."
They are given separate handlers and ordered to look after their own interest instead of looking out for each other.
Shelby Wyatt is Alex's handler. Nimah, who is good friends with Ryan, will be his point of contact throughout the operation.
In their first meeting, Alex opens up to her former roommate how much of an uphill battle it is to go against everything she learnt with the FBI at Quantico.
At The Farm, lies and manipulation matter above all else. Understandably, both her and Ryan are worried how this will affect their relationship.
But if anyone is going to thrive under bad circumstances, it would be Alex.
We shall see how she fights to keep love alive with Ryan as Season 2 evolves.
On the training front, Dayana begins to upset Ryan with her lack of team spirit.
In an assignment to carry out surveillance on Alex, the top Harvard graduate is too caught up in her own affairs that she becomes the reason the team fails the mission.
However, Alex is no better, failing to realise Harry who is by her side the whole time is one of the 'spies'.
Fast forward to one year later, it is Ryan's turn to figure out who the undercover terrorists are at a hostage situation at the G20 summit in New York.
He also notices five other CIA agents – Dayana Mampasi, Lydia Bates, León Velez, Sebastian Chen and Harry Doyle – are among the hostages.
Refusing to believe this is a coincidence, Ryan and Raina must use every trick in their books to stop any attacks before it is too late.
Alex is hiding in the tunnels under one of the occupied buildings. With a little help from an injured security guard, she makes contact with Miranda who is heading up the rescue operation.
But little does she know that Miranda is going to betray her trust and leaks her location to the terrorists.
Watch the trailer for next week's episode here: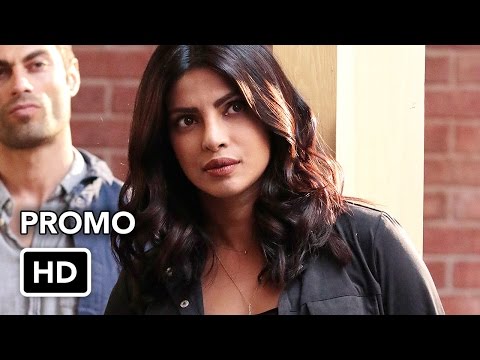 The 3rd episode of Quantico Season 2 will air on October 16, 2016 at 10pm (US time) on ABC.