"Have you ever tasted a gun, Alex? It's awful."
It's desperate times in the 14th episode of Quantico and there is only one person in the whole wide world that Alex Parrish can truly count on – Simon Asher.
It's not the first time Alex turns to Simon for his wits and alliance to get her out of deep trouble. Their trusting relationship rises above and beyond what she has with Ryan Booth.
But this time, her saviour needs to be saved before he can be of any use to Alex's cause – to take down the terrorists who killed Nathalie Vasquez and are now manipulating her.
Hiding out in a cabin in the blistering cold of Vermont, Simon has been living as a recluse drenched in guilt, shame and anger.
He is furious at Alex for telling him to let go of the trigger which was believed to be deactivated but eventually detonated a bomb that was planted at the FBI command centre, taking hundreds of innocent lives.
He struggles to come to terms with everything thing that has happened and seeks redemption in taking his and Alex's life.
Simon takes her on a hunting trip and tells her: "Every morning I put a gun in my mouth. Have you ever tasted a gun, Alex? It's awful. It's the only thing that feels right to me.
"Out here, I can finally admit the truth. There is no such thing as a clean slate. Just take the bullet of 68 people on my hands to teach me that. Not to mention the 133 before that. And dozens before that."
The ever-so-persuasive Alex manages to talk sense into Simon, even at gunpoint, and elicits his sense of justice and sympathy for Nathalie's death.
She convinces him:
"Forget control. This is about justice. Don't lose sight of that."
It has taken a while, but the 'revenant' finally comes out of hiding at the end of the episode and agrees to help her avenge for all those lives lost in the attacks: "You can count on me Alex. No matter what, you always could."
But as she fixes one relationship in present time, Alex has ruined it with fellow trainee Drew Perales, and her fling and tutor Liam O'Connor.
Despite being reluctant initially, Drew later welcomes Alex's help in finding out what really happened in Chicago that killed his pregnant fiancé.
But the truth surfaces in an ugly way and explodes all over Liam during a training exercise. This causes him to expel Drew and also indirectly leads to his resignation.
Meanwhile, a more dangerous plot is brewing. Will Olsen discovers his roommate Caleb Haas has another identity, namely Mark Raymond, whom he uses to meet with Samar – the con artist who pretends to be Shelby's sister and steals her money.
Watch the trailer for next week's episode here: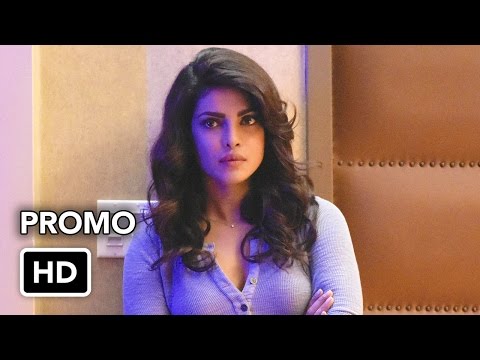 The 15th episode of Quantico will air on March 27, 2015 at 10pm (US time) on ABC.