"I will continue to entertain audience with different kinds of film"
Main Tera Hero is a full on masala movie which stars Varun Dhawan, Ileana D'Cruz and Nargis Fakhri in lead roles. The film is actually a remake of Telugu movie Kandireega.
The film has Varun Dhawan (from Student of the year 2012) playing the hero and centrepiece to the action and fun in the film. The trailer was released on 23rd Jan 2014 showing Varun in a typical loud and over the top scene, which is typical of a David Dhawan film.
You can't help remembering Govinda and Mithun after seeing the trailers
It makes you wonder if Varun could possibly be the next comedy star to replace Govinda. The film certainly shows that he has it in him to do that and he has executed that with ease.
It's been said that Varun spoofs Ranbir Kapoor's well known song Batameez Dil (Yeh Jawani Hai Dewani – 2013) in the movie. It is actually a bhajan that Varun would be seeing singing. Varun has choreographed this himself.
Main Tera Hero revolves around Varun where he is set on winning the heart of not one but both leading ladies played by Nargis Fakhri and Illeana D'Cruz.
Varun values earning appreciation for work over fame and money. The young actor hopes the audience would appreciate him as an actor with talent to mould himself into any character that the script demands.
The movie is directed by his father David Dhawan, so even though he has had the comfort of working in a family film, he will have to prove himself with the amount of hits his dad has directed in the past. The fact that he shares the same ethos like his dad about entertaining the audience and placing that over fame, should work for him.
He however says that "I will continue to entertain audience with different kinds of film. I don't want to bore them by doing one kind of cinema."
When asked if working with his director father was pre-planned, Varun replied: "It was not a deliberate decision, it just happened. I did this film for emotional reasons not commercial. This is my dad's 43rd film and my second. To work with an established director like him in the early stage of my career is a blessing."
The actor added:
"He was more like a director. There was no such father-son relation sort of a thing. It was difficult to work with him as he is a taskmaster."
Actress Nargis Fakhiri, who entered the industry with (Rockstar 2011) has also achieved something new in this movie. Despite struggling with the language, she has dubbed for the movie in her own voice.
She said "You get time to sit with your co-actors and prepare, but to improvise in Hindi is tough. I had to stick to my lines, but now I can understand and that's a great progress. It was hard, but it was fun. I am proud of myself because it's difficult. It's not easy to learn a new language," she added.
Praising her co-star Ileana D'Cruz, Nargis said "I am blessed my co-actress is a lovely lady."
Varun was quizzed if would date an actress in real life. He says that "All I would like to say is that I would never date an actress."
On the other hand, his co-star Ileana D'Cruz is so impressed with Varun that she would like her life partner to have similar traits like Varun. She says "I personally feel my equation with Varun Dhawan is on a different level. I share a great rapport with him,"
Ileana, who entered Bollywood with Barfi 2012. All the three leads have entered the industry around the same time.
The song Palat is an energetic number where Varun is seeing hard to charm the ladies. You will remember Govinda's antics and Salman's physique after watching Varun in this song.
The film has been shot in Bangkok, Bangalore and London. Veteran actor Anupam Kher also be plays a main cast in the movie.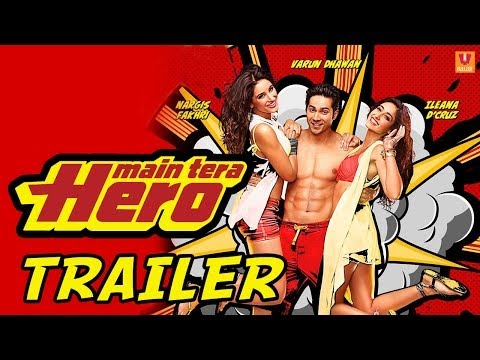 The soundtrack is composed by Sajid-Wajid, while the lyrics are written by Kumaar. The soundtrack consists of 6 songs. 'Palat' has already been so popular since its release on 3rd March that a re-mix version has already been released as well. The entire soundtrack has been received very well and has scored an above average of 3 out of 5 stars from most reviewers.
Another song to look for is Besharmi ki height, which is another youth, party song. Certainly a future repeat number in parties and clubs. Shanivaar Raati is a Punjabi track. Any good Bollywood cinema in recent times has some Punjabi influence and we have one here again. Galat Baat Hai is a thumka number.
If you are an Archie comic lover, you will see similar love triangle in this movie. If you want to smile, laugh or just experience David Dhawan's style of new age movie, the wait is over. It releases from 4th April. Have some fun.
What did you think of Main Tera Hero?
MInd Blowing (44%)
Time Pass (33%)
Okay (22%)
Loading ...