"Fawad is fantastic. He is a very talented actor"
Love, family and laughter is brought to life with Kapoor & Sons (Since 1921).
A perfect family drama, the film brings together talented actors like Sidharth Malhotra, Fawad Khan, Alia Bhatt and Rishi Kapoor on the big screen.
Director, Shakun Batra (Ek Main Aur Ek Tu), is positive that the film will strike a personal chord with audiences, and ever since its first look, Kapoor & Sons has been one of the most awaited releases of 2016.
The film focuses on the relationship between two brothers, Rahul (played by Fawad Khan) and Arjun (played by Sidharth Malhotra).
They have both returned home to Coonoor at the request of their 90-year-old grandfather (played by Rishi Kapoor) who suffers a heart attack.
On returning, the brothers find that not all is well in the Kapoor household, as their parents are no longer sleep in the same room and their father seems to have developed a relationship with a long-time family friend, which is making their mother uncomfortable.
Furthermore, the family is going through a severe financial crunch as well. While the brothers return to the same old home, they are met with very different dynamics, and each family member has a personal battle with each other.
Just as they thought things couldn't get any worse, the two brothers meet the vivacious Tia (played by Alia Bhatt) causing both of them to fall head over heels for the bindass beauty.
What happens to the Tia-Arjun-Rahul trio? Are the brothers able to bring back normalcy to their house? Are they able to resolve their own personal issues?
Fans of Student of the Year are thrilled to see their favourite Bollywood couple, Alia and Sidharth rock the big screen.
Despite their keen friendship off screen, Alia admits that their professionalism in front of the camera stays intact, particularly as they are so focused on their characters:
"Off-screen friendships don't exist once the cameras are on as you are dedicated to playing a completely different character. You have to adapt and switch on and off accordingly in order to create a real and believable situation.
"When I am in front of the camera, it doesn't matter to me whether I know them or not."
There have been countless rumours doing the rounds of how close Alia and Sidharth's friendship really is and whether or not they are dating. Unsurprisingly, the pair were met with this question during their film promotions. Sid clarified their relationship saying:
"We [Alia and I] have a great working relationship. I know her since my first film, so there is an emotional connect. We have always been there for each other's films. We knew each other before we did films so that bond never changes."
While fans have already witnessed a cracking chemistry during promos, we are pretty sure to expect the same on screen.
Listen to our full exclusive interview with Sidharth Malhotra about Kapoor & Sons here.
Pakistani heartthrob, Fawad Khan is enjoying his second release with Kapoor & Sons and it is clear that he is a scene stealer. Speaking about his choice to do the film, Fawad said:
"Whenever I read a script, I make sure I don't put it down until it's finished. I read the Kapoor & Sons script in just over half an hour, not because I was skimming over it but because I just read it like a book!
"I was blown away by the story and immediately picked up the phone 'This script is gold'. It's a very touching story but in a very real way and it was hugely different from anything I have done in the past."
Alia was also hugely excited to be working with the Pakistani talent, saying:
"Fawad is fantastic. He is a very talented actor. I was very surprised and happy with the spontaneity he and I managed to bring on screen in the scenes we have together.
"I know he is a big star and there have been several women who have come to me and said, 'Oh, you are working with Fawad! It is so exciting!' He is very down-to-earth and a very sweet guy."
After causing a stir with its teasers and trailers, Kapoor & Sons has already topped the charts with its incredible music.
Composed by various artists such as Amaal Mallik, Badshah, Tanishk Bagchi, Arko, Nucleya and Benny Daya, Kapoor & Sons has a random yet relatable sound track that will definitely make it one of the albums of 2016.
'Kar Gayi Chul' is already Number 1 on the charts and has gathered nearly 20 million plus views on YouTube. Being an authentic Badshah track, the fun quirky song is definitely the party song of the year.
'Bolna' is a sweet romantic track from Arijit Singh that reflects both brothers' feelings for Tia.
'Let's Nacho' is another fun track, with a melody that's a mixture of the north and south, and it will definitely get you on your feet.
The final tracks on the album include 'Saathi Rey' and 'Buddhu Sa Mann', with Saathi rey being a more emotional song. Buddhu Sa Mann is a quirkier upbeat happy song.
Initial reviews of the film suggest that Kapoor & Sons has already won over the hearts of critics and audiences alike.
Popular film critic, Komal Nahta says: "Shakun Batra's direction is marvellous. Given the script, he has remained honest to it … Kapoor & Sons is an entertaining film for the youth and the families."
Watch the trailer for Kapoor & Sons here: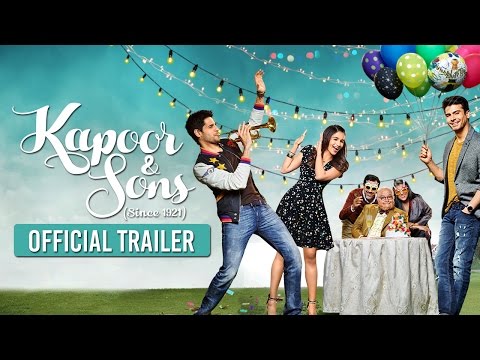 In lieu of the film's release, producer Karan Johar also hosted a special screening of the film, which many Bollywood stars attended.
Superstar, Aamir Khan said after watching the film: "I cried a lot now also watching Kapoor & Sons. It is a very emotional film where the characters are very well-etched and the actors have really acted their parts well. The film is laced with touching moments."
Ranbir Kapoor added: "After a long time, a film moved me."
A perfectly emotional drama for the family to enjoy, Kapoor & Sons may just be one of the best films of 2016. The film releases from March 18, 2016.