"I haven't played for the last three weeks so my stamina is low."
India's tournament sadly ended before the knockout stages of the Dubai BWF Superseries Finals Tournament as neither Kidambi Srikanth nor Saina Nehwal could progress past the round robins.
The BWF World Superseries Final started on December 9th and finished on December 13th, 2015, in Dubai.
Nehwal (ranked World Number 3) could only win one of her three fixtures whilst Srikanth (World Number 8) failed to win any of his matches at the tournament.
Saina Nehwal
Saina Nehwal entered the tournament with a war wound knowing she wouldn't be at her best; the ankle injury undoubtedly plagued her performances, restricting mobility considerably.
Also, prior to the BWF Superseries Finals tournament she hadn't been able to train for three weeks so her form was always going to be unpredictable and her stamina was understandably below par.
In her opening tie with Nozomi Okuhara she was beaten 21-14, 21-6. The game saw Nehwal make a deluge of unforced errors and deplete considerably as the match went on.
Nehwal said: "It's a huge honour to play here, it's a big event and the level of competition is very tough.
"I haven't played for the last three weeks so my stamina is low. Nozomi picks up everything, I'm trying to push myself but it's not happening."
Nehwal's second game was probably one of the best games of her career given the circumstances.
Despite the lack of training, low stamina levels and injury she was able to defeat the Spanish world number one, Carolina Marin, 23-21, 9-21, 21-12. A truly amazing match full of twists and turns; it was a perfect advertisement for the sport.
"I never thought I would win, I had no plan…and I never expected to play so well against Carolina. I didn't do any kind of running before coming here, and thought I would be going home and playing with my dog this weekend."
The Olympic bronze medallist had to win her final match against Tai Tzu-Ying of Chinese Taipei but she squandered one-game advantage to go down 21-16 18-21 14-21.
Tzu Ying had not won a game let alone a match in her two previous encounters with Nehwal which could indicate how much this injury is hindering Indian athlete.
"After the first game I felt my legs getting heavy. Yesterday was a tough match and I had trouble recovering. I came in without much preparation, so am happy with my performance here."
"Tai Tzu-ying is a tough player, very tricky at the net, and it's hard to read her strokes," she added.
Kidambi Srikanth
Srikanth was in good form heading into the BWF Superseries Finals tournament as he reached the finals of the Indonesian Masters Grand Prix Gold the week preceding the Super Series Finals.
However, he suffered three successive defeats in Dubai; the first being a loss to the world number eight, Kento Momota. He was outplayed 21-13, 21-13 by the Japanese player.
The second fixture saw Srikanth face Viktor Axelsen of Denmark and lost out by a 13-21, 18-21 score line. After the results finished on the second day Srikanth was not able to qualify no matter what the outcome of his third match.
Watch Srikanth's performance against Viktor Axelsen here: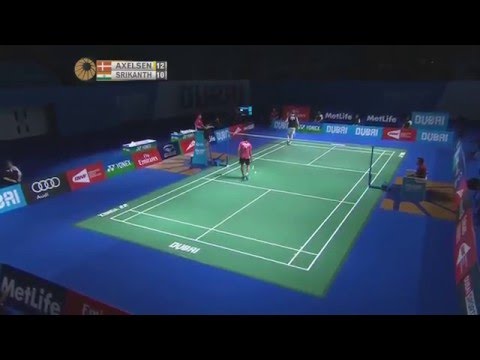 In what was a purely a formality for Srikanth; he lost 17-21 13-21 to Chinese Taipei's Chou Tien-chen in just 32 minutes.
The India player had a 1-0 record over the Taipei player, having beaten him at the Hong Kong Open, but he struggled throughout his third match match as he did over the three day round robin.
A telling stat is that won just 30 points as compared to 42 by the Taipei player.
Padukone Weighs In
Badminton legend, Prakash Padukone believes improvements in mental strength will play a vital role in clinching the gold at 2016 Rio Olympics.
He is suggesting Indian Badminton players should recruit the services of a sports psychologist as soon as possible.
He says: "I think Olympics is a test of mental character. Whoever is mentally strong will probably win the gold, not just in women's singles but in any sport.
"Olympics is a different ball game. You can win all the other tournaments, but if you are mentally not strong you can never win the Olympics."
So, after a disappointing Dubai BWF Superseries Finals Tournament for the Indian players they'll look to start the new afresh in the new year; the first tournament being the YONEX Estonian International 2016 in January.