"The groom was so drunk that he was unaware of his surroundings."
Indian bride Rinki Kumari, from Dumri Chapiya village in Bihar, India, called off her wedding after her soon-to-be husband allegedly turned up drunk.
She was set to marry Bablu Kumar on Saturday, March 9, 2019, at a venue in Bihar.
He arrived in an intoxicated state and was unaware of his surroundings. Bablu also acted disrespectfully during the ceremony.
As a result, Rinki became angry with him. She later refused to marry him when he disrespected her.
Both sets of families tried to reason with her but she did not change her mind.
Tribhuvan Shah, the bride's father said: "The groom was so drunk that he was unaware of his surroundings."
According to Mr Shah, the groom even passed out briefly due to his state. He added:
"The groom was so drunk that when the puja ceremony was being done, he was not conscious.
"Then when two of the men in the ceremony tied a scarf around his neck. He grabbed it and threw it off."
Rinki approached her future husband in an attempt to calm him down, however, Bablu started speaking to her in an uncivil way.
Mr Shah explained:
"Then when my daughter approached him, he started to speak to her in a disrespectful way."
"So, she got up and she decided to leave and not marry him. He misbehaved on the stage, so my daughter refused to marry him."
Another relative said: "The groom was unable to stand properly as he was heavily drunk. Also, he could not perform the rituals correctly, as a result, she left the wedding and went away."
Family members tried to convince Rinki to change her mind but she did not.
Not only was she angry, but her father was also. Mr Shah said:
"We will not tolerate this kind of abusive arrogance."
After Rinki left the venue, the guests prevented Bablu from leaving until he returned all the dowry which he had taken.
Watch the Footage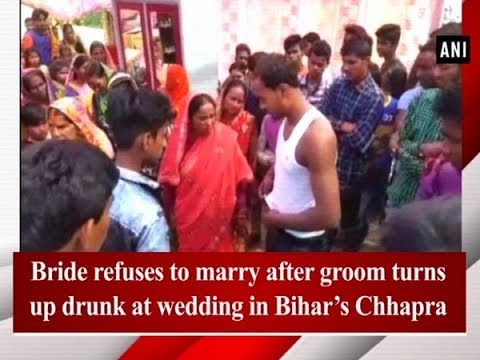 In another incident which occurred in January 2019, a groom and his friends were refused entry into the wedding venue after they arrived drunk.
Guests informed the police and the groom was arrested and charged.
Alcohol has been prohibited in Bihar since 2016, but incidents like this are not uncommon.
The ban has been mostly successful but alcohol is still sold illegally. Young people also resort to bootlegging in order to make money fast.