"The kind of response that I have received for the trailer has been amazing"
The trailer of upcoming film Hindi Medium is out and it's everything you'd expect from a Pakistani artist's Bollywood debut.
The past couple of years has seen a string of Pakistani actors and actresses cross over to make it big in Bollywood.
From Ali Zafar to Mahira Khan, all of these local stars had paps and press going crazy over their coveted Bollywood debuts but it was only Fawad Khan who managed to live up to expectations. The rest were no more than just sidekicks and pretty faces opposite B-town mavens.
It seems now that one actress may just be on her way to change the situation at hand and bring a new dawn for Pakistani actresses in Indian cinema. And that actress is none other than Saba Qamar.
Known for her strong portrayal of women characters on Pakistani television, Saba Qamar stars as the female lead in the upcoming film Hindi Medium opposite Irrfan Khan.
And for once, a Pakistani co-star isn't just a sexy siren or a pretty face spurring her hero's machismo. Instead, you see Saba in a powerful act, standing equal to her Indian co-star in both performance and screen time.
However, the lesson that the film is hoping to serve is far more important its cross-border aspect. The film, directed by Saket Chaudhary, takes a comedic dig at India's growing obsession with the English language and the class divides it has created within the society.
The trailer packs in more than a punch or two with a spoonful of comedy and an ounce of emotional drama topped with a much-needed and relevant social message.
Irrfan Khan is a Hindi-speaking common man who together with his wife Saba Qamar is on a mission to enrol their daughter in an English medium school because that is the only way she can be guaranteed a good education and a successful future.
Their rollercoaster ride on this journey is what seems to form the crux of the upcoming film Hindi Medium and it sure looks promising. Both lead artists hold a track record of impressive performances in their respective countries and we expect nothing less than genius from the two of them together.
The trailer has already garnered over 8 million views on YouTube since its release on 6th April 2017. Hence, it's no surprise that Saba is over the moon. She took to Instagram to thank her fans for the overwhelming response:
"I'm really grateful for all the praises and heartfelt wishes that I have received for my upcoming film Hindi Medium."
"The kind of response that I have received for the trailer has been amazing. I would like to thank all my fans from India and Pakistan and all over the world, all my colleagues, friends and everyone for such an amazing response. LOVE YOU ALL!!" she wrote.
The film also stars Amrita Singh and Deepak Dobriyal of Tanu Weds Manu fame.
Watch the trailer for Hindi Medium here: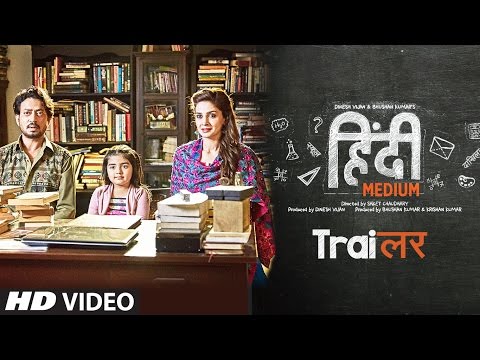 Hindi Medium releases in cinemas from 12th May 2017.