"The music industry is a movement, it's growing day by day"
Multi award-winning Punjabi vocalist, artist and entertainer H-Dhami came out with his new single 'Falling' on April 4, 2019.
'Falling' is special as it is H-Dhami's first single of 2019. He also has exciting plans to launch a series of new music and an album for 2019.
Lyan is the producer of this wonderful track, featuring British Asian rapper Raxstar.
H-Dhami who has International credentials, previously featured with Raxstar for the F1rstman led party anthem 'Dance.' Collaborating with artists such as Mumzy Stranger and Juggy D, the track reached the top 10 charts.
'Falling' is Dhami's second impressive collaboration with the formidable Raxstar.
The fresh embryonic sound and commanding video made in London, has got fans falling in love with the track. To create the right vibes he has also sung the chorus in English.
Post-release, the video to the song has already managed to conjure good YouTube hits. After the first seven days, the video directed by Adeel Kureshii garnered over 290,000 YouTube views.
The video shows, fashionable models and a fancy car. Wearing glasses, H-Dhami and Raxstar look very slick and cool in the video. The video, which is over three minutes has a very underground feel to it.
The lyrics of the track are co-written by D Arry, Palvinder Dhami, H-Dhami and Raxstar.
Here is an exclusive Q&A with H-Dhami about 'Falling', working with Raxstar and lots more:
Tell us how "Falling" happened?
It almost feels as though this song had a journey of its own looking back.
It started from a good friend introducing me to his friend, who is a writer (D Arry) who had written the first part of the song.
Then me and Lyan getting in the studio and putting down a guide beat to work and complete the song, with input then from my dad Palvinder Dhami and myself adding our vibe to it.
What made you choose Raxstar to feature on it?
It was actually at the video shoot of 'Dance' where I got Raxstar to listen to the song and he loved it. At that point, I just asked Rax if he wanted to do a feature and he was like yes 100%.
We got into the studio the following week and there you go, the song was complete.  It was definitely the icing on the cake with Raxstar's vibe.
Tell us more about LYAN the producer?
Lyan is a great producer, with a vision out of the box.
Since he came on to the scene, it's been amazing to see his progression and sound evolving and I'm looking forward to working with him on many more records.
Would you say 'Falling' is a new direction for you?
It was definitely a test and a challenge for me, as over the years, music has changed so much and there is so much of it now.
I took the challenge of singing parts of the song in English and I'm glad I took that step. There are no boundaries in music, don't be afraid to try different things and let it organically blossom.
Who came up with the video concept, especially the coat?
This coat lol. Yes, it was a nice coat no doubt.
"The concept was conceived by a group of us, we had a vision and references of what we wanted the video to look like."
We have done a lot of brainstorming and narrowed it down to the end. 'Adeel Kureshii' done an amazing job in directing and finishing the video to a vision of class.
Not forgetting the stylist for the shoot 'Sukh Sohal' – bringing the fashion game on set at it's best.
What defines H-Dhami as a singer?
Being fortunate of growing up with music in my blood, my passion for it and my father as my mentor, it's my happy place.
But the best part is being able to create music and sing for others, to see their reaction and the joy it brings to them is my purpose, I see music as medicine for people
Which singers do you admire most and why?
There are so many singer's that have incredible talent. But my favourite two are:
My father (Palvinder Dhami HEERA) as I've been blessed to have music running through my veins and to carry those genes forward from what legendary music he has created over the years is a true honour.
Gurdas Mann – I've grown up listening to this living legend since a child. I've lost count of how many concerts over the years I have been to of his, not only is he an incredible artist, but an amazing human being.
What does H-Dhami do to relax when not 'Falling in Love'?
I love going to the gym, playing sport's such as football, tennis, squash, swimming – then obviously the sauna, steam and jacuzzi.
But most importantly my family time is my number one.
It's wonderful that British Asian artists such as H-Dhami and Raxstar are collaborating and working together. H-Dhami optimistically says:
"The music industry is a movement, it's growing day by day – let's keep it moving."
Music was always deeply embedded into H-Dhami, especially with his father Palvinder being the lead singer of the popular eighties Bhangra band Heera.
It was in 2008 that H-Dhami began his musical journey as a solo artist. At the time Rishi Rich was the producer of his album 'Sadke Java,' featuring 13 powerful tracks.
Rishi is famous for launching British Asian talents who have become known artists worldwide.
Watch H-Dhami's 'Falling' featuring Raxstar here: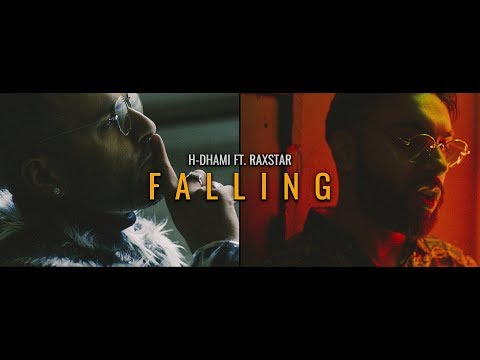 After achieving fame, H-Dhami has received several international honours, along with accomplishing multiple "Chart Topping Music."
H-Dhami says:
"It's now time for me to give you music that I've loved working on and I am very excited to be sharing this."
The track 'Falling,' which was launched on April 4, 2019, had an exclusive playout on the BBC Asian Network.
'Falling' is available to download and stream via all major platforms here.
DESIblitz congratulates H-Dhami on 'Falling' and we look forward to some more fresh music from him in the future.