Amir's father also branded her an: "Attention seeker."
The feud between Faryal Makhdoom and her in-laws continues as Faryal makes an appearance on the ITV television show This Morning.
The 25-year-old wife of boxer Amir Khan has spoken out against her in-laws Sajjad Khan and Falak Khan. Whilst her father-in-law dismissed her claims on BBC Asian Network, shortly after her TV appearance.
Speaking on This Morning, Makhdoom acknowledged her in-laws had a problem with the way she dressed. But, the American beauty has denied that her dress code was anything hidden.
It was not a secret. She said: "I remember the first day when Amir's mum and dad had both come with him (to her house), they knew the way I dressed."
Makhdoom has lashed out before. She now spoke again of the matter, speaking to Holly and Phillip on the ITV show. She said:
"No-one addressed that (her dress code). Nobody said 'sorry we can't accept you because of the way you dress…everything was fine."
The problems according to Makhdoom began 6 months into her and Amir's engagement. She said: "I realised I wouldn't be able to fit into the family."
The 25-year-old said she had gone to surprise her husband in Dubai, where he was on holiday with his family. Makhdoom claimed she was not allowed to see her husband, and his family had said she had ruined their family holiday.
Watch Faryal Makhdoom's interview on the This Morning show: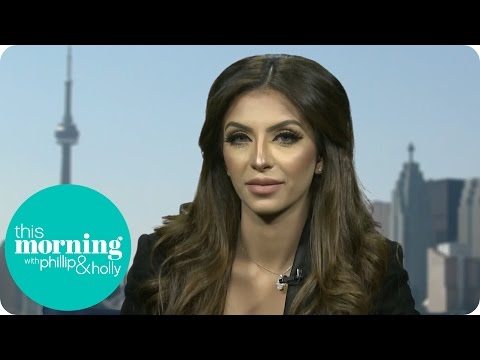 Meanwhile, Makhdoom's father-in-law Sajjad Khan spoke to BBC Asian Network after hearing his daughter-in-law speak on This Morning.
He denied that he had ever stopped Faryal from dressing her way, he said: "Wear whatever you want, fine, but please do not tweet it on social media. Because the amount of abuse you get, it hurts us."
Khan has already stated that he has nothing against his daughter-in-law, but her appearance on This Morning made him angry. He said: "If she had any decency to patch things up, she should pick up the phone to us, and say 'listen, guys, whatever happened, whatever I posted, it's the end of it.'But no, she wants to go on the television."
Amir's father also branded her an: "Attention seeker."
Boxer Amir Khan is in the middle of the ongoing battle between his wife and parents. He broke his silence and took to twitter to beg both sides to stop.
However, both parties have expressed their desire to put the feud behind them, although according to Makhdoom, this may be difficult now due to all their problems and public feuds.
Loading ...