Fallout Shelter recorded a stunning 70 million daily play sessions in launch week.
Candy Crush Saga has enjoyed a long reign as the top-grossing free mobile game on Apple and Google's app charts.
That reign has come to an end, however, when Bethesda took E3 by storm by bringing out the mobile version of Fallout 4.
Fallout Shelter is a free-to-play game made available for iOS download at E3 in June 2015.
Suffice to say Candy Crush Saga was beaten in a matter of minutes, as fans of the Fallout series flocked to the App store.
Todd Howard, the Game Director at Bethesda, says: "To have our first mobile game be enjoyed by so many is stunning.
"It just shows that gamers appreciate more depth and being treated fairly. It also shows people love Fallout as much as we do."
Given Fallout Shelter's success on iOS, DESIblitz explores its potential to dethrone Candy Crush Saga on Android.
Android trumps iOS
SuperData reports in the first two weeks of Fallout Shelter's release on iOS, it made a whooping US$5.1 million (£3.3m).
The post-apocalyptic survival game recorded a stunning 70 million daily play sessions in its iOS launch week on June 14, 2015.
SuperData's report states: "By emphasizing unobtrusive monetisation and offline playability, Bethesda managed to earn the respect of a consumer group that is otherwise highly critical of free-to-play monetisation."
With Android's comfortable dominance over iOS since 2012, this figure is very promising for the American game publisher.
Research firm IDC reports as of Q1 2015, Android leads the smartphone OS market with a 78 per cent share over iOS (18.3 per cent).
Part of the reason for its edge over iOS is that Android devices are more accessible and do not cost nearly as much as those of Apple.
If Fallout Shelter's forward momentum continues, Bethesda can easily take down Candy Crush Saga to add another US$5m to its revenue.
Gameplay
Fallout Shelter is plot-driven. It relies heavily on whether or not the player has encountered the original series before.
Bethesda takes full advantage of Fallout's loyalists and cleverly introduces some legendary Vault Dwellers who will be appearing in the highly-anticipated Fallout 4.
This has undoubtedly played a significant role in enticing console and PC gamers to download the mobile version for a sneak preview.
On the other hand, King's Candy Crush Saga is essentially a puzzle in the form of colourful sweets.
It has no real need for a back story. After all, who needs a reason to crush some candies?
This phenomenal game has a great replay value, as you can constantly go back into the game for a string of achievements.
You may not be able to do that with Fallout Shelter, but the amount of time and dedication required comes with its own reward.
Like Fallout, it demands your full attention and urges you to experiment more with different room placements and Vault Dwellers.
Candy Crush Saga may keep you coming back for more, but Fallout Shelter will make you feel good about your accomplishment.
Reward
The differences between the two games are apparent. One is family friendly, while the other is about survival in a harsh environment that has been ravaged by nuclear war.
However, both require some modicum of tactical thinking in return for prizes and incentives. This is exactly what makes them similar and wildly different at the same time.
Candy Crush Saga gives players bonuses for completing different levels and tasks. But unlike Fallout Shelter, it does not give out freebies as often.
Fallout Shelter rewards players for completing daily objectives, and the best thing is these goodies are very practical for planning your strategy.
There are a number of free items you can earn. For example, a boost to food, water, power or a legendary Vault Dweller.
Legendary Vault Dwellers can usually be obtained by buying lunch boxes with real money, but the benefits of having them totally outweigh the cost.
All of these will help you stop rad roach invasions, maintain your vault and send out Vault Dwellers into the wasteland to find other Dwellers or equipment.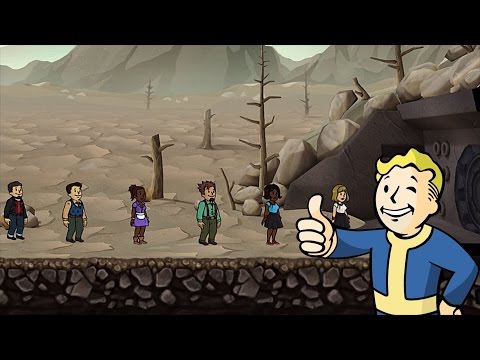 Unlike other mobile games, Fallout Shelter has the advantage of thriving off its name alone. So, Candy Crush Saga should enjoy the spotlight while it can.
One can only hope Bubblegum Troll and Tiffi can survive the fallout that will most likely occur when the wasteland adventure game lands on Android.
Fallout Shelter will be available for free download on Google Play Store from August 13, 2015.