"Just delighted we're lifting the trophy"
England are crowned One Day International (ODI) Cricket World Cup champions after winning a thrilling final at Lord's Cricket Ground in London on July 14, 2019.
The match was tied after 100 overs, with England winning the one-over eliminator to become Cricket World Cup champions for the first time.
New Zealand skipper won the toss and made the choice to bat first – be it in overcast conditions.
The Kiwis came into tghe final after a clinical performance against India in the semi-final. For favourites England and captain Eoin Morgan, the toss was a 50-50 decision.
The onus was on the English opening bowlers to utilise the conditions and exploit the weak New Zealand openers.
Both teams went with the same line-ups as in the semi-final victories. There was going to be a new name on the trophy as both sides had not won the ODI cricket world cup.
Celebrities, VIPs and dignitaries were inside the stadium to witness potential history for the hosts. Those in attendance included Theresa May, John Major, Ashley Giles, Steve Waugh and Monty Panesar.
There were also some Pakistani and Indian supporters now urging on England. After the national anthems, it was time for cricket, with both sides very eager to get going.
This was England's first final since twenty-seven years, whilst New Zealand made it to their second consecutive finale.
Perfect Plunkett
Once again New Zealand openers got to a shaky start. A DRS review did not save Martin Guptill as he was clearly out lbw for nineteen runs off Chris Woakes.
After a seventy-plus runs 2nd wicket partnership, Kane Williamson (30) was next to go, with wicketkeeper Jos Butler taking a comfortable catch off Liam Plunkett.
Shortly afterwards, Henry Nicholls (55) was also unable to convert his fifty into a big score, with Plunkett bowling him out.
Ross Taylor (15) was unlucky to get out lbw off Mark Wood as TV replays did clearly show the ball going over the stumps.
Plunkett claimed his third wicket when Joe Root took a straight forward catch at mid-on to dismiss Jimmy Neesham on nineteen.
A jittery Colin de Grandhomme (16) was out in the 47th over, getting a leading edge off a slower delivery from Woakes.
Despite all the kiwi batsmen having a good start, none of them went onto make a big score.
Failing three runs short of his half-century, Tom Latham (47) chipped the ball to substitute fielder James Vince at mid-off to become Woakes third victim.
Jofra Archer got into the act when a full and straight delivery was enough to clean bow Matt Henry (4) out.
Archer at the death took 1-20 in his last five overs. An all-round performance by England restricted New Zealand to 241-8 in their fifty overs.
The All Blacks made a fighting score, but not necessarily a fighting total.
Pleased with the bowling effort, Plunkett who took 3-42 spoke at the halfway mark saying:
"It's a good pitch. We thought we bowled tight lines to restrict New Zealand. Try and get as much out of the pitch with my variations."That's my role.
"I use the cross-seam ball more than the seam-up."
Woakes was the pick of the bowlers, claiming 3-37 in his nine overs. Despite not taking any wickets, Adil Rashid was fairly economical.
Brilliant Ben Stokes
After a few close calls at the start, Jason Roy (17) was the first man out, with wicketkeeper Tom Latham taking an easy catch off a Matt Henry leg cutter.
After toiling away for seven runs, Joe Root was caught behind by Tom Latham off Colin de Grandhomme.
And then a set Jonny Bairstow (36) got an inside edge onto his stumps off Lockie Ferguson to leave England in a spot of bother at 71-3.
At this point in time, England did need a good partnership. But under pressure, Ferguson took a blinder of a catch off Jimmy Neesham to dismiss Eoin Morgan (9).
England's hundred came up in the 28th over as it was now down to Jos Butler and Ben Stokes to see England home. Both quite assuring at the crease built a fifty-runs partnership.
With Butler and Stokes chipping away sensibly, England got to their 150 in the 38th over. Between the 31st and 40th over, England made 55 runs, conceding no wicket.
Butler and Stokes got to their fifties in their 44th over. But after making a hundred runs 5th wicket partnership, Butler (59) sliced the ball to substitute fielder Tim Southee who took an excellent catch.
Chris Woakes (2) trying to hook the ball got a top edge which went back high, as Latham kept his nerve to take the catch.
It was now left to Stokes and Plunkett to become heroes for England. But Plunkett (10) went back to a silent dressing room as Boult took an easy catch of Neesham.
After Stokes hit a six and Archer being bowled out for a golden duck in the 49th, it got really tense.
But two dot balls, a six, a slice of luck and two run-outs of Adil Rashid (0) and Mark Wood (0) forced a super over.
No one could have scripted the first-ever Cricket World Cup super over.
Super Over Thriller
Jos Butler and a brave Ben Stokes came for the super over and took fifteen runs off six balls bowled by Trent Boult.
New Zealand knew they had to get sixteen off the final over as another tie would give England victory, courtesy of hitting more 4s in thier normal fifty over innings.
And young sensational talent Jofra Archer kept it tight as Martin Guptill and Jimmy Neesham could only match manage fifteen runs.
England became ODI Cricket World Cup 2019 champions for the very first time. It was like ecstasy for England and unbelievably painful and agony for New Zealand.
Stokes who became a national hero with his unbeaten 84 off ninety-eight balls was given the man of the match award.
At the post-match ceremony, after shaking hands with Sachin Tendulkar a happy and relieved Stokes expressed:
"I'm pretty lost for words. All the hard words that's gone in over these four years, this is where we aspired to be.
"To do it with such a game, I don't think there will be another like this in the history of cricket. Jos and I knew if we'd be there close to the end, New Zealand would be under pressure.
"Not the way I wanted to do it, ball going off my bat like that, I apologised to Kane. We backed the new kid, Jofra Archer, the talent that he's got, he showed the world today."
Despite not leading his side to Cricket World Cup 2019 glory, Kane Williamson received the man of the tournament award.
Congratulating the champions and the paying gratitudes to his team, a disappointed Williamson mentioned:
"Congratulations to England on a fantastic campaign. It's been challenging, the pitches have been a little different to what we expected.
"I'd like to thank the New Zealand team for the fight they showed to keep us in the tournament and get us this far. A tie in the final. So many parts to it. The players are shattered at the moment.
"Obviously it's devastating. They've performed at such a high level through the tournament."
Watch highlights of England's Cricket World Cup 2019 triumph: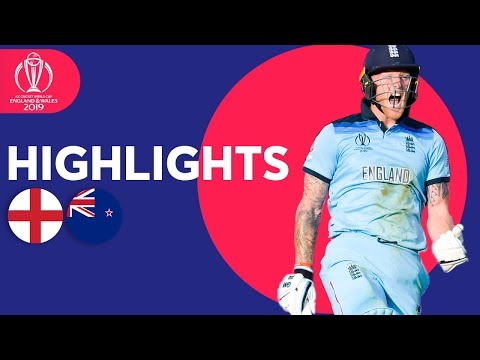 Demonstrating sportsmanship and summing up the journey, a delighted winning captain Eoin Morgan stated:
"There wasn't a lot in that game, jeez. I'd like to commiserate with Kane. The fight, the spirit they showed. I thought it was a hard, hard game.
"This has been a four-year journey, we've developed a lot over those years, particularly the last two. To get over the line today means the world to us.
"The guys in the middle keep us cool, the way they play, the experience. It's calming at times."
"Not a lot between the teams. Just delighted we're lifting the trophy today."
After both teams received their medals, Lord's erupted as Morgan raised the Cricket World Cup. No one left the stadium as they all wanted to witness this historic moment.
England fully deserved thsi victory as they were the most exciting team in the tournament, playing fearless cricket.
DESIblitz congratulates England on lifting the Cricket World Cup 2019 trophy. The whole nation will rejoice this success for a very long time.