"Our shot selection could have been better"
India lost to New Zealand by eighteen runs in the two-day semi-final thriller of the ICC Cricket World Cup 2019.
With a fresh pitch, the conditions were overcast and dry at Old Trafford from July 9 to 10, 2019.
New Zealand skipper Kane Williamson won the all-important toss and naturally chose the bat. Both teams made one change each. Yuzvendra Chahal came in for Kuldeep Yadav.
Leaving out Mohammad Shami was a big surprise with a much health bowling average than Bhuvneshwar Kumar. It felt like the Shami curse came into effect at the end.
A fit-again Lockie Ferguson was back in the side for Tim Southee, giving New Zealand a big boost.
We highlight this nail-biting game from the Cricket World Cup 2019, which went into the final over.
Ross Taylor and Rain
Jasprit Bumrah got the early vital blow. An edge from Martin Guptill (1) went travelling to Virat Kohli who safely took the catch at second slip.
Once again, Kane Williamson came to the crease very quickly. But at the other end, Ravindra Jadeja stole the wicket of Henry Nicholls (28) as a spinning delivery hit the stumps.
At this stage partnerships had taken a lot of time, wasting a lot of dot balls. Despite seeming to be a good wicket, it did not play that way.
After making a slow fifty, Williamson's day became more frustrating when he was done by the magic of Yuzvendra Chahal, finding Jadeja at the point position for sixty-seven.
Dinesh Karthik shortly afterwards took an easy catch when Jimmy Neesham (12) got a leading edge off Hardik Pandya at long-on.
Colin de Grandhomme (16) was next to go, trying to play a delicate nudge as he got caught behind by Mahendra Singh Dhoni off Bhuvneshwar Kumar.
With New Zealand on 211-5, the rain came into play at 46.1 overs. There was no further play in the match as the two umpires made the decision to play the game on the next day.
New Zealand had hoped to target 250. But the next morning did not quite go according to plan.
A flat throw from Jadeja run out Ross Taylor on seventy-four.
A ball later, a flash of brilliance by Jadeja saw him taking a sensational catch near the boundary off Kumar to dismiss Tom Latham (10)
In the same over Matt Henry became Kumar's third victim. Captain Virat Kohli took an easy catch to send him packing for one.
Like the start and the middle of their innings, it was a slightly disappointing finish for New Zealand, finishing on 239-8 in fifty overs.
But on a slightly bowling friendly pitch, it was a good fighting total during this fascinating game of the Cricket World Cup 2019.
Fine Spell by Matt Henry
Despite chasing a low score, the in-form Rohit Sharm fell cheaply for one, as Tom Latham took an easy catch behind the wickets of Matt Henry.
With the 'All Blacks' needing wickets, this was the best start for them.
Virat Kohli (1) became the second big fish to go early, out lbw to Trent Boult. Even though the TV replay did show that it was only clipping, Kohli had to go, with it going as per umpires call.
KL Rahul was out the next over for one, also caught behind by Latham off Henry. At this stage, India was struggling big time on 10-3.
Dinesh Kartik who took time to come out of the blocks was phenomenally caught by Jimmy Neesham as Henry claimed his third wicket.
With India 24-4, it was now a huge test for the Men in Blue. As Hardik Pandya joined Rishabh Pant in the middle, India got to their fifty in the 17th over, giving their fans some hope.
Just when Pant (32) had the start, he got himself irresponsibly out, with Colin de Grandhomme taking an easy catch at cow corner off left-arm spinner Mitchell Santner.
Pandya (32) who had no intentions of holding back tried to slog across the line but found Kane Williamson off Santner as India began losing the way.
Kohli was very animated with Indian coach Ravi Shastri following the dismissal of Pant and Pandya. His main bone of contention was that they should have not played shots in the air.
Mahendra Singh Dhoni was not going to win this game if he kept losing partners. But a brave Ravindra Jadeja had other things on his mind. He brought up his 50 off thirty-eight balls to give India a glimmer of hope.
The two made a partnership of 100 off ninety-seven balls, which was simply amazing under the circumstances.
But when it came to the death n the 18th over, something had to go. Jadeja (77) was finally was out, with Willason taking a crucial catch off Boult.
Spare a moment for Jadeja who did play a sensational knock.
Guptill who has had a miserable tournament then brilliantly run out Dhoni, as the crowd went silent in the ground. On the last ball of the 19th over Lockie Ferguson bowled out Bhuvneshwar Kumar for a golden duck.
Yuzvendra Chahal was the last man out as he was caught by Latham off Neesham. New Zealand won the match by eighteen runs.
Player of the match, Matt Henry was the pick of the bowlers with 3-37. He said the team knew that they had to bowl well against the formidable India side:
"We just had to ask a lot of questions against the best batting line-up. I thought we managed to scrap it out.
"We had the belief, we knew we had to bowl well. Obviously, they are world-class batsmen – Hardik, Dhoni and Jadeja – we knew to win the game we had to get them out.
"It's very special and thanks to the New Zealand supporters out there."
A disappointed Virat Kohli felt it was game of two halves and fractions:
"The first half we were spot on. We got what we needed in the field. We knew we had a good day yesterday, we felt like we had the moment, but the credit has to go to NZ bowlers.
"The swing and help they got from the surface – the skill from them was on display.
"Jaddu had an outstanding couple of games. He went with so much clarity, MS had a good partnership with him. It was a game of margins and MS was run-out.
Forty-five minutes of bad cricket puts you out of the tournament. Difficult to take it – but New Zealand deserve it.
"Our shot selection could have been better, but we played a good standard of cricket throughout. New Zealand were braver in crunch situations and they deserve it."
Speaking about the spectacular semi-final and digging deep, a delighted Kane Williamson expressed:
Great semi-final over two days and very pleased to be on the right side of it. It was really tough and we had to assess the conditions.
"Both teams thought it would be high-scoring, we thought we could get 240 and put India under pressure. Lot of contributions from everyone.
"A lot of it was on the conditions and the rain around. We just wanted some early wickets and it was a great start for the bowlers.
"We needed to stay in the game for long periods. The way Jadeja and Dhoni were hitting the ball, they were likely to win, but our fielders were then outstanding.
"It was nice to see the guys fight for two days."
Watch highlights of India's defeat to New Zealand here: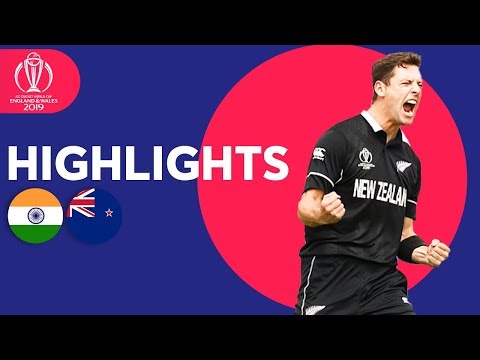 Jadeja's innings was in vain at the end. On another day, India would have won this match very easily. They just had thirty minutes of bad luck with their batting.
This is the first time in history that India lost their first three batsmen for only one run. The big question on everyone's mind is that has MS Dhoni played his last One Day International (ODI) innings.
Meanwhile, for New Zealand, this was a great victory as they were the underdogs.
Besides the excellent bowling of Henry, Trent Boult and Mitchell Santner also took two wickets each. Santner also bowled two maidens, which were pivotal in the bigger scheme of things.
Thus, New Zealand reaches the Cricket World Cup 2o19 final. This is the second time in a row that the Kiwis have got to the final.
DESIblitz congratulates New Zealand on their Cricket World Cup 2019 semi-final triumph over and wishes them the very best for the final.