"I had a great feeling right at the start."
Team India defeats Bangladesh by twenty-eight runs as they become the second team to make the semi-final of the ICC Cricket World Cup 2019.
As a result of this loss, Bangladesh is eliminated from the mega event.
The weather conditions were absolutely perfect at Edgbaston on July 2, 2019.
Indian skipper Virat Kohli won the toss and elected to bat first. Both sides made two changes each, reducing one seamer and having an extra spinner.
For India, medium pacer Bhuvneshwar Kumar came in for Kuldeep Yadav, with Dinesh Karthik replacing Kedhar Jadhav
Sabbir Rahman made the final Xl, with Mahmudullah failing a fitness test.
It was a big day for Bangladesh, as they had to win to stay in the tournament. Whereas India, was one win away to guarantee a semi-final spot.
The Men in Blue were favourites going into the match. They had beaten the Tigers in the semi-final of the 2017 Champions Trophy.
The unique aspect of this the match being that Late Rabindranath Tagore was the writer for both national anthems as the players walked out into the middle.
Rohit Sharma's Second Consecutive Hundred
India had a big slice of luck at the start. A clumsy Tamim Iqbal running from the left of deep square leg put down a sitter off Mustafizur Rahman to give Rohit Sharma a lifeline.
This was not the start Bangladesh were hoping for as Sharma took advantage of his early reprieve.
India's fifty came off a no-ball from Rahman in the ninth over. This was the best start for India in the Cricket World Cup 2019.
Sharma making the most of his second chance got to his 50 off forty-five balls. And in the 29th over he made his second consecutive hundred off ninety balls.
But shortly after completing his century, Sharma (104) found Liton Das just over extra cover off Soumya Sarkar.
KL Rahul (77) who also got to his half-century was next to go, as Mushfiqur Rahim took a catch behind the wickets off Rubel Hossain.
Virat Kohli did not last long as he hit the ball straight to Rubel Hossain off Rahman for twenty-seven.
In the very same over, two balls later Sarkar took a catch at wide slip to dismiss Hardik Pandya for a golden duck off Rahman. This was Rahman's second wicket in the match.
From a commanding position of 180-1, India began wobbling at 237-4.
Following a forty-runs partnership for the 5th wicket, Rishabh Pant (48) was out attempting a slog sweep, as Mosaddek Hossain took a bobbling catch at deep backward square off Shakib Al-Hasan.
Rahman got his third when Hossain took an easy catch at mid-wicket as Dinesh Karthik fell cheaply for eight runs.
In the final over, wickets went tumbling down as Rahman got a fifer.
An out of form Mahendra Singh Dhoni (35) was caught just to the left of mid-on by Shakib off Rahman.
Bhuvneshwar Kumar was run out for two next, with Mohammad Shami (1) being bowled by Rahman off the last ball.
India finished on 314-9 in their fifty overs. Whilst it was a good score on this pitch, India would have been disappointed as they fell short of 350.
Bangladesh Bow Out of World Cup
Bangladesh made a relatively good start until Tamim Iqbal (22) found an inside edge onto his stumps off Mohammad Shami.
And to add more misery, Soumya Sarkar (33) was out to a silly shot which went to Virat Kohli at short extra cover off Hardik Pandya.
At this point, Bangladesh's chances of winning had come down to twenty-five per cent. Mushfiqur Rahim joining Shakib Al Hasan on the crease took Bangladesh to hundred in the 2oth over.
But again Rahim (24) was out to a disappointing dismissal as Shami took an easy catch off Yuzvendra Chahal.
Shakib notched up his 50 off fifty-eight balls in the 28th over as a big hundred could get his team close.
Pandya struck again as Liton Das (22) got carried away and got caught as Dinesh Karthik took a comfortable catch at short mid-wicket.
Mosaddek Hossain (3) was sent back to the pavilion as he got an inside edge onto his stumps off Jasprit Bumrah, with Bangladesh losing their fifth wicket.
Shakib was standing like a colossus for Bangladesh, but he needed support from the other end. But Shakib (66) got himself out as Karthik took a simple catch at extra cover.
Bumrah dismantled the wickets of Sabbir Rahman (36), which was like the last nail in the coffin.
Prior to the wicket, a seventy-six runs partnership by Rahman and Mohammad Saifuddin had given Bangladesh a glimmer of hope.
Bangladesh lost their 8th wicket as captain Mashrafe Mortaza was caught behind by Dhoni for eight runs.
Shaifuddin continued fighting and made his 50 off 38 balls. But Rubel Hossain got a beauty from Bumrah as he bowled him for eight runs.
Another fine yorker from the classic Bumrah to dismiss Mustafizur Rahman (0) saw India beat Bangladesh by twenty-eight runs and through to the semi-final.
Watch Highlights of India defeating Bangladesh here: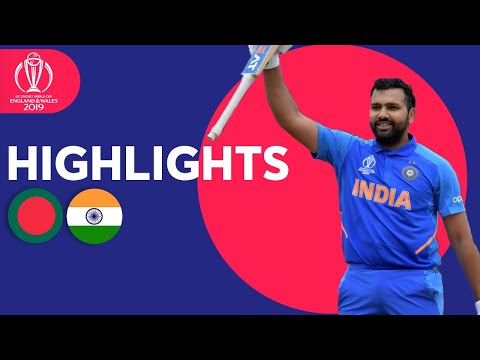 Man of the match Rohit Sharma who got his fourth hundred of the Cricket World Cup 2019 spoke about how he was feeling good with no scoreboard pressure:
"I had a great feeling right at the start. It's a great pitch to bat on. There was no question of scoreboard batting first, so that's what I had to do.
A disconsolate Mashrafe Mortaza said:
"This was a good effort, but we had to win this match. Rohit's catch was obviously disappointing, but those things happen in the field.
Vira Kohli acknowledged their opponents and commented on qualification:
"Bangladesh have played some really good cricket in this tournament. Even till the last ball was bowled, they batted with intended.
"It's good to have 'Q' on the points table now.
"This will keep us in a good frame of mind going into the semi-finals.
Despite bowing out, Bangladesh has one final game versus Pakistan at Lord's, London on July 2019.
Meanwhile, with India reaching the last four, the blue team may test their bench strength in the final group game against Sri Lanka at Headingley, Leeds on June 6, 2019