Dark areas on your face, elbows or knees? We have a cure for that
Are you struggling to achieve your desired makeup look?
Have you woken up late and need to get ready ninja style? Or do you have bad skin that you just want a cure for?
DESIblitz has just the right beauty tips and hacks for you.
Whether it's battling for longer lashes or stopping your eyeshadow from smudging all over your face, these approved beauty tips and tricks are sure to help you in any skincare or makeup crisis.
Eyeshadow Beauty Hacks
If you are always making a mess of your eyeshadow when doing your makeup then we have just the hack for you.
Always be sure to start off with your eyeshadow after moisturising when doing makeup. This gives you the advantage of applying sellotape just under your lower lash line to give you a clean and defined finish.
It will also help when applying liquid eyeliner, for a clean and crisp cat eye.
Before sticking sellotape under your eye area, be sure to stick it to the back of your hand first. Just to get some of the stickiness off so it isn't so harsh when you remove it from your eye area.
Another hack for this is to do your foundation and concealer after doing your eyeshadow.
We all suffer from a fallout with eyeshadow as it sits on our cheekbones and nose.
The best way to not make a mess of your foundation is to apply it after eyeshadow.
This gives you the chance to brush off or use a makeup wipe to remove any eyeshadow on your face before applying any face makeup.
Longer Eyelashes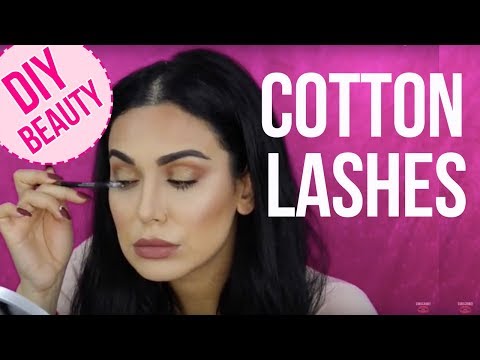 Do you want longer eyelashes but are afraid of using false eyelashes? There's another trick to help you get longer-looking lashes.
All you need is mascara, a spoolie brush and a cotton ball. Coat your eyelashes with one coat of mascara.
Open up your cotton ball, whirl your spoolie around into the cotton and then comb it through onto your eyelashes.
Make sure the mascara is still wet on your eyelashes so the cotton fibres will adhere to your lashes well.
Coat your eyelashes with more mascara. If you want a more dramatic effect then keep repeating this method until your desired look is complete.
Getting Ready
Are you usually an oversleeper or a snoozer in the morning?
Always be sure to get yourself ready the night before. And no, we don't mean apply your makeup before bed!
It is handy to lay out all the makeup products and makeup brushes you know you'll be using for the next day.
This makes it easier in the morning instead of stumbling around looking for things you need, which will waste even more time.
Pigmentation on Skin
Do you have dark areas on your face, elbows or knees? Don't worry, we have a cure for that.
Every morning and night be sure to rub this homemade mix on your problem areas.
Cut a lemon in half and squeeze one half into a bowl. Mix in approximately two tablespoons of bicarbonate of soda into the lemon juice until it forms a fairly thick but runny consistency.
The formula can't be too runny as it will slip off your skin. But it can't be too thick because you need to work it into your skin.
Rub this formula onto your problem areas. You can scrub it in with either a Clarisonic or use the cheaper alternative of a scrubbing brush for your body.
Acne Prone Skin
Want some home remedies for your acne prone skin?
Get into the habit of mixing in a quarter of a lemon into a 250ml glass of water. Drinking this will help improve your skin.
Keep doing this on a daily basis and the results will start to show.
If you want a treatment that absorbs into the skin then try apple cider.
Mix one part apple cider in with two parts water and massage into your face. Leave it on for a few hours or do it before bed and sleep with it on.
This is supposed to help tighten pores and reduce breakouts.
Banishing Blackheads
Looking to banish your blackheads?
There is no need to buy any of the nose strips that they sell at the pharmacy. These natural ingredients will last you longer than the six pore strips you tend to get in a box on the cosmetics shelf.
The key ingredients are gelatin and milk.
All you do is mix 1 teaspoon of gelatin powder and 3 teaspoons of milk together until it forms a paste.
Put it in the microwave for 10 seconds (no longer because you don't want to burn your skin) and apply over your nose and any other blackhead areas.
Leave it on until it dries, and then peel off your skin for smooth blackhead free skin!
Those are our DESIblitz approved beauty tips and tricks. Whether you are getting ready in a rush or want a cheap homemade remedy, we have you covered.