"Somebody made a remark that 'The Herd of Kettles' are arriving"
From the mid-60s, leading into the 70s, many East African Asians were facing a dim future in Kenya and Uganda.
Therefore, they chose to avail their British passports and settle in the United Kingdom.
The mass Kenyan exodus and Ugandan expulsion saw between 150,000-200,000 East African Asians arriving in the UK.
The reaction from their former colonial rulers and new neighbours was ambivalent.
The Commonwealth Immigrants Act 1968 and the 'Rivers of Blood' Speech from a British Member of Parliament began a debate on race and immigration.
The result was taking responsibility for East African Asians became a worldwide political football match. During the crisis, Leicester City Council put out an advertisement in Uganda's Argus Newspaper.
The advert was to alert Ugandan Asians who were heading for the UK, about no accommodation and work. It also highlighted education institutions being full:
"In your own interests and those of your family you should… not come to Leicester."
Regardless, those that came from Uganda were received by volunteers and respective organisations.
Asians that arrived from the 'Pearl of Africa' were grateful to them for providing food and shelter. After a brief camp stopover, many Ugandan Asians resided in designated green areas.
However, most East African Asians ended up settling in major cities and towns.
There were pockets of non-Asian people that saw East African immigrants as a threat. Some felt nervous about having to live close by an Asian family. Others had mixed feelings. But most people gave a warm welcome.
Many East African Asians had thriving businesses and jobs in Kenya and Uganda. They were on course to progress further.
Despite the carpet being pulled from beneath their feet, they once again rose to the challenges ahead. We look back at the new beginnings of East African Asians.
Race and Immigration: New Life Long Journey for Kenyan Asians
The fleeing of Asians from Kenya to the UK was concurrent with a major British discussion on race and immigration.
The height of the migration during the late 60s saw the introduction of the Commonwealth Immigrants Act on March 1, 1968.
The Parliament Act of the United Kingdom was openly aiming to discourage Kenyan Asians from a racial perspective.
The 1968 Act remains controversial, somewhat tarnishing the image of the UK.
Eminent barrister Lord Lester of Herne Hill QC went onto represent Asians from Kenya. The case against the British government was heard at the European Court of Human Rights.
Describing the events of 1968, Lord Lester says:
"After a highly effective populist campaign led by Enoch Powell MP and Duncan Sandys MP to deprive the British Asians of their right to enter the UK, the Wilson Government introduced emergency legislation – the Commonwealth Immigrants Act 1968.
"And drove it through all its parliamentary stages in three tumultuous days and nights.
"Upon its face, the 1968 Act was merely applying a familiar set of qualifications for the acquisition of UK citizenship to UK immigration law.
"But, as members of all political parties, the press and the general public recognised at the time, the real purpose of this provision was to deprive the British Asians of their right of entry on racial grounds."
"A group of British citizens, temporary in public office, successfully used their legislative majority to abridge the basic rights and freedoms of another group of British citizens, because of their colour and ethnic origins.
"And because the Westminster Parliament was all-powerful under the British constitution with unbridled legislative powers, British courts could not strike down this obnoxious and unsightly measure."
Watch Rivers of Blood Speech here: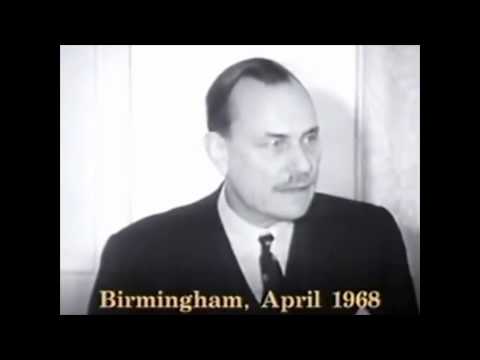 On April 28, 1968, British MP, Enoch Powell from the conservative party added more fuel to the fire. This is after delivering his notorious 'Rivers of Blood' speech.
He addressed a gathering of the Conservative Political Centre in Birmingham, United Kingdom. Powell said that mass migration will prompt violence across Britain's major cities. He stated:
"In this country in 15 or 20 years' time, the black man will have the whip hand over the white man."
"I can already hear the chorus of execration. How dare I say such a horrible thing? How dare I stir up trouble and inflame feelings by repeating such a conversation?
"My answer is that I do not have the right not to do so."
"In 15 or 20 years, on present trends, there will be in this country three and a half million Commonwealth immigrants and their descendants.
"That is not my figure. That is the official figure given to parliament by the spokesman of the Registrar General's Office.
"There is no comparable official figure for the year 2000, but it must be in the region of five to seven million, approximately one-tenth of the whole population, and approaching that of Greater London.
"We must be mad, literally mad, as a nation to be permitting the annual inflow of some 50,000 dependents, who are for the most part the material of the future growth of the immigrant descended population.
"It is like watching a nation busily engaged in heaping up its own funeral pyre."
Even anti-immigration groups were supportive of the right-wing MP. He was even critical of a forthcoming Race Relations bill.
Dr Saroj Duggal MBE, Director of Crownsway Insurance Brokers Ltd did not have a pleasant welcome after arriving from Kenya.
She exclusively shared her thoughts with DESIblitz about the aftermath of Powell's speech:
"Yes, they did not want us here. The reason being they thought that we were coming as such in a bulk to ruin the country.
"I still remember, if I go back we were interlude and televised in the evening we arrived at the airport."
"Somebody made a remark that 'The Herd of Kettles' are arriving. And the changes that were going to appear very much against the colour of the skin as well."
In contrast, RK Chauhan who also came from Kenya was a rare case and not really affected by racism. He exclusively tells DESIblitz that his arrival was like blooming in the garden:
"I left Kenya on Saturday night, arrive here on Sunday to Oldham. Went looking for a job on Monday. Started the job on Tuesday. And have never stopped since then."
Later in the same year of the Powell speech, the Race Relations Act came into effect on October 25, 1968.
The act came into force to combat racism, prejudice and other forms of discrimination. This is because many people from Kenya were finding it challenging to find housing and employment. They were regarded as "coloured people."
Hence, it was unlawful to decline accommodation, jobs and public service to British Kenyan Asians.
Despite having fluency in English and coming from a middle-class background, British Asians that came from Kenya had to settle for low-income employment.
Initially, they were unable to secure a pay rise and equal rights. But with time, they gradually began integrating as well as prospering in business and jobs.
Most of the British Asian people that came from Kenya eventually began living in cities where there were already a large number of Punjabis and Gujaratis. London, Leicester and Birmingham became their new homes.
Resettlement of Ugandan Asians in the UK
There was significant pressure on the UK Government to take responsibility for East African Asians that were expelled from Uganda.
Hence, the political climate was continuously fraught in 1972. Additionally, the unmoving voice of Enoch Powell was still powerful, with him adopting his initial stance from 1968:
"Their so-called British passports do not entitle them to enter Britain."
His point of view was to stop the large flow of immigrants in the country and have a quota system.
However, contrary to any government documents, Ugandan Asians did not end up on any unknown island except for the UK.
Also, anti-racist campaigners were supportive of East African Asians on their way to the UK.
The Ugandan Resettlement Board (URB) appointed by Sir Charles Cunningham, Permanent Secretary to the Home Office was in charge of assisting British passport holders from Uganda and their dependents with housing and employment.
Volunteers from all strata of society were responsible for greeting Ugandan Asians after arriving at UK airports. Some already had family who came to collect them.
Volunteers took on the roles of advisers, interpreters, ground staff and administrative staff, helping the new arrivals with any language barriers and reassuring them.
Food and bedding were also given where there was a need for them.
The British government had set up shelters and army type camps around various places in the United Kingdom.
There were seventeen refugee camps around the country. They include a former RAF base (Hemswell, North Lincolnshire), and an ex-RAF station (Stradishall, Suffolk).
There were also several disused and cold isolated quarters across widespread places, accommodating over 20,000 people. These include Houndstone (Somerset), Yeovil (Somerset), Lingfield (Surrey), Greenham Common (Berkshire) and Tywyn (North-West Wales).
Watch a video about Ugandan Asians arriving in the UK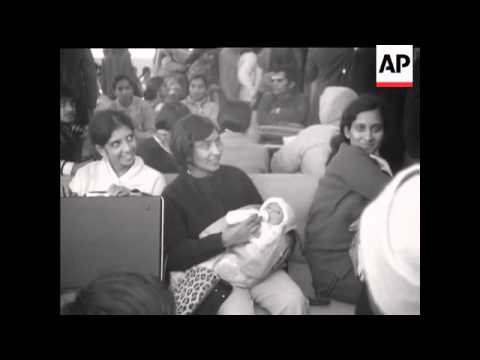 Despite there being a divide amongst public opinion, the racist party National Front along with the Powell speech continued to stem hostile tones.
In an exclusive conversation with DESIblitz, Jaffer Kapasi OBE, Honorary Consul General of Uganda was very reflective.
He went back in time, drawing parallels about experiencing aggressive conditions and being fearful:
"Everything surrounding us is hostile. We already had seen this in Uganda and we are being deported. We are coming to England where that was going to be our next home because we had a British passport.
"The atmosphere was against us. How were we going to survive in a country where people don't want us?"
Nonetheless, more than 30,000 volunteers were on hand to help with the resettlement efforts, reflecting the diversity and richness of 70s Britain.
Volunteer rotas included groups of people from the Indian Workers Association, League of Overseas Pakistanis and the West Middlesex British Asian Relief Committee.
The Women's Royal Voluntary Service (WRVS) was particularly working hard in many towns to facilitate clothing, electric fires and heaters. Don't forget the expellees had come from a much a warmer climate.
With the government remaining on the edge, to reduce any apprehensions, the URB formulated a national division colour coding system for British Ugandan Asians.
The newcomers were not welcomed in the red areas and instead directed to the green belt.
The red zone which included many areas of Greater London and the Midlands had a considerable Asian population that newly migrated.
These areas were also offering more opportunities in terms of work and had many desi shops, along with events catering to the Asian community.
But rather than supporting British Ugandan Asians to settle in the red areas, the URB had announced that they were densely populated.
Hence, some people had to settle in certain green areas like Scotland.
History Extra reports that in 1973 the Muhammed family had the distinction of staying in Wick, the most northern part for any British Ugandan Asian settler.
Though over time Asians went on a detour and began living with friends and relatives in places such as Finchley (London) and Leicester.
With there being limitations relating to housing and jobs, British Ugandan Asians had to be flexible.
Some people even took up accommodation in places like Keighley, Yorkshire as they were working in various departments of a factory.
There were others who began working as lorry drivers with employers such as Scunthorpe Steelworks. Those with experience and qualifications were able to secure jobs in banks and post offices.
And anyone with an enterprising mindset went into business, utilising the skills that they inherited from Uganda.
In spite of some temporarily living in council homes, British Ugandan Asians gradually began climbing the steps to success.
For many young people from East Africa, it was very much confusing times, particularly with them adjusting to a new identity, home and school. They had to try and fit into their new surroundings.
It was a big contrast to the lifestyle that they had in Kenya and Uganda. Many were missing the privileged life they had there, including a big house, servants and a successful business.
For many adults, it was a case of losing the status they once had in East Africa. Having said that under the circumstances East African Asians that came to the UK had shown their resilience during these tough times.
East African Asians were predominately middle-class with a good education. This made it easier for them to embrace British life.
After leaving their homes or being thrown out from East Africa, they were ready to bestow a new life plant in the UK.