"Idi Amin would make sure that he's killed ."
After Uganda and Kenya became independent nations, respective governments from these countries adopted a harsh attitude towards East African Asians.
Therefore, many Asians had to face humiliation and terrible injustice, with a sense of grief still lingering on
From 1965 onwards a mass Asian exodus from Kenya was on, reaching a high point between 1967-1969.
According to the Independent, Trevor Grundy, an editor of the Kenyan publication, The Nation became famous for supporting Asians.
Grundy had particular concerns about the extremely unpleasant black and white prejudices against the East African Asians.
In Kenya's neighbouring country, during 1972, former Ugandan dictator Idi Amin expelled almost all of the Asian population.
Accusing Asians of "milking Uganda's money" was enough for him to oust them from the country.
At the time Asians were running 90% of the businesses. They were accounting for 90% of tax revenues in Uganda.
American writer and novelist Paul Theroux who was in Uganda during 1967 wrote a scorching essay, highlighting the plight of Asians in East Africa:
"I believe the Asians to be the most lied-about race in Africa; the reactions of most Africans and Europeans in East Africa to the Asian presence are flagrantly racist."
We historically explore the exodus and expulsion of East African Asians in some more detail.
Mass Exodus of Asians from Kenya
Following the Independence of Kenya in 1963, the Kenyan regime gave Asians the opportunity to renounce their British Passports.
Whilst some East African Asians did take Kenya citizenship, many kept their British status. Up to 100,000 people opted to get a British Passport.
Then from 1965 onwards East African Asians began deciding to flee Kenya.
There were several contributing factors for Asians emigrating to Britain. These include the Kenyan government introducing the Africanisation scheme and discriminatory legislations
Some even had UK savings or were educating their children in England.
Despite public servants, retiring with full pension rights, there was a steady outflow. The peak of this great Asian exodus was between 1967-1969.
British Asians were not happy with the Kenyan government passing an immigration Bill in 1967. This saw the Kenyan government demanding non-citizens to obtain permits for work.
These people became economic scapegoats, with many of them having to give up their businesses.
Another key reason for British Asians to head for the UK was to beat the Commonwealth Immigrants Act 1968. This was an amendment to the Commonwealth Act 1962, making the East African British Citizens, 2nd Class Citizens with restricted entry to the UK.
Thus, On February 6, 1968, itself, ninety-six Indian and Pakistanis came to the UK, with around 1000 arriving every month on average.
The UK  government was targeting a limit of 1,500 Asian families with British Passports to annually enter the country.
The mass immigration of many East Africans Asians became a major crisis for the UK government, led by Prime Minister Harold Wilson.
Watch a video about Asians leaving Kenya here: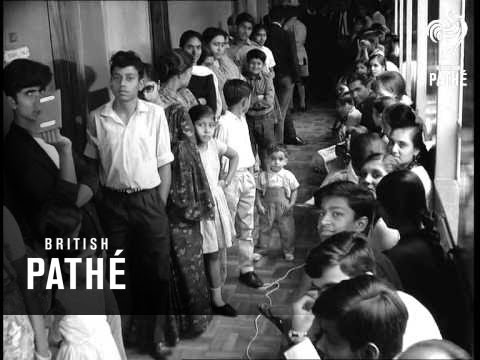 James Callaghan, the Home Secretary fast-tracked the new legislation to curb the influx of immigrants from Kenya.
With the amended act coming into effect, East African Asians had to prove a close connection with the UK.
The cabinet was deeply split over the legislation. Cabinet papers have since revealed the grave concerns that the then Commonwealth Secretary George Thompson had. He stated:
"To pass such legislation would be wrong in principle, clearly discrimination on the grounds of colour, and contrary to everything we stand for."
Migration and criticism of the 1968 act in full swing, forced the British government to announce the Special Quota Voucher Scheme (SQVS).
Even though the scheme was gender bias and applicable for the head of households, Asians were flooding voucher applications to the British High Commission in Nairobi.
Similar with earlier migrations, there were emotional scenes at Nairobi Airport and Mombasa port as many South Asians left for Britain, leaving their loved ones behind.
Engineer, Dr Sarindar Singh Sahota exclusively spoke to DESIblitz about the turmoil and chaos when people left Kenya for good:
"A lot of people were worried that they would get stuck and what would happen to their children. So they left all their possession and paid over the odds to get seats on planes to come here [Britain].
"So there was a major exodus.  My younger brothers, sisters and mother also came.
"My father stayed back but they also came because they did not know what was going to happen."
Though BBC reports, the majority of the people flew on a low price one-way airfare, costing £60 per person.
Consequently, there was a decline of South Asians living in East Africa. By 1969, the Asian population in Kenya was 139,000. This was a drop of 40,000, with 179,000 living there in 1962.
Asians Expelled from Uganda
Post-independence of Uganda, Indophobia resentment was increasing, with many Asians retaining their British citizenship. Hence, there was pressure on the government to throw out Asians from the country.
However, that did not happen immediately. Leaders realised that it was not right to disrupt the strong Ugandan economy.
After all Asians in Uganda had large businesses, which had a major contribution to economic growth.
But little did Ugandan Asians know what was to come with the arrival of Idi Amin Dada Oumeen.
Amin who some believe was of Sudanese descent became president in 1971 after a military coup against the then president Milton Obote.
During an 'Indian conference' in December 1971, convened by Amin, a memorandum was put to everyone. The memorandum was aiming to bridge the "wider gap" between Ugandan Asians and Africans.
Despite recognising the economical and professional impact that Asians had on the country, he accused them of unfaithfulness, non-integrating and commercial wrongdoing.
When questioned about the citizenship status of Asians, Amin had reassured that the communities legal certificates would be respected. Around 23,00 had taken Ugandan citizenship.
Though he also made it clear that the 12,000 pending citizen applications, were likely to face abolishment. On this matter he said:
"My Government will respect all citizenship certificates which were properly issued before the 25th January 1971.
"However, with respect to such certificates as were illegally obtained, these will not be respected and will be cancelled in accordance with the provisions of the law.
"Concerning old applications for citizenship which were outstanding as on the 25th January 1971, my Government does not consider itself in any way bound to process such applications and regards them as having been automatically cancelled by lapse of time.
With some of these applications awaiting a decision for eight years, Amin added:
"For the future all those who are interested in obtaining Uganda citizenship will have to make fresh applications, and these will be processed in accordance with new qualifications which my Government is in the process of formulating and which will be announced in due course."
But with a harden stance from Africans against Asians continuing, the writing was on the wall – the inevitable was just around the corner.
Watch a video about the 90-Day Ultimatum from Idi Amin here: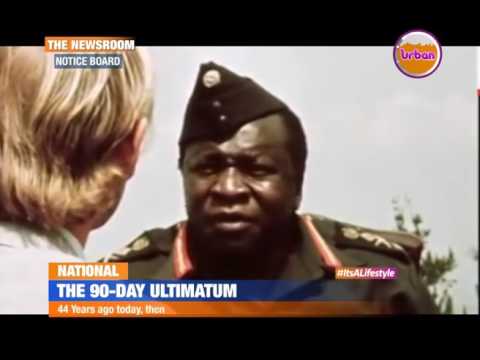 On August 4, 1972, Amin made a decree that all Asians of British subjects would have to leave Uganda within three months. All non-citizen Asians had to depart by November 8, 1972
Defending the expulsion, Amin believed, that he was "giving Uganda back to ethnic Ugandans."
In an incoherent speech to his troops, he mentioned divine calling through a dream was a reason for expelling Asians.
The other theory for terrorising Asians was due to a wealthy Asian widow refusing to marry Amin. This story without much credibility was primarily circulating in Kampala.
At first, many Asians were in denial about the order, but after a few days, they came to understand that this was the reality.
To make matters worse, further rulings from Amin as well as theft, violence and sexual crimes saw the deterioration of internal security.
Just short of anarchy, Asians that became non-cooperative to the situation were prone to physical and sexual violence.
Jaffer Kapasi, Honorary Consul General of Uganda, speaking about a prominent individual who became a victim of Amin's brutality, exclusively told DESIblitz:
"One of the senior police officer was Inspector Hassan and he was murdered by Idi Amin.
"He used to voice his concern about the economy and country."
"So anybody who came in his way, Idi Amin would make sure that he's killed."
Fearing the British public would not accept the huge influx of East African Asians, the government originally were refusing to let them in.
But later, the British had a change of heart, giving them the green signal to settle in the UK.
Thus, with no other option, East African Asians that were residing in Uganda had to close their prosperous businesses before leaving the country.
Watch video on the 1972 Asian Expulsion from Uganda here: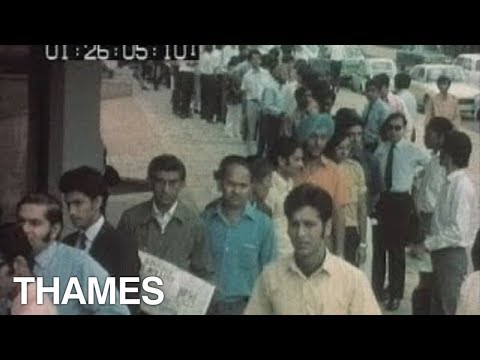 Some of the Asians already had family members in the UK, either studying or working there.
Many had to queue up for a long time to receive the correct paperwork from the British High Commission. This includes those who made the transition from Ugandan to British Citizenship, avoiding being stateless.
They had to also join the queue by the Bank of Uganda to purchase tickets and collect £50 in exchange for 1,000 shillings.
Each person had permission to leave only with this minimum amount in terms of total foreign currency.
Leaving their properties, successful businesses and jobs many East African Asians began joining the queues, enumerating at Keole airstrip in Kampala.
Though there are reports to suggest the first charter flight carrying Asian passengers took off from Entebbe airport for Stanstead on September 18, 1972.
Many came to the UK flying in a British Midland or British Caledonian aircraft. Various sources indicate between 27,000-30,000 East African Asians had to uproot their families and head for the UK during the three month expulsion period.
Since World War II, this was one of the largest diasporas in history. Some families had to split temporarily from their loved ones, with others separating for life.
Many of the 50,000 British citizens that were exempt from the orders of Amin, also voluntarily came to the UK.
In both cases of Kenya and Uganda, East African Asians had an inclination that everything was not right.
Nevertheless, the reality of leaving what they considered as their home was shocking and difficult. A completely new life was beckoning for them in the UK.