"Bajirao Mastani is a very intense love story. Making this film has given me immense joy."
The much anticipated wait for the Bajirao Mastani trailer is over – it has finally been released to our screens!
The unveiling for this momentous clip was released at a dedicated launch event in India to hundreds of lucky fans.
These fans were not alone! With over 3.3 million views already on YouTube, the trailer shows a global excitement for the epic film.
And the three-minute long trailer does not disappoint, offering a sneak peek into the dramatic life of Peshwa and his second wife Mastani.
This historic drama shows excitement for all, displaying glimpses of action, romance and eccentrically wonderful costume design.
The launch event saw many of the stars descend the red carpet in style, with lead actress Deepika Padukone arriving in a horse drawn carriage.
Director, Sanjay Leela Bhansali, said:
"Bajiaro Mastani has been a story I have been yearning to tell. I have lived with it for several years and finally after a decade, this dream is being realised.
"Bajirao Mastani is a very intense love story. Making this film has given me immense joy."
Deepika also commented on the making of the movie:
"This film is definitely the toughest of my career. To play the legendary Mastani was such a dream and Sanjay sir knew exactly how he wanted me to play it.
"He is a director who pushes you and helps you discover something within yourself that you didn't know existed."
Her beau Ranveer Singh shared his excitement on Twitter:
Ladies & gentlemen…Proudly presenting Sanjay Leela Bhansalis magnum opus….BAJIRAO MASTANI !!!!! https://t.co/pEkl5gsVbt #BajiraoMastani

— Ranveer Singh (@RanveerOfficial) November 20, 2015
Watch the official trailer for Bajirao Mastani here: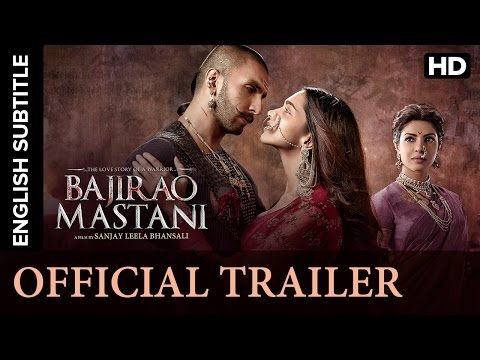 Not only were the fans at the launch event among the first to see the trailer, they were also greeted by a surprise visitor.
Priyanka Chopra, who plays Bajirao's first wife Kashibai, spoke live from Montreal via a video link, emotionally discussing her passion for being a part of the film.
The Quantico star said: "For me the film is poetry in motion. It is beautiful. Usually characters do not affect me but this film has.
"There is so much emotional turmoil. It is definitely a milestone in my life."
PeeCee also brought the hype to the US by holding a special screening of the trailer for the Quantico cast.
She said: "There is a lot of excitement for 'Bajirao Mastani' here [in the US].
"My entire cast and crew is going to have a special screening. They want clothes from film and they're very excited."
Starring Ranveer Singh, Deepika Padukone, Priyanka Chopra, Milind Soman and Tanvi Azmi, Bajirao Mastani will release on December 18, 2015.
However, this means it will have a major clash at the box office with Shahrukh Khan and Kajol's upcoming blockbuster, Dilwale.
All eyes will be on which film take crown this holiday season!