"Arsenal vs United was the best football game I've seen in the premier league for a long time."
In the most entertaining football match of the 2017/18 season so far, Manchester United beat Arsenal 3-1 at the Emirates. But DESIblitz finds out what DESI Fans thought of the thrilling game.
Home advantage counted for little as Antonio Valencia and Jesse Lingard put United into an early two-goal lead.
But Alexandre Lacazette's close-range finish minutes into the second-half gave Arsenal fans hope in a game which they were dominating.
David De Gea, though, was at his world-class best, denying Arsenal with a number of stunning saves. His 14 saves is the joint-most by a goalkeeper in a Premier League match since the 2003-04 season.
And with Arsenal pushing numbers forward in search of an equaliser, Lingard tapped-in United's third goal from a swift counter-attack.
There was still time for a red card, a penalty appeal, and more controversy before full-time in a sensational match. However, there were no more goals as it ended Arsenal 1-3 Manchester United.
But what do DESI Fans make of all the action? DESIblitz speaks to the British Asian football fans, Jaskiran, Pav, Areeb, and Amirah to hear their thoughts on the game.
DESI Fans on Arsenal vs Manchester United
Arsenal vs Manchester United represents one of England's greatest football club rivalries. With history between the two sides and the two managers, it was always going to be an intriguing match.
But since taking on Liverpool in October 2017, Manchester United fans have been unhappy with Jose Mourinho's negative tactics.
So the big question before the game was would Manchester United sit back and defend? Or will they attack Arsenal and earn Mourinho his first away win vs a Top 6 side as a Man United manager?
Amirah, a United fan, wasn't confident in predicting how her team will play against Arsenal. She says: "Given our struggles in recent away games against Arsenal, I wasn't expecting a particularly thrilling game, or even a win."
But the match turned out to be one full of thrills and excitement. Amirah goes on to say: "It is one of the best games of the season so far."
Areeb, also a Manchester United fan, adds: "Arsenal vs United was the best football game I've seen in the premier league for a long time."
Despite expecting an offensive performance from their opponents, Arsenal couldn't cope with Manchester United's aggressive high pressing.
Jaskiran is an Arsenal supporter who also works for the Football Association, who recently appointed Rupinder Bains as its first Asian director.
About her side's 3-1 defeat, Jaskiran says: "The first 15 minutes cost Arsenal the game. Sloppy defending, and mistakes by Koscielny and Mustafi were crucial to United's victory."
And Pav, also an Arsenal fan, concedes: "Our defence let us down once again, and Manchester United took full advantage."
So could a different starting line-up for Arsenal have changed the outcome? Here's what our DESI Fans think.
DESI Fans on Starting Line-ups
Despite Lacazette and Nemanja Matic being serious doubts for the game before kick-off, both players were surprisingly named in the starting line-ups.
Arsenal and United similarly began in 5-2-3 formations, with wing-backs and two centre midfielders behind a front three. Man U, therefore, came to the Emirates with the same starting line-up from their previous game against Watford.
United fan, Amirah, says: "I was happy with our line-up as it worked well for us against Watford [in a 4-2 win]. I have underestimated Jesse Lingard, though, as he is now consistently proving himself to be a worthy Manchester United player."
But it was a brave decision by Mourinho to name Lingard ahead of the £30m Henrikh Mkhitaryan. Areeb says: "I like how Jose took initiative by dropping Mkhitarian for Lingard who has been brilliant."
Jaskiran, meanwhile, says: "I was pleased and excited to see that Lacazette was fit to play." But perhaps the inclusion of Matic in the Man United line-up was slightly more influential to the result.
Areeb says: "Paul Pogba has the confidence and arrogance to dominate the game. Playing alongside Matic, with 5 at the back, it gives him the freedom to pop up wherever he wants."
With a stable base behind him, Pogba consistently burst forward whenever possible. And the French midfielder also helped himself to two assists.
But Pogba also brought about a huge moment of controversy in the match. And it brings quite different opinions from our DESI Fans.
DESI Fans on Match Controversy
With 15 minutes to go, Pogba was given a straight red card by the referee for a challenge on Bellerin.
The Frenchman followed through with a stamp on the back of the Arsenal defender's knee. Although there is a discussion about whether it was accidental or not, Pogba will miss the next three games, including the Manchester derby on December 10, 2017.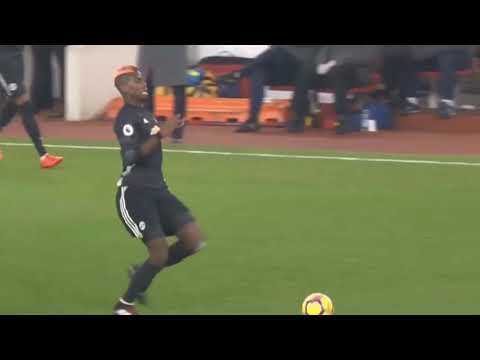 Arsenal fan, Pav, says: "Pogba's sending off is fair. His challenge wasn't intentional, but by going through with it at such force, it's clearly dangerous and deserving of a red card."
Jaskiran, though, despite also being an Arsenal supporter, is more sympathetic towards the United midfielder. She says: "I don't think it was a red card. But as an Arsenal fan I thought it could help our chances."
Amirah also believes that the red card is harsh. She says: "There was certain bias from the referee. Pogba didn't deserve a red card for his challenge, especially if Koscielny wasn't sent off for his last-man offence."
Interestingly, Pogba's challenge came very soon after Bellerin, himself, completely wiped out Pogba's teammate, Ashley Young in a strong challenge.
Nevertheless, Arsenal could not capitalise on their one-man advantage. And they were lucky to avoid a red card themselves when Laurent Koscielny brought down Lukaku during a United counter-attack.
Arsenal were also denied a penalty when United's Matteo Darmian swiped the legs of Danny Welbeck in the area. About the late appeal, Pav says: "It should have been a penalty, and everyone would agree."
So, with the key game ending in a 3-1 victory to Manchester United, what are the overall verdicts of our DESI Fans?
DESI Fans ~ Their Verdict
Ultimately, Arsenal couldn't take advantage of their 75% possession, 33 shots, and 12 corners, as Man United beat them 3-1. But what do our DESI Fans of both team think?
Pav says: "With Arsenal dominating the shots and possession, we should have won."
He also highlights the performance of the Man United goalkeeper. Pav says: "If De Gea wasn't playing, we would have won the game."
Jaskiran also praises David De Gea, she says:
"Arsenal deserved more from the game. We were all over them and fought well. It just wasn't our day with David De Gea in such fine form, keeping us out. It wasn't a fair result as the better team lost."
Our Manchester United DESI Fans, though, are much happier with the final result.
Amirah says: "Overall, it is one of our best performances and results of the season."
Areeb, meanwhile, adds: "It is a great result for United, with David De Gea proving again that he is the best keeper in the world."
So, Manchester United bring an end to Arsenal's winning streak at the Emirates, and set themselves up nicely for their top-of-the-table clash with Man City on December 10. They will, however, be without the influential Paul Pogba for that huge game.
Arsenal, meanwhile, have to put things right before hosting Liverpool on December 22, 2017. Be sure to keep an eye on our DESI Fans series which will cover both of those mouth-watering matches.
Follow the links to see what our DESI Fans thought of Liverpool 0-0 Man United in October 2017 or about the hit game, FIFA 18.
But if you're keen on your fantasy football games, then check out these tips to keep your team going over a busy winter period.
Or you can keep up to date with Arsenal and Manchester United by following them on Twitter.