With this shocking behaviour, it signifies the end of Jinder's alliance with Samir and Sunil.
Since April 2017, the Singh Brothers has stood by the side of former WWE champion, Jinder Mahal. But now, their future seems uncertain after an embarrassing defeat against AJ Styles.
Speculation has even suggested they could leave WWE Smackdown.
In the 28th November episode, the two embroiled in a handicap match with the wrestler. With both brothers competing, it seemed likely they would have the advantage.
However, the new WWE champion proved a worthy opponent. He took both Samir and Sunil Singh down with his signature move, Styles Clash. In the meantime, Jinder Mahal looked on by ringside.
After the match, AJ walked away while the brothers remained on the floor. Jinder entered the ring, looking angry at the winner. He soon turned his sights to his allies and proceeded to punish them with his own wrestling moves.
With this shocking behaviour, it signifies the end of Jinder's alliance with Samir and Sunil.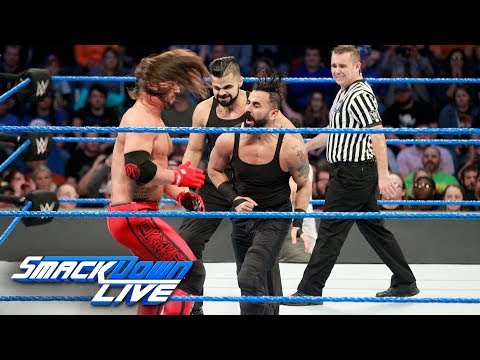 This divide amongst the wrestlers has resulted in growing rumours, with some suggesting WWE have different plans for the duo. For example, eWrestlingNews reported there's "speculation going around that last night's segment with Jinder Mahal and The Singh Brothers was a way to write the pair off WWE TV."
Others suspect that they will remain in the company, but face a number of future possibilities.
They could return back to more wrestling as a tag team; either on NXT or Smackdown. Or even perform as single competitors on 205 Live.
Early rumours suggested the wrestlers could even leave WWE. However, their social media accounts show the pair competing in the organisation's tours. In addition, they recently celebrated one year of their WWE careers. Perhaps then, this speculation looks less likely.
Indeed, some reports claim this could even be a 'red herring' and that Jinder will reunite with the pair eventually.
However, prior speculation suggested he would have new 'henchmen' to replace the Singh Brothers, meaning this split could be for definite.
Until then, fans will have to wait until the next episode of WWE Smackdown to find out more. Whether the duo, originally known as the Bollywood Boyz, will enter a new chapter in their wrestling journey.