"These men will always need a women to handle them."
Rohit Shetty Shtyle fun and fanatics took place on the sets of Chennai Express, as main leads, Shahrukh Khan and Deepika Padukone had some funny behind the scene moments.
Some of the pics and videos taken on set expose the diva drama of Deepika, some impressive action and stunts from Shahrukh, and young-at-heart director Rohit in the mood for fun and antics with his cast and crew.
During the last day on the sets of Chennai Express, Deepika expressed a lot more than was necessary, from throwing punches to Shahrukh to smashing a bottle on the director's head!
Deepika proved her female power in front of her debut co-star Sharukh and director Rohit. The masala film was not all love, action and Tamil inspiration during filming. Backstage a lot went on as the big kids were let loose to carry out their mischievous antics.
Shahrukh, Rohit and the rest of the Chennai Express team were seen playing cricket in hysterics of laughter during one of the days on set. They all were geared up for some masti, running around the film set which was swiftly converted into a cricket field to fuel their playful side.
Rohit is known to be one of the few film makers who gives a lot of priority and importance to his team. They all function well together and it is great fun to see what mischievous things they get up to show that they are enjoying themselves.
Shetty stated: "They're like my family and have been since my first film. Well 80% of them."
Deepika's well-pulled-off filmy dialogue: "Kahaa se churaayi aisi bakhwaas dictionary?" is growing to become one of the great dialogues like Hema Malini's 'Chal dano' from Sholay. Deepika admits that this was not the intention.
King Khan is not short of rapid comebacks for her either: "Tere appa ka scooter hu jo kick maarti hai, huh? Tu Don ki nahi donkey ki ladki hai!" Deepika loved playing the South Indian character, dressing up as Meena Lochni and saying the filmy dialogues.
She admits the way she speaks in the film was maintained throughout the shoot. Some of the dialogues sounded hilarious as she says: "We've cracked up a lot on set whilst shooting."
That wasn't all she cracked up. On the last day shoot of Chennai Express things took a wild turn when Shetty was seen to be taunting her repeatedly. However, Deepika promptly responded by throwing a cup from her hand which fell on his head.
On the set, he was trying to snatch her coke bottle that she was holding in one hand and eating a biscuit from the other. She told him to 'stop it' but then finally took action, by smashing the bottle on his head and casually asking the team to offer the director some juice.
Nothing serious happened as it was between a director and an actress who were being playful and kidding around with each other.
The 52 second video has got all the fans excited. Deepika shows how to express love by bashing her senior co-star SRK. Rohit and SRK have a fight off as well, with Deepika throwing herself into the arena to save Rohit. All the while, Deepika says: "These men will always need a woman to handle them."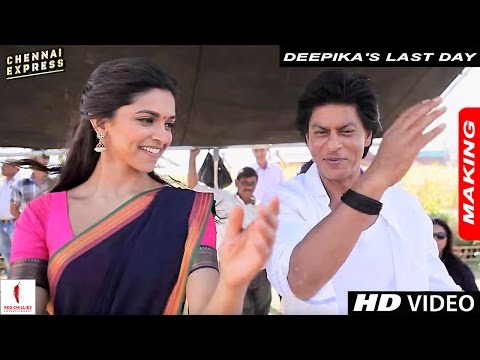 But not to worry, between the three of them there was no actual hand and fist action. Rather it was a Rohit Shetty Shytle moment to express his love for the co-stars. Well it definitely was a dangerous way to express their love and we are glad that no one got hurt.
In one of the videos, the director is seen giving a pep talk on his directorial insight of the last day on set. This showed his surprising artistic talent of colouring in a picture from a colouring book. He stated in the video: "It takes hard work to create a work of art."
Currently the director and the misbehaving duo are promoting their film prior to its big release on August 9.
Courtesy of DDA Public Relations, SRK and Deepika arrived in London on July 30 to promote the film across various venues.
In the wake of the Salman-Shahrukh hug-gate, Shahrukh has abruptly refused to answer any media inquiries on the apparent rekindled acquaintance between the Khans:
"The personal relationship that I share, the altercations, the truce, the love and discussions…we don't like to talk about those in public and we won't begin to do that," SRK told reporters. Well then, it certainly doesn't seem all rainbows and unicorns between the two after all.
King Khan is also keen to give Salman a run for his money by performing his own stunts:
"I like doing my stunts. I feel I haven't worked if I haven't been doing my stunts. I am very good in jumps and somersaults. I can do a lot of stunts, when my son and daughter ask me, you did that yourself, I don't want to lie. I want to say, yes, I did it myself. I feel proud."
SRK fans also have the chance to imitate their favourite star in a new mobile game, Chennai Express: Escape from Rameshwaram. The game allows users to play as SRK's character Rahul from the Chennai Express movie:
"The movie has a vision and a theme, which a game needs to carry forward and keep the gamer engrossed in. The Chennai Express game captures the theme, the graphics and the mood of the movie brilliantly," SRK said.
"I had a lot of fun being a part of the process of making this game. Hopefully the avid gamers will find this one as much fun as I do," he added.
With so much fun on and off the set of this movie, we seriously cannot wait to watch Chennai Express in all its glory. Let's hope it lives up to the hype. The Disney UTV motion pictures and Red Chillies Entertainment film will see its official release on August 9, 2013.