"Shooting with [Shahrukh] is a breeze. He lightens the atmosphere and makes everything so easy."
Releasing worldwide, the superstar duo are reunited for Rohit Shetty's Chennai Express. This film marks Shahrukh's first pure masala film and is one of the most awaited films of 2013. Chennai Express has a strong connection with South India, with Deepika playing a Tamil-speaking role.
The film revolves around 40-year-old Rahul who leaves Mumbai for Rameshwaram to immerse the ashes of his 99-year-old grandfather. Along the way he meets a beautiful South Indian girl (played by Deepika) and falls head over heels in love with her through their journey.
This is a first for Rohit Shetty and Shahrukh to work together following Rohit's previous blockbuster successes such as the Golmaal franchise. Needless to say, both the industry and the public have high hopes for Chennai Express.
The trailer, which was released on June 13, already brings a sense of adventure with dhamaka, fighting and cars being blown up. We also see Shahrukh grooving to an upbeat song along with South Indian actress Priyamani and comedy moments embedded with Deepika, who pulls of her Tamil accent extremely well.
It is interesting that Shahrukh has chosen to star in this film especially since his understanding of Tamil is basic: "Even if the dialogues have Tamil influence, they would have a mass appeal," Shahrukh says.
"There were many who didn't understand the language but the best thing was that the Tamil dialogues made everyone laugh as it was easy to comprehend them," he adds.
Bollywood has been buzzing since the release of the trailer and song '1 2 3 4…Get on The Dance Floor', with both videos together securing three places in YouTube's most viewed India Top Ten.
The dance track managed to receive over 600,000 views in the first two days of its release, with the trailer scoring over 3 million hits.
The item song is lead by Priyamani and is composed by Vishal-Shekhar with the lyrics penned by Amitabh Bhattacharya. The song shows Shahrukh being held back by two ruffians as Priyamani grooves to the fast beat with many extras in the background.
In a short amount of time Shahrukh gets dancing with her energetically. Prabhu Deva's brother Raju Sundaram has choreographed the dance number and so far the overall song has been well received.
The music launch took place on July 3 with a lavish Mumbai event. As expected, it was full of fun and frolics. Deepika and Shahrukh were joined by the music directors, Vishal-Shekhar who gave a performance on stage:
"It never gets old when you're doing a song with Shahrukh and Deepika. It was as exciting and fresh as the first time. And I just want to say this screen isn't big enough for this film," said Vishal later.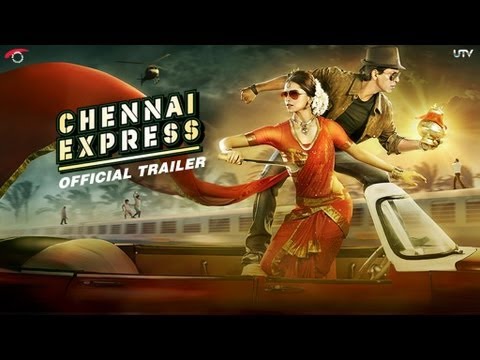 Close sources say that Deepika learned her Tamil lines for the film from none other than southern superstar Rajinikanth. They will also be sharing screen space in the future. In addition, Shahrukh also insisted she perfect her accent by watching Tamil films. A source close to Shahrukh says: "Deepika is Konkani, so she found it easier to learn the Tamil accent, but Shahrukh still insisted that she work on it."
Deepika says:
"Working with him [Shahrukh]  is always fun and a learning experience. In this movie, he helped me out with my Tamil accent. He showed me Tamil films and made me hear the accent carefully. This is funny because in Om Shanti Om, he was the one who would tease me for my Konkani accent."
Noted critics already have high hopes and praises for the film, Komal Nahta tweeted: "Saw d trailer of #chennaiexpress. Funny, very different, full to fun & frolic. Rohit Shetty, srk, deepika r the shining stars."
After attending a special screening, Taran Adarsh revealed that Shahrukh comes across as a complete departure from the romantic films that he is known for.
This film marks Shahrukh's first masala film to join the rest of blockbuster films such as Bol Bachchan, Housefull 2 and the Golmaal series.
Adarsh said: "Songs are extremely novel, mass appealing, zany, wacky, amusing. Rohit Shetty is at his best, seems like."
He also tweeted: "?#ChennaiExpress? should prove a hat-trick for Deepika, who is going thru the best phase. Get set for this dhamakedaar entertainer on 8 Aug."
Deepika is definitely on the high road to success after her recent release Yeh Jawaani Hai Deewani earlier in 2013 and being paired with her debut co-star again. When asked about working with Shahrukh again she stated:
"Today, we share a friendly equation. Shahrukh is a sport. Unfortunately, a lot of people don't get his sense of humour. Shooting with him is a breeze. He lightens the atmosphere and makes everything so easy."
Since this role is almost completely new to her, Deepika expresses: "Rohit Shetty too is tapping a side of me that's never been tapped before. I now realise comedy is the most difficult genre of acting and the most difficult kind of cinema to make."
Chennai Express also marks director Rohit Shetty's first major love story, and he has made it a romance for all age groups. On working with Shahrukh, Rohit said: "The kind of respect he gave me and the kind of faith he has shown in me as an actor and a producer is unbelievable."
This film has also become close to Shahrukh's heart: "Chennai Express beautifully gives us the message that it's not the language but the bonding, love and affection that make relations," he insists.
Along with the rest of the Bollywood industry, buzzing fans are also eagerly awaiting the release of the film. Seeing King Khan romancing the beautiful Deepika once again, Chennai Express promises an interesting combination of romance, action and comedy.