Just leave everything and board this Express called Chennai Express. Pronto.
Chennai Express, directed by Rohit Shetty who is well known for his Golmaal franchise, has surpassed all hype and buzz expectations by making Bollywood Box Office history. Chennai Express was released in time for Eid al-Fitr and has already become one of the most talked about films of 2013.
Power jodi Shahrukh Khan and Deepika Padukone did not fail to impress when delivering their comical lines and entertaining dialogues. The story is about Rahul (played by our Badshah, Shahrukh Khan) who makes a trip to Rameshwaram to immerse his grandfather's ashes.
As he is about to board the 'Chennai Express', he comes across Meena (played by the stunning Deepika Padukone), who is escaping an arranged marriage. As Rahul becomes unintentionally involved in her plans, comic encounters ensue and love unexpectedly follows. The film depicts their journey together from their first meeting.
The film is also the first to be released in 10 international languages, subtitled in English, French, Spanish, Arabic, German, Hebrew, Dutch, Turkish and Malay.
With no competitors to speak of, Chennai Express showed across 3,500 screens in India and over 700 screens overseas, including the likes of Morocco, Germany, Switzerland, Austria, France, Israel and Peru.
According to box office reports, Chennai Express has made a huge Rs. 100.4 crore in its opening weekend. Trade analyst Taran Adarsh tweeted: "And the records lie shattered! #ChennaiExpress hits a ton [100 cr] at the close of its opening weekend. Creates HISTORY!"
Gaurav Verma, Director of India theatrical distribution, Studios, Disney UTV, said: "We have received an overwhelming response from all quarters and the film is being loved by everyone. Though CE is playing in highest number of screens for any film, we still ran out of capacity in most locations due to this huge demand at the box office."
The movie had also received an overwhelming response down south. Trade analyst Trinath shared: "This is probably the best ever opening for a SRK film in the state. Even though people voiced about the stereotyping in Chennai Express, none had any issues with it and embraced it with a smile."
Since the competing Tamil film, Thalaivaa, did not release the same weekend, this gave double the amount of screen space to Chennai Express. A multiplex representative in Chennai stated: "The number of shows for Chennai Express were doubled (on Friday). We had about 95 percent occupancy for the paid previews and most shows over the weekend are booked."
However, Mumbai-based trade analyst Komal Nahta didn't find the film as entertaining and uplifting as Shetty's previous films like the Golmaal series. But he didn't deny that the movie indeed got a "fantastic start" in India.
Internationally too, the film is said to be beating previous records. In the UK, Thursday where CE only had night shows, numbers are £142,000. And in Australia, the paid previews on Thursday amounted to $34,314, while in New Zealand, the figures came to $6,431.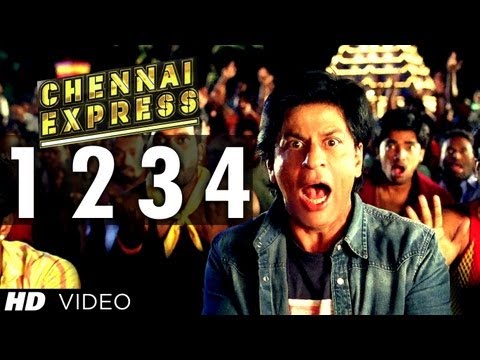 Adarsh also tweeted: "#ChennaiExpress crossed $100,000 on Saturday in Pakistan. SUPERB!"
Salman Khan usually dominates films released around Eid, however CE has triumphed Salman Khan's Ek Tha Tiger. Excluding the paid previews, the action comedy raked in Rs. 61.17 crore. Ek Tha Tiger, which was released on Eid last year in its opening weekend.
Speaking on the success of the film, SRK expressed:
"I can't stop smiling. Till the time I don't stop smiling, the excitement won't settle down. It is nice that the film is doing well. I want to wait for three to four days. I am happy that people have liked the film and it has opened well."
The public and fans are calling 2013 Deepika's year. In her five-year-long film career, the actress has been a part of various movies including thriller, romance, action, drama and comedy. Her skills as an actress and performer have become better and better and she is on her way to super stardom:
"If people are saying it's my year, it depends on my films. I think these things are relative. It feels nice to hear or to read about it. But, more importantly, I have been working really hard…but in the end if the result is like this, you don't mind. But, yes, I think success is relative," Deepika said.
She admitted comedy was a tough genre for her: "Comic timing is something which you either have it in you, or you don't. You have to have a good sense of humour to be able to understand it. A split second can make you lose the punch."
Most media reviews have had nothing but positive things to say about Chennai Express. Most have praised the on screen chemistry of the duo, with their charm and wit constantly engaging the audience.
The signature moves that first made everyone fall in love with SRK 15 years ago are all pulled out of the bag with the same winning effect, proving that Khan still has what it takes to charm a world audience.
Padukone is said to be 'chameleon-like' in her ability to portray her a variety of different characters, with all their unique traits and quirks, her portrayal of Meena, the spunky South Indian with both a fierce personality and a funny bone, is 'utterly endearing'.
The music of the film of course has already been a great hit. Composed by master duo Vishal-Shekhar, it is pleasing to the ears.
What did you think of Chennai Express?
Mind Blowing (60%)
Time Pass (27%)
Okay (13%)
Loading ...
Songs such as 'One Two Three Four (Get on the Dance Floor)', 'Titli', 'Kashmir Main, 'Tu Kanyakumari' and 'Tera Raasta Chhodoon Na' are full of nice South Indian flavours and the lyrics have been finely penned by Amitabh Bhattacharya. The soundtrack does have potential to become a classic and may continue to be appreciated in years to come.
Later on the opening weekend, SRK tweeted from Mumbai: "Go to where u feel happiest…so have decided to go and watch #ChennaiExpress in the theatre…with the audience. Want to hear the laughter." After the showing, Khan was then seen atop the cinema roof dancing the 'Lungi Dance' with throngs of people joining from below.
It seems that all the work and effort into creating this entertainer has paid off. Chennai Express has set a new standard for romantic-comedies and has got the whole world roaring and is a must watch.
As Taran Adarsh expressed: "Final word? Just leave everything and board this Express called Chennai Express. Pronto. This one's a feast for those who love, adore, relish and worship zany masala entertainers!"