"It is a film on Punjabi weddings which are very intrinsic to our culture."
Manje Bistre the Punjabi film starring Gippy Grewal and Sonam Bajwa in the lead roles has made Punjabi film history by being the biggest box office opener worldwide.
According to Whitehill Productions, the worldwide distributor of the movie, the film has grossed Rs. 5.11 Crore for its opening, which in the Punjabi film industry, sometimes dubbed as Pollywood, is a fantastic achievement for the film.
The film is written by Gippy Grewal and is a family drama laced comedy and romance and is based around a Punjabi wedding set in the 1990's.
Sukhi, played by Gippy Grewal, prepares for his cousin sister's wedding and during the activities meets Rano, played by Sonam Bajwa. It is love at first sight for Suki but for Rano, who is a friend of Sukhi's sister is not on the same wavelength, which means Sukhi then works on her to woo her.
As the romance gradually blossoms, the audience is treated to a storyline with comedy sketches and the wedding as a backdrop.
Gippy Grewal talking about the name of the film says:
"It is a film on Punjabi weddings which are very intrinsic to our culture. We wanted to revisit the old charm of a typical wedding in a Punjabi household. Friends and relatives come to the house where the wedding is and that's why there is a need for extra bedding, which is referred as 'Manje Bistre'."
Music for the film has been produced by various artists.
The title track Manje Bistre is sung by Nachattar Gill with music composed by Jay K and lyrics by Jagdev Maan. A romantic number, Ja Vi Na has been composed by Jason Thind, sung by Karamjit Anmol and written by Kuldeep Kandiara, and a third song in the film is a dance song called, Dubai Wale Shaikh, is penned by Happy Raikoti with music by Jay K and sung by the hero himself, Gippy Grewal.
Gippy took to Twitter to thank everyone for this huge record-breaking achievement by the film:
Audiences have enjoyed the movie with raving reviews and reactions on social media.
Here is the trailer to Manje Bistre: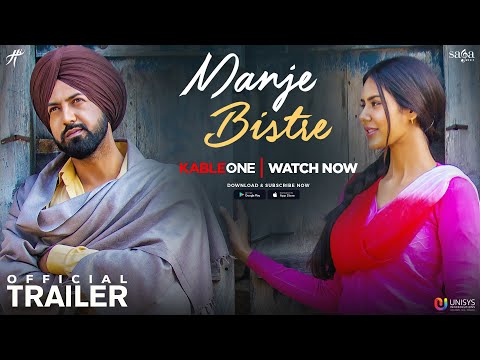 Speaking of Punjabi cinema, Gippy says:
"We have a wide market to grow and it is getting better. The number of shows for Punjabi films has also doubled. We are aiming at a variety in genre as opposed to only comedy. However, budget continues to be a limiting factor. Punjabi cinema is still not ready for a Dangal."
Making Punjabi films is never easy and for Manje Bistre to take the brown at the box-office, it has the winning formula which has wowed its audiences. Using a Punjabi wedding as its theme it has teamed it with comedy and quality acting to bring it all together.
Well done to Gippy Grewal, Sonam Bajwa and the Whitehall productions team for reaching a new high in Punjabi cinema.