"Priyanka is so hot, badass and amazing! She is going to slay Baywatch! Can't wait!"
A new Baywatch trailer has released, showing more of Priyanka Chopra and her sassy character.
She's set to make a memorable impression in the film as she even delivers an F-bomb, revealed in the minute and a half clip.
Released on Youtube, this new trailer reveals more about the film's plot as Zac Efron and Dwayne Johnson's characters discover a criminal plan that could create danger for their beach.
And the criminal activity seems to link with Priyanka's character, Victoria Leeds.
In her first scene of the Baywatch trailer, Priyanka Chopra arrives on a beach in a stunning hot pink dress. Following on, the actress appears in more flawless outfits, ensuring that her appearance in the film will wow everyone.
She will also deliver an F-bomb, as further into the trailer she yells: "F***** lifeguards! Take care of them already!"
The trailer had generated over 290,000 views on Youtube and many have reacted to Priyanka's character. Priya Shah said: "Priyanka is so hot, badass and amazing! She is going to slay Baywatch! Can't wait!"
Watch the Baywatch trailer here: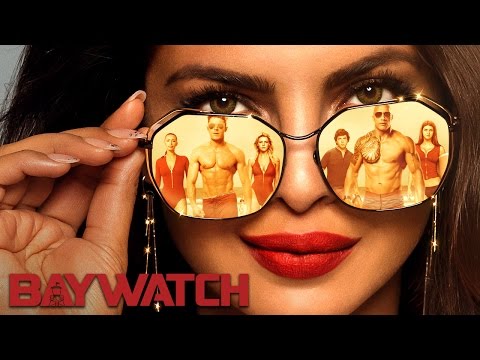 On social media, Priyanka has delighted fans by revealing the trailer to them. But, she has also partaken in Twitter banter with her co-star Dwayne Johnson.
Dwayne began by as he offered a "warning" to Priyanka.
Obviously keeping in line with his Baywatch character, he too gave his own F-bomb as he said: "Warning to the evil @PriyankaChopra, you don't wanna f*** w/ the Avengers of the Beach. We WILL get dysfunctional. [sic]"
However, Priyanka swiftly responded to the tweet, showing she can deliver just as much sass as her character Victoria.
Lol! Just Look at me @TheRock U think I'm gonna b intimidated by a bunch of swimsuit calendar alumni? #BeachPlease @baywatchmovie #May25 ?? https://t.co/IV1uRsq9dY

— PRIYANKA (@priyankachopra) April 26, 2017
With this edgy demeanour, it seems the film will show a different side to the actress. And with the Baywatch trailer showing her with full glamour and style, they will be itching to get film tickets straight away.
DESIblitz wonders if fans can expect to see more banter between Priyanka and Dwayne?