"Never look back and never give up."
Baljit Dlay, also known as GhostWriter, has released her newest thought-provoking novel, Wo/Men, covering domestic violence and gender equality.
This is the first gender-neutral story written on domestic violence by a South Asian woman in the UK.
Baljit uses this novel to openly and honestly discuss domestic violence, mental health and gender neutrality.
This author has stepped outside the box once again to give readers reality and transparency, emphasising all genders can experience abuse.
Her goal is to spread awareness and support those living in uncertainty, violence and fear.
The Inspiration Behind Wo/Men
Wo/Men details everything that runs through the character's mind, from experiencing domestic violence to discovering freedom.
Baljit makes it clear that for this character, home is not 'home sweet home'.
Much like people experiencing domestic abuse, they do not feel safe or secure.
The author of this short novel explains how this story was drawn from her past experiences with domestic violence:
"The inspiration came from myself and my past circumstances."
She continues:
"I only had 79p and I made it.
"If I can do it, so can the reader."
Despite this piece being based on Baljit's life, she wanted to remove herself from the story, so everyone can identify themselves within this character.
"This is a short piece, but I know this piece will shock men and women and they will say 'that's me'.
"It is just a character. It has no ethnicity, no age, no culture, no belief."
Baljit wants to educate readers and stress the mental and physical impact domestic abuse leaves on its sufferers.
Baljit's Message to her Readers
Wo/Men and her previous novel PoweRRR, describe a victims journey through lies, pain, abuse and eventually freedom.
Baljit dedicates this novel to the women and men of today's and tomorrow's generation.
She explains her goal with this book is to:
"Motivate, inspire, and role model."
"I took myself out of my comfort zone and decided to write a short story because not everyone is a book reader."
Moreover, Baljit describes domestic violence as a "destination of temporary pain."
The author of this candid piece wants her readers to understand she has also experienced this abuse, and her advice to them is:
"Never look back and never give up."
She aspires for this novel to be an example to the forthcoming generation on how to break from the cycle of abuse.
Gender Neutral Characters
Media and literature often feed into conventional gender norms and roles.
They perpetuate this stereotype that only women are victims of domestic violence, and men are always the assailant.
However,  this author wants to challenge this narrative:
"I want to try and inspire every man and woman, every boy and girl out there, and the LGBTQ community.
"Regardless of what gender or sexuality you are, it does not matter because abuse does not recognise gender."
Baljit believes more authors and creators should take this gender-neutral approach, to highlight how abuse does not recognise sex, expressing:
"We recognise that women face abuse, but we do not recognise that men go through the same abuse.
"This abuse can be emotional, physical, financial, and psychological."
She adds:
"I want to target everyone and anyone.
"As a reader, you become the character, and it doesn't matter what gender you are.
"The point is, abuse exists, and Wo/Men and PoweRRR show how all genders experience abuse."
The author strives to empower every reader regardless of gender, and encourage conversations on domestic violence.
Domestic Violence and Challenging Stereotypes
Baljit wants everyone to purchase this novel to educate themselves on domestic violence and learn that support is available. She states:
"I want to say something to those who haven't read it. You must buy a copy of Wo/Men and PoweRRR."
Subsequently, Baljit carefully constructed this piece to help navigate people in leaving a toxic relationship, regardless of gender.
"Wo/Men and PoweRRR takes you through a journey. It says, 'I am a man and, I am a woman, and I have done it, I have broken the cycle'.
"Just as much as a man can be toxic, so can a woman.
"You can get that help. There are governing bodies that can help you get out of that situation and break that cycle."
She passionately adds:
"It is all about judgment and perception. Men feel like they will be judged because they must have this masculine aura.
"Forget what everyone else thinks, break that cycle, break away from that abuse. It doesn't matter if you are a man or woman. Abuse doesn't recognise gender."
Baljit understands how difficult it can be for a man to seek help, due to societal stereotypes and people mocking men for speaking out.
However, there are many organisations available to support those in need.
The Theme of Hope and Faith
The main protagonist in the novel is deprived of love, happiness and kindness.
Yet, throughout the novel, the theme of hope and belief is present.
Baljit explains that the character relies on faith to help them leave this toxic relationship:
"We live on hope. Hope is a glimmer of light."
She continues:
"There is shimmer in everybody, and this little light, this spark, we all have it."
Additionally, Baljit says it was initially difficult to write this piece due to her past experiences with domestic violence:
"During the time I was writing, I relived it, but there was no point where I took a break.
"For me, there was an emotional point, but I had to step out and think about the people out there.
"The more I wrote, the piece became no longer about me. It became about men and women who are victims.
"This book should ignite the power within you to take back the control.
"Break away from the situation that has caused you nothing but mental health issues."
The impact domestic violence has on an individual's emotional wellbeing is also present throughout Wo/Men and PoweRRR.
Baljit asserts why this was important for her to include:
"Domestic violence affects self-esteem, confidence, and it makes the person feel isolated and neglected.
"One who wears the shoes can only experience it.
"But if you haven't experienced abuse, and you read the piece, Wo/Men and PoweRRR allows you to put these shoes on because you go through the character's journey."
Furthermore, it is important for Baljit that her readers learn and understand how domestic violence impacts ones mental health through her writing.
Future Plans for the Gender Neutral Writer
Excitingly, there is more to come from Baljit, as she keenly discloses:
"I have been working on some material, it is niche again and gender-neutral."
The gender-neutral writer will continue spreading awareness on gender equality, and domestic violence through her writing.
"What I do now is role modelling and setting an example to the younger generation, and men and women, who cannot find their voice.
"I never thought I would do this.
"I am your voice, and I have a voice for a reason."
Watch a Video Interview with Baljit Dlay on Gender Neutrality and Domestic Violence: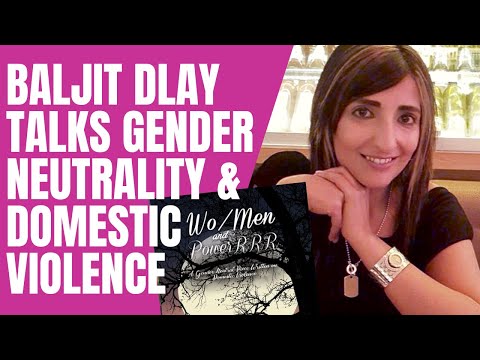 Baljit also enjoys motivational speaking and working with community organisations.

She is always open to attending domestic violence events, which cover sexual abuse and mental health.

Wo/Men and PoweRRR captivates the reader.

The message of hope and resilience is effectively portrayed throughout the book.

Baljit wants people to understand, they can seek support, and they can break away from the cycle of abuse.

Overall, this author is determined to help people and save lives and readers will be hooked on GhostWriter's Wo/Men.

The book is available for purchase here.

Helpful online resources: