"It was a hard and tough ride when I started."
The President of the England Kabaddi Association (EKA) Ashok Das has had a pivotal role in globalising the sport.
Ashok also familiar as the 'Kabaddi Daddy' is leading the way for the game to become an Olympic sport. The former national kabaddi player was born in Kapurthala, India.
Ashok was representing the Punjab Kabaddi team, playing for them between 1978-1981.
He had the honour of twice playing in the All India Kabaddi event, receiving a silver medal.
After moving to the UK, he began concentrating on England Kabaddi. This includes qualifying as a National Kabaddi Coach from the National Kabaddi Association (NKA).
He made big progress after forming EKA, with the men's team participating at the first world cup held in Mumbai India in 2004).
Watch our Exclusive Interview with Ashok Das here: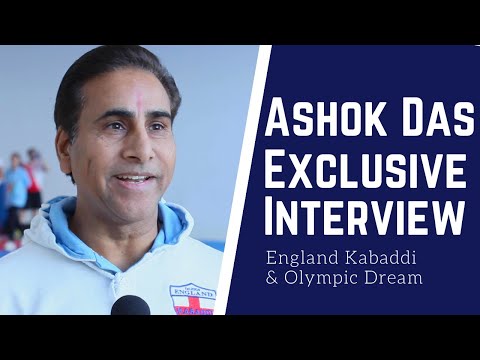 Following frequent training sessions at British Army bases (2006) and introducing the sport to the armed forces, the England men's team competed at the 2nd Kabaddi World Cup.
Taking place in Mumbai again during 2007, the men's team had four British soldiers.
Other achievements include establishing the England women's team in 2008 and winning a silver medal at the second Kabaddi World Cup 2011 in Punjab, India.
Despite many testing times, Ashok remains humble and is determined to see kabaddi featuring at future Olympic Games.
Ashok Das exclusively chats to DESIblitz about the growth of England Kabaddi at the grassroots level and pushing for the inclusion of kabaddi in the Olympic Games.
Supporting and Popularising Kabaddi
From past to present, Ashok Das is a big advocate for kabaddi, backing the sport all the way. The former Indian national player reveals that after shifting to England, he saw an opportunity with rectangular kabaddi:
"They all love playing cricket. So my aim was 'why not kabaddi'? So I was looking at the chance where I can start and how I can spread kabaddi."
Ashok admits early on it was a struggle to develop the game, especially with a lack of facilities.
But then a big event that took place during 1993 in the Midlands was the inspiration for Ashok, giving him much confidence:
"There was the first international Champion Trophy in Birmingham, where six teams participated – two from Pakistan, four from India. So I've been inspired to kabaddi."
According to Ashok, with the constant development of kabaddi, it has become a popular sport in England.
Ashok alludes to the fact that the New York Times has gone onto highlight the popularity of kabaddi:
"They said that this is the first sport ever, which is spreading fastly in sports history."
Ashok also adds that that kabaddi competing with cricket as per the Target Rating Point (TRP) when analysing audiences in India. Ashok believes the x-factor being that kabaddi is a "fast and furious sport."
In comparison, even the shorter format of cricket is longer in duration than kabaddi.
Ashok feels the involvement of celebrities and tycoons in various kabaddi leagues has also had a major contribution. The sport is certainly growing across all departments.
England Men's and Women's Kabaddi Teams
Ashok Das mentions he has faced challenging times in context to the England Kabaddi teams. It was a difficult journey, to begin with, but Ashok quickly made inroads with the armed forces:
"It was a hard and tough ride when I started. So whatever I'd done is done with my own time and own money.
"So I started with the army. That was army kabaddi. Then I started into the universities."
Ashok points out that with kabaddi not gaining recognition in the west, development is a challenge. This is due to lack of funds.
Consequently, Ashok mentions they have had to look at kabaddi on a global scale for attracting funding.
The Kabaddi World Cup took place in Malaysia in 2019, with over 25 teams competing. Though, unfortunately, the England teams were unable to participate due to lack of funding.
With kabaddi growing, Ashok states the men's team consists of players from various professional backgrounds. This includes students, doctors, pharmacists, engineers and police officers.
Ashok says training issues have also hindered the progress of the teams. This is because players from all parts of England have to come together across the north and south divide:
"So we have training in the south. We have training in the north. So they do vice versa."
It seems Ashok and his team have to be always on top to organise such logistics and training schedules.
Will Kabaddi become an Olympic Sport?
For Ashok Das, kabaddi becoming an Olympic sport will be a dream come true. Ashok tells us that this is the biggest question on everyone's mind – "when"?
"Kabaddi is a very old game, like ancient game 5,000 years ago, but "why not Olympics?"
Despite the lack of funding, Ashok is clear that Word Kabaddi is aiming for the Olympics. Even though there is a process, they are on track:
"It's not easy, You have to fulfil the criteria And then progress during that period. Fifty country officially playing kabaddi and they have to have the association – that we've done."
Ashok told us the 2021 Olympics are not a realistic option. However, they are looking to push kabaddi for subsequent summer Games.
Ashok discloses that they did lobby for introducing kabaddi to the 2022 Birmingham Commonwealth Games. Though they have not had much success with that.
Kabaddi has a huge fan following in England's second-biggest city. Thus, it is disappointing that this discipline will not be part of the games.
COVID-19 has also hampered any plans to host the 2020 Commonwealth Kabaddi Cup in Birmingham.
Ashok will no doubt continue his quest to convince organisers of such multi-sports events about inducting kabaddi in the future.
Spreading Kabaddi further in England
Ashok has plans to make kabaddi an even more widespread sport in England. Though Ashok is adamant that England will not emulate India due to the political nature of his native country.
Ashok expresses that they are continuously targeting the four corners of England – the north, south, east and west. He outlines specific measures, saying:
"We [did] training into the school from the grassroots, training in the university [and] colleges."
During February 2020, the first Kabaddi Coaching and Technical officials course was organised in Oldham, with eighteen people qualifying.
There are twelve clubs as well as nine University sides that have affiliation with EKA, playing kabaddi across England.
Ashok divulges that a management committee is in place throughout England, joining forces to increase and influence the sport.
Ashok also notifies us that the British Army wish to reintroduce the sport, targeting 200 male and female players, along with twenty officials.
Additionally, Ashok Das informs us that they are in communication with the Commonwealth 2022 team. This is so that they can demonstrate kabaddi during or before the Games.
The message from Ashok is that England Kabaddi needs help from everyone to develop the sport further. He is confident that the dream of kabaddi being part of the Olympics, will become a reality.
Fans can keep updated with Ashok Das and England Kabaddi via their website here: