"I really was anticipating that Dheepan would shake the audience and probe a discussion or a debate."
Dheepan is a film based on the brutal aftermath of a 30-year-old ethnic war. It won the Palme d'Or at the 68th International Cannes Film Festival, 2015.
Directed by Jacques Audiard, Dheepan is a story of three strangers, a Tamil Tiger (Dheepan), a woman and a little girl, who fly to Europe from a deadly war to claim asylum in France.
Arriving in Paris, they move pretending as one family from one temporary home to another until Dheepan finds work as the caretaker in a grungy housing block in the suburbs.
He struggles to build his broken life, but to his dismay his wounds become fresh with the violence he confronts every day. Dheepan is compelled to relink with his fighter's impulses to shield his family.
Antonythasan Jesuthasan, a Sri Lankan writer and former Tamil Tiger child soldier stars in Dheepan.
Having authored many novels on the theme of ethnic unrest under the pen-name Shobasakthi, he has first-hand experience of the struggles of the war-torn land.
In an exclusive interview with DESIblitz, Shobasakthi, aka Antonythasan Jesuthasan, tells us more.
How do you recall your early days?
"I come from a small village in Jaffna, north of Sri Lanka. I joined the Liberation Tigers of Tamil Eelam [LTTE] after the 1983 riots in which Tamil speaking community underwent a massive genocide.
"I left the LTTE in late 80s and I came to Colombo, the capital of Sri Lanka. I was detained in prison under the terrorism prevention act.
"In 1990, I moved to Thailand as a refugee and I was there for 3 and a half years. Then I crossed the border of France in 1993 and it had been my homeland since then."
How challenging was it to play your role in Dheepan?
"I do not say that there is a specific difficulty. But acting in a film requires more hard work. I would have struggled with any role given not specifically the role of Dheepan.
"But this story revolves around the places and fields I am used to. I could say it is 50 percent my own story, which definitely benefitted me immensely in connecting to the role more emotionally."
You are known for your illustrious writing in the Tamil world under the pen name 'Shobasakthi'. Do you see yourself more as a writer or as an actor?
"I have been writing from adolescent ages. I started to write more intensely and expressed my own thoughts freely in the pen name Shobasakthi from 1997 while in France.
"Definitely I am a writer more than an actor. I do have an interest in Cinema and I would really love to see myself as a good actor without doubt. But I can feel my own creativity and originality valued in writing."
How did you feel when Dheepan won a prestigious award at the International Cannes Film Festival?
"I am ecstatic. The most esteemed recognition for a film in the international arena is Cannes. Most of the actors in the film are making their debut. Even the music director and camera man of the film are new.
"The director had to struggle a lot since we aren't professional actors. 80 percent of the conversations in the film were in Tamil language but the technicians knew no Tamil.
"The shooting of the film took place in winter. This award is an acknowledgement of all that toil and sweat."
"Some of the most prestigious films are screened at Cannes festival. Unlike the Oscar awards, Cannes is not limited to US only. Many films from different countries such as America, Italy, Hungary and Thailand were projected. Many of the directors and actors were of star calibre.
"I really was anticipating that Dheepan would shake the audience and probe a discussion or a debate. I was overwhelmed with the happiness that our film is screened at Cannes. That was enough to make us delighted. But winning an award is a big plus certainly."
Tell us something about the director and the crew of Dheepan. Since the team consisted of amateur actors, how challenging was the shooting of the film?
"Definitely it was a challenge. We did lot of homework, went through tough training and rehearsals. Since the director is an extraordinary person, he could understand every actor's language though he did not understand the language we speak.
"He has almost 40 years of experience in the field. My co-actress Kaliswari Srinivasan who is a friend of mine, is a stage drama artist and is from Chennai, India.
"The child actress Claudine Vinasithamby is a talented girl of 10 years, born and bred in France but can speak beautiful Tamil."
Do you miss your homeland of Sri Lanka?
"Yes, definitely I long very much to visit my motherland. I had not been set foot on Sri Lanka after abandoning the country. Now I feel I can make a short trip to Sri Lanka. But I am not quite satisfied visiting Sri Lanka as a tourist.
"I should have the freedom to speak and write whatever I feel in my motherland. But I assume that environment is not yet a reality."
"I miss my people. All the hardships and tears they face today, we had also been a reason. We started this armed struggle. The whole outcome is borne by the people there. There is no justification to leave them alone amid struggles.
"It is high time we raised our voice for them. But our hands are tied and we are unable to talk on behalf of them. When there was war, I was scared to visit the country because from both sides I faced threats to my life from the LTTE and the government.
"We could not deny the fact that the things are changing after the falling of Rajapakse reign. But the changes are not a complete assurance for us to visit Sri Lanka. Whenever I think of Sri Lanka I feel a mental agony."
Watch a clip from Dheepan here: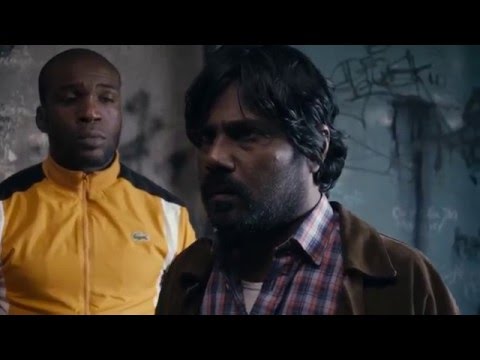 The war between the Srilankan government and the Liberation Tigers of Tamil Eelam officially ended in 2009 after the military demolished the LTTE cadres.
The government of Sri Lanka was charged of human rights violations during the war and post war by international humanitarian organisations.
Existing President Maithripala Sirisena, who ousted Mahinda Rajapaksa in January 2015, has lifted bans on films based on civilians engrossed amid the conflict.
In the previous reign, anti-government films were stamped as unpatriotic. Free media movements within Sri Lanka condemned the former regime for militarising arts and culture.
Dheepan is the first of many films to break through political barriers in Sri Lanka, and for former child soldier turned writer and actor, Antonythasan Jesuthasan, it is one step closer to his precious homeland.