This dessert pays tribute to the stilt fisherman of Sri Lanka.
Renowned food writer Michael Krondl believes dessert is 'a purely cultural phenomenon' – a manifestation of our passion for all things sweet, artisan cooking and exquisite ingredients.
It is hard to disagree with him. Who doesn't love to be given a beautiful plate of sugary masterpiece at the end of a fulfilling meal?
Some chefs have taken this fascination to the next level and created an array of luxury desserts that combine the rarest foods, the finest wines and liqueurs, and even gemstones!
We have carefully curated a list of 15 heavenly and truly special desserts from around the world that will give you the ultimate royal experience.
1. The Golden Cristal Ube Doughnut ~ £78 ($100)
Famous for their Ube Doughnuts made from a purple sweet potato from the Philippines, Manila Social Club in New York decides to give them a major upgrade.
Head chef Björn DelaCruz has created a filling that marries the down-to-earth Ube and the superior 2007 Cristal champagne.
Topped with Cristal icing and 24-karat pure gold dust and leaves, each Golden Doughnut is meticulously handmade by Mr DelaCruz.
The restaurant is also the brain behind a limited edition Platinum Doughnut (£117/$150), made with rose, citrus, chili, ginger, sweet tequila icing and edible silver and platinum.
2. Oak ~ £557 (THB 24,500)
Ascend to the 63rd floor of Lebua Hotel in Bangkok – the world's highest alfresco restaurant – and indulge in a three-course dessert at the Sirocco.
Simply called 'Oak', the dish presents various combinations of sweet bites and vintage alcohol. It must also be ordered one day in advance.
The first course is a refreshing blend of banana, crumble and jelly, accompanied by a glass of 1996 Chateau La Tour Blanche, 1er Cru.
For the second course, dive into the intense flavours of blackberries and Amedei chocolate – one of the finest artisan chocolates in the world – with a foie gras base. And a glass of vintage port wine, too.
Finish with Amedei chocolate, honey, truffle, and the premium L'Or de Jean Martell cognac.
3. The Black Diamond ~ £636 (AED 2,999)
With a mysterious name like this, you would never imagine the Black Diamond to be an expensive scoop of ice cream.
Served in an elegant bowl designed by Versace, the Madagascar vanilla bean ice cream is enhanced with Italian black truffles and Iranian saffron. A generous sprinkle of 23-karat edible gold flakes makes for a grand final touch.
Zubin Doshi, an Indian businessman who owns Scoopi Café in Dubai, explains the creative concept behind this headline-grabbing dessert: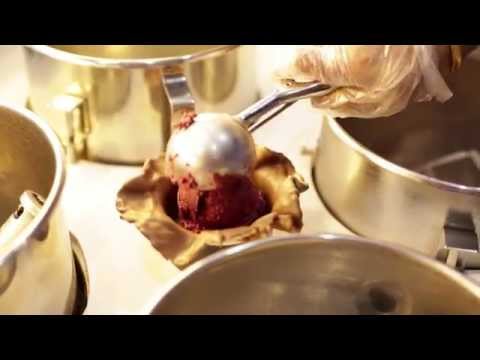 Two lucky customers have sampled this luxurious ice cream, and take home with them the designer bowl and silver spoon – a Royal family member of Dubai and a tourist from Saudi Arabia.
4. The Brownie Extraordinaire ~ £780 ($1,000)

Made with dark chocolate and Italian hazelnuts, this brownie is a highly refined and delicious dessert at best.
However, pair it with a rare wine – 1996 Quinta do Noval Nacional vintage port – held in a vintage-style crystal atomiser, and you have a luxurious treat that delivers a unique culinary experience.
5. Golden Opulence Sundae ~ £780 ($1,000)
Serendipity 3 in New York celebrated their 50th anniversary in 2004 in style – by creating the world's most expensive dessert that would retain its crown until smashing its own record in 2007 (see number 14 on our list).
This radiating sundae contains a mouthful of exquisite ingredients – from candied fruits, marzipan cherries to truffles and Venezuelan Chuao chocolate. Tahitian Vanilla Bean ice cream is covered in Amedei Porcelana chocolate, garnished with an edible 23-karat gold flower.
It also comes with a Grand Passion Caviar blended with orange, passion fruit and Armagnac, adding to the sundae's overflowing opulence.
Place your order two days in advance, and enjoy this luxury sundae in a Harcourt crystal goblet with an 18-karat gold spoon.
6. The Sultan's Golden Cake ~ £780 ($1,000)
The Sultan's Golden Cake served at the five-star Çiragan Palace Kempinski Hotel in Istanbul is truly fit for royalty.
Not only is it literally wrapped in edible gold, it takes at least 72 hours to infuse the fruit cake with a rare French Polynesian vanilla and caramelised black truffles.
Even more impressive is the cake itself, which uses figs, pears, quince and apricots that have been bathed in an exotic Jamaican Rum for two years. No wonder it is only available on request.
7. The Victoria ~ £780 ($1,000)
Another extravagant dessert with a link to royalty is an ice cream sundae served at The Langham in Chicago.
Named after Queen Victoria of England who was reigning when the group opened its flagship hotel in 1865, the edible gold crown is naturally the most prominent feature of the dish.
Underneath it are sizeable scoops of dark chocolate ice cream made with premium Guittard Complexite 70% chocolate and three different types of vanilla ice cream. Served in a Wedgwood crystal bowl, the sundae also contains a heavenly sweet mix of salted caramel, butterscotch and whipped cream.
As if that is not indulgent enough, it comes with a 2003 Dom Pérignon champagne, too.
Scott Green, the executive pastry chef at the chic hotel, says: "Ice cream is a year-round craving and the added alcohol component simply makes it that much more versatile for guests to indulge throughout all seasons."
8. The Golden Phoenix Cupcake ~ £787 (AED 3,700)
The world's most expensive cupcake is originally a challenge attempted by Bloomsbury's Cupcakes' founder and owner Shafeena Yusuff Ali – the daughter of Indian business tycoon Yusuff Ali M.A.
For several weeks, she has worked on creating the perfect recipe, using Amedei Porcelana chocolate, Ugandan vanilla beans, Doves Farm organic flour and Rachel's organic butter.
Then comes the edible gold, which is draped all over the cupcake and strawberries – all meticulously presented on a 24-karat gold cake stand.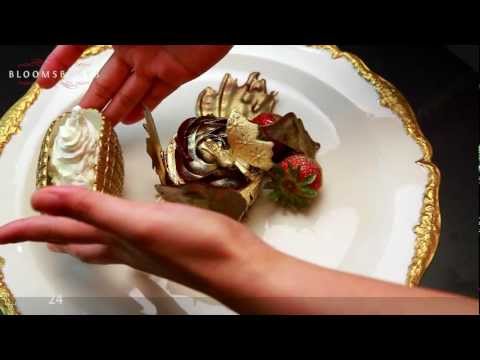 9. Krispy Kreme's Luxe Doughnut ~ £1,000
Krispy Kreme created the Luxe Doughnut in 2014, whilst collaborating with the Children's Trust to raise money for children with brain injuries during National Doughnut Week.
There are two parts to this visually appealing dessert. It contains a champagne jelly made from 2002 Dom Pérignon, a premium Château d'Yquem creme, with a passion fruit glaze underneath a 24-karat gold leaf.
The doughnut sits on top of a one-of-a-kind cocktail, which is a beautiful blend of raspberry and passion fruit syrup, as well as a 500-year-old Courvoisier de L'Esprit Cognac.
Decoration is simply immaculate – with a huge handmade gold-dusted Belgian white chocolate lotus flower, accompanied by smaller flowers and butterflies. All of this is worth three days of work!
Although the limited edition Luxe Doughnut is no longer on sale, check out the doughnut chain's exciting range of flavours that won't hurt your wallets!
10. Luxury Zebra Cro ~ £1,500
If you think the cronut craze is over, think again. Dum Dum Donutterie in London has made what is arguably the most expensive cronut in the world, and it's sensational!
To make the Luxury Zebra Cro, the bakery has sourced the most premium and tasty ingredients.
These include Amedei Porcelana chocolate, butter croissant dough infused with Iranian saffron, Cristal Rose Champagne, Normandy butter, powdered Nutella, and man-made champagne caviar that nicely sits atop of the cronut.
11. Three Twins Ice Cream Sundae ~ £2,576 ($3,333.33)
Three Twins in California is known for their affordable and organic ice cream. That is, until its founder Neal Gottlieb decides to add this ice cream sundae to the menu.
For the price of $3,333.33, you can devour an astonishing banana split drizzled with syrups that are made from three rare dessert wines – a 1960s port, a Chateau D'Yquem and a German Trockenbeerenausiese.
But that's not the whole package. You can also enjoy your sundae with a vintage spoon from the 1850s, in a unique setting with music performed exclusively for you by a cellist.
Gottlieb says the sundae is 'a lighthearted way to promote the company's brand' and raise funds for charity, as one-third of the price is donated to a local land trust.
12. Haute Couture Macarons ~ £5,790
For the most exquisite, delicious and luxury maracons in the world, pay a visit to Pierre Hermé in Paris.
Dubbed 'the Picasso of Pastry' by Vogue, Hermé's bakery offers a mouthwatering range of haute couture macarons with flavours like Mogador (passion fruit and milk chocolate) and Arabesque (apricot and pistachio).
Those with the biggest price tags are special orders for customers who prefer to select their own ingredients for a personalised macaron.
13. The Fortress Stilt Fisherman Indulgence ~ £11,320 ($14,500)
One must appreciate the art of assembling this gorgeous dessert before indulging in its adventurous and exotic flavours.
It pays tribute to stilt fisherman, who still practise the ancient local fishing custom in Sri Lanka today.
Bursting with the flavours of pomegranate, mango, Italian cassata, with a hint of Dom Pérignon and Irish cream, it is presented on a handmade studio flared glass plate that resembles the Indian Ocean.
But the real showstopper is the 80-carat gemstone. The Aquamarine stone is thought to bring luck and blessing to the fishermen.
14. Frrrozen Haute Chocolate ~ £19,520 ($25,000)
This is the famous dessert that claimed the crown of the most expensive dessert in the world in 2007 and gave Serendipity 3 its second Guinness World Records title.
They teamed up with Euphoria, a high-end jeweller in New York, and turned a simple sundae into an out-of-this-world treat that can only be afforded by a few.
Inside the elegant goblet is ice cream made from 28 different types of cocoa – half of which are among some of the most expensive in the world.
The final touches include a generous serving of whipped cream, edible gold leaves and La Madeline au Truffle shavings from Knipschildt Chocolatier.
Stephen Bruce, owner of Serendipity 3, reveals: "It took us a long time to experiment with all the ingredients and flavours, and more than three months were needed just to design the golden spoon."
15. Frozen Haute Chocolate ~ £22,000
Although they share a similar name, the Frozen Haute Chocolate has its roots in the UK. Its maker is Marc Guilbert – head chef at the Lindeth Howe Country House Hotel located in the picturesque Windermere.
The dish is presented in the style of a Fabergé egg. Remove the outer case to reveal a chocolate pudding made from champagne jelly infused with peach and orange and whisky, biscuit joconde, Belgian chocolate and gold caviar.
Guilbert has poured a great deal of effort into its decorative pieces. Just take a closer look at the delicate handmade flowers, gold leaves and the two-carat diamond centrepiece.
The dessert made headlines in 2011, when British businessman bought it after his girlfriend left him.
Next time you take a trip abroad, be sure to check out these world-famous eateries for an Instagrammable experience and jaw-dropping luxury!