"Imad you have found a special person"
Pakistan cricket player Imad Wasim has tied the knot with UK resident Sannia Ashfaq
Imad and Sannia who is also of Pakistani origin had a low key affair traditional wedding first. A few days later the couple had a more grand wedding reception.
The couple made the decision to marry very soon after getting to know each other and with the blessings of both families.
The marriage ceremony was a very low key affair. Whereas many influential people and cricket players attended the more grand wedding reception.
Both the bride looked stunning on both days, opting for traditional outfits.
DESIblitz presents all the information on how the Imad Wasim and Sannia Ashfaq met, along with extensive highlights of their wedding;
Imad Wasim & Sannia Ashfaq
The Swansea born Imad Wasim who also plays county cricket in England met Sannia Ashfaq in London.
Reportedly the two had their first meeting when Imad was visiting the capital. The newlyweds were definitely in love as Imad made an official announcement about the wedding.
Imad is a very private person normally and only spoke about the relationship as he was gearing up for his big day.
According to Syed Wasim Haider, father of Imad, the Pakistan star married a woman chosen by his parents.
Once both families were in agreement, wedding preparations began for the two love birds.
Imad Wasim who represents Nottinghamshire County Cricket Club in the T20 Blast told the media about taking a short break for his marriage:
"I will get a week's break from my professional commitments for the marriage ceremony and will rejoin Nottinghamshire for the remaining matches."
Marriage
Pakistan cricketer Imad Wasim had entered into wedlock with British-Pakistani Sannia Ashfaq on Saturday, August 24, 2019.
In the backdrop of the Margala Hills, the traditional wedding ceremony took place at Islamabad's famous Faisal Mosque.
The wedding was a very private and simple function, with only immediate family and friends present.
After signing the dotted lines, everyone had smiles on their faces as Imad and Sannia became husband and wife. The official photographer of the couple, Awais Javed went on Instagram to share some pictures.
Imad went for a classic white kurta and waistcoat. He had a matching shawl and was wearing stylish sunglasses and a cool watch on his wrist.
Sannia wore a classic red and wedding gown. For her entry, Sanniaa was wearing a white maxi dress and red dupatta (shawl-like scarf) with a touch of pearl. Her make-up was pleasingly light.
Wedding Reception
Pakistan all-rounder Imad Wasim and Sannia Ashfaq had a glamourous wedding reception on August 26, 2019. Besides, family and friends, many dignitaries and celebrities were in attendance for this joyous occasion.
Director General of Inter-Services Public Relations (ISPR) Major General Asif Ghafoor, Senator Faisal Javed Khan and Pakistan Cricket Board (PCB) Managing Director Wasim Khan made an appearance at the reception.
Pakistan cricketers that had a presence at the function included Sarfraz Ahmed, Yasir Shah, Shadab Khan and Fakhar Zaman to name a few.
Pakistan cricket team skipper Safraz Ahmed wishing the couple said:
"We all pray for his future life and success."
With Imad living most of his life in Islamabad, officials from the local cricket association also attended the glittering event.
On his walima, Imad was wearing a golden brocade sherwani, along with a red 'safa' (shawl) on his shoulders. For his headgear, he wore a red stripey turban.
The bride was sparkling in her traditional red and ivory lehenga and matching dupatta. Despite wearing heavy gold jewellery, her make was romantically soft. Sannia long hair had a wavy style to it.
Imad was thankful to all those present during this happy occasion. Sharing similar thoughts on his social media, Imad wrote:
"Thank you everyone who came tonight, much appreciated….had a really great time this evening #newbeginnings."
Celebrity Reactions
There has been a lot of buzz around the marriage, with fellow team-mates, former coaching staff and celebrities congratulating the couple.
His colleague, Hasan Ali who a few days earlier married Indian woman Shamia Arzoo put out a picture on Instagram, along with a caption congratulating the new couple stating:
"congratulations imad bhai & bhabi for ur wedding may Allah fill ur married life with loads and loads of happiness. i wish good luck to u and bhabhi."
Babar Azam who was unable to attend the wedding due to country cricket commitments with Somerset went on Twitter to convey his message to the couple:
"Congrats Maddi bhai on your big day. Sad that I could not be the part of those celebrations, but I am sending my love and prayers to you and family.
Former Pakistan bowling coach Azhar Mahmood took to Twitter in wishing the newlyweds a happy marriage:
"Congrats @simadwasim and Sania! God bless you both with the best in the future! Imad you have found a special person in Sania! And Sania good luck with Imad ?#ShaadiMubarak !"
Wife of Azhar, Ebba Qureshi went on Twitter sharing a photo of her with Mahmood, Imad, Sannia and Pakistan left-hand opening batsman Imam-ul-Haq.
Indian tennis star Sania Mirza who is the wife of Imad's colleague Shoaib Malik also wrote a tweet to send her good wishes to the couple."
"Congratulations Maddy .. wish you and Sannia the best."
Singer Uzair Jaswal who had attended the reception said:
'It was a great event bro. Everything was done really nicely. And you guys look amazing. Wishing you a happy, healthy life."
Watch a small video for the reception of Imad and Sannia here: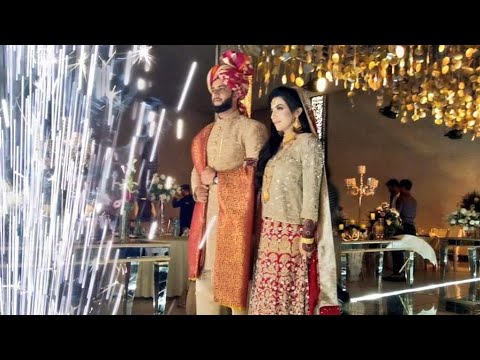 Fans were also excited, with so many of them sending their best wishes to the couple.
'The 30-year-old Imad is the first cricketer to be born in Wales and play for the Pakistani Cricket team. Imad is a useful all-rounder player who can go onto the captain the Green Shaheens if he continues to perform well.
DESIblitz extends our warmest wishes to Imad Wasim and Sannia Ashfaq on their marriage.