"All this was possible through six hours of hard training."
Actress Vaani Kapoor has come into the spotlight with her role in War. In a film which sees Hrithik Roshan and Tiger Shroff performing extreme stunts, Vaani has also performed some gruelling sequences.
She explained that she went through a tough fitness regime and stuck to a particular diet in preparation for the role.
Not only did Vaani work on her fitness but she also performed various acrobatic moves for her dance in the song 'Ghungroo' under the guidance of renowned choreographer Yasmin Karachiwala.
Her performance has garnered a lot of attention and many have praised her stunts and figure.
In a statement, Vaani said: "It's always amazing to get positive feedback from the audience and it made me really happy to see the reaction. I worked a lot on myself to get the fitness needed for the film.
"I was very excited about this project and Sid (director Siddharth Anand) was very clear as to how he wanted me to look for the part.
"The toughest was the dieting and making sure there were no cheat meals but it was all worth it."
The rising star underwent pilates, yoga and weight training in order for the role.
Vaani said: "Ghungroo is not an easy song. There is a lot of action in its pole and silo wheel shots.
"I had never done anything like this before, so it was challenging for me.
"In this recently released song, you can see that I have done one-handed action on aerial activities and polls. This required a lot of body and arm strength.
"It is very difficult to balance if you are hanging with the help of one hand. Body balance is very important for silo wheels. All this was possible through six hours of hard training."
Despite working out for six hours, the intense training sessions took a toll on Vaani as it left her with no energy and even left her in bruises.
"After six hours in my training, I used to get very tired. When I went to shoot silo wheel on the first day, my condition was so bad that I could not even get up on my own.
"After a two-hour workout in the gym, there was such a situation that I used to sleep while watching television at home. I used to feel that there is no energy left in my body."
The actress was asked to use a body double but she refused as she wanted to challenge herself during the three-month-long rehearsals.
Yasmin praised the actress for her commitment to the song. She said:
Vaani is such a hardworking actor and I was amazed to see her commitment. She got so many bruises, she fell so many times and it was bad.
"Physically, it was very challenging but she never gave up and she never skipped a single day of rehearsal."
"It is because of her dedication, commitment and hard work that the song has come out so well! I'm really proud of what she has done in the song!"
Vaani Kapoor admitted that she was not in the best shape after her 2016 comedy Befikre.
See Vaani Kapoor perform 'Ghungroo' Opposite Hrithik Roshan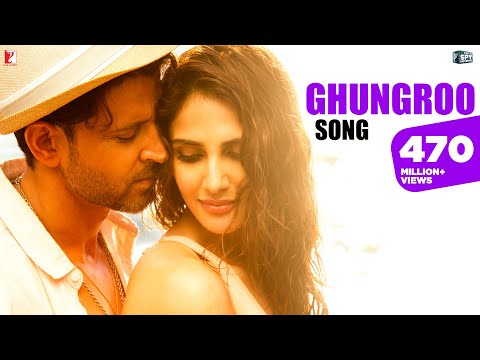 "To be fair, after Befikre I did not pay much attention to my body, I used to eat all kinds of food and stayed away from healthy food.
"I was not in my best shape before this film. Because of this, I had to do a lot of work on the body.
"As soon as I did the costume trial I knew that I would have to lose a bit of weight. I was taking a six-mile pack full of nutrition for this.
"My dietician used to take care that I get enough nutritious diet according to physical work."
Even though her body took a toll during rehearsals, Vaani is ultimately happy with the positive reaction.
"I think my body endured a lot during rehearsals and the shoot.
"It was physically demanding and extremely challenging with swing pole and Cyr wheel section of the dance but all the sweat and bruises were definitely worth it as it gave me the opportunity to pull off something entirely new.
"I'm super happy and grateful that people are loving my performance in Ghungroo and most importantly giving so much love to the song and the film."
Vaani Kapoor stars opposite Hrithik Roshan and Tiger Shroff in the high-octane action film. War is set to release on October 2, 2019.