She reportedly brought with her presents that are worth Rs 25 lakh.
After meeting on Facebook four years ago, Krishna Mohan Tripathi invited Deb Miller to attend his wedding in India.
Krishna, living in Uttar Pradesh, lost his mother at a young age but found motherly love from the American woman on Facebook.
Through their regular exchanges, Krishna and the California native developed an unconventional mother-and-son relationship.
And when the 28-year-old decided to get married, Deb is to be one of his honoured guests.
Travelling from the US to India for the wedding on January 30, 2016, Deb was seen embracing all the local traditions, wearing a Banarasi silk saree and henna on her hands.
The 60-year-old reportedly brought with her presents that are worth Rs 25 lakh, as well as an antique ring (125 years old) acquired at an auction in the UK.
As Krishna's new 'mother', Deb was extremely moved by his gesture to share the most important day of his life with her.
She told reporters: "I do not have children and when I interacted with Krishna, I felt God had fulfilled my wishes.
"He is a very nice person and I pray to God that all his wishes come true.
"I don't have words to describe how well I've been treated. I just want to thank Krishna and his family for having the faith to bring me here, and make me part of their lives."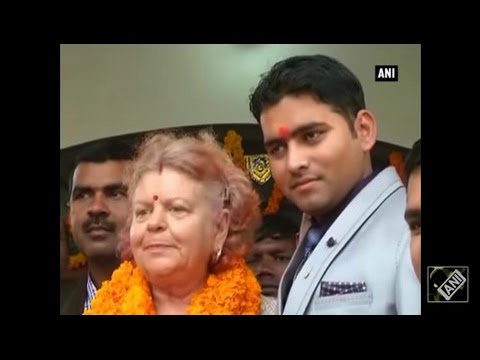 Deb was fascinated by her experience of India and took with her some interesting souvenirs to return to California.
She said: "I used to see Indian women (wearing saree) on TV and always wondered how they carried it. However, it is a very nice and suave dress.
"I am taking back two dozen sarees as return gifts. I will come back to India and visit the Taj Mahal with my son."
Krishna, currently an MSc student at Awadh University and aspiring to become a lawyer, also promises to visit Deb in the US soon.