"The leopard was caught and caged after a four-hour operation."
A male leopard entered an international school in Bangalore, India, and reportedly injured six people on February 7, 2016.
Video footage shows a group of men – from wildlife officers to school staff – trying to capture the eight-year-old leopard.
The animal can be seen running around the school's swimming pool and at times attacking the men.
The incident started when a security guard at the Vibgyor International School first saw the leopard.
Surveillance camera spotted the animal again around two hours later, and so the hunt began.
Officers managed to locate it at around 3.30pm, but the leopard started heading towards the school.
Ravi Ralph, chief wildlife officer in Karnataka, says that it entered the school from a neighbouring forest by jumping over a wall.
Though the officers succeeded it trapping it in a bathroom, the leopard escaped through a ventilation duct and ran into the swimming pool area where the attack took place.
Senior police official, S. Boralingaiah, tells reporters: "It was a long struggle to capture the leopard.
"Although it was injected with tranquilisers [at around 6.30pm], it could be captured only around 8.15pm local time when the medication took full effect."
Ralph adds: "The leopard was caught and caged after a four-hour operation, when it was trapped in a room with one tranquilliser shot through a wire-meshed ventilator."
The injured men have been taken to hospital for treatment, with a wildlife scientist suffering from chipped bones during the standoff.
The leopard has been transported to Bannerghatta Zoo in Bangalore for observation, and reportedly released back into the forest.
WARNING: the following video contains some violence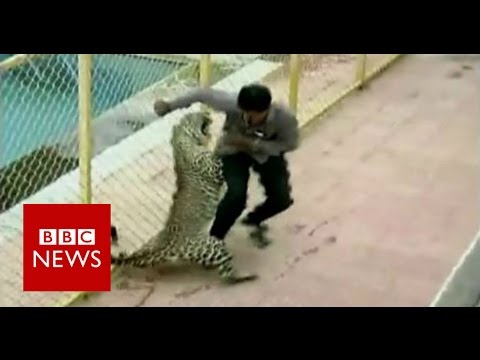 India is home to an estimated 12,000 to 14,000 leopards. Bangalore's economic growth in the last 15 years, while benefiting the city, have seriously affected wildlife in the rural areas.
Leopards have made headlines in India as recent as 2014 when it took the life of a five-year-old boy in his home.