"I didn't know that the video would be so cool."
Asian weddings have always been special occasions. People are ready to go that extra mile to make the event memorable.
They are willing to spend lavishly on food, photography and wedding venue, making sure everything is perfect.
These weddings have many customs and traditions. This is because they are grand. Another reason is for social status and social respect.
Some newlyweds have even seen their wedding video go viral on YouTube, therefore, reaching a huge number of viewers.
Many have said that it all happened very quickly and they never had the intention of becoming popular. We decided to take a look at some of these videos.
These couples and their guests had some serious fun under the guise of a wedding. From emotional speeches to romantic scenes and brides' music videos, you will wish these were yours.
Here are our top 10 viral South Asian weddings.
Rizwan and Fatimah
Rizwan and Fatimah's wedding is a grand one. The beautiful bright colours, the importance of family and religion are portrayed throughout the entire video.
It has been watched by more than 28 million people. It is a traditional Indian wedding taking place in Malaysia.
The video opens up with the bride and groom getting ready for their big day. Rizwan is getting help with his dark red Sherwani (groom's attire) and Fatimah has people doing her make-up.
She seeks blessings from her family before reaching the venue hall. Her red colour dress is mesmerising and has blue and white coloured embroidery.
People are feeding sweets to the couple, a typical Desi culture's gesture. This happens on the arrival of any good news, in this case, the marriage.
Asian weddings have many rituals, we can see the solemnisation and the exchanging of rings happening in the video.
During the solemnisation, the bride has a very modest dress-style which matches with the groom's pink attire.
What made the video more special are the songs playing on the background. One viewer in fact said:
"I love the second song in this video, for that song only I will watch this video every day. I was very much attached to that song."
The first song played is 'Manwa Laage' by R Vijay Prakash, Neeti Mohan. Good music is not the only reason why people loved the video.
Taranum said: "You have shared all the rituals, the wedding ceremony, the ring ceremony and every other important moment is there, it is lovely."
Watch the couple's video here: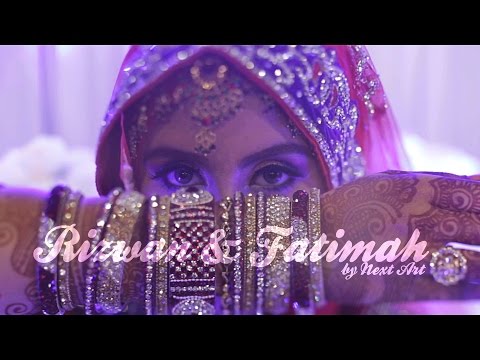 Amisha Bhardwaj
The bride-to-be broke the internet when she uploaded a fun video of herself getting ready for her wedding in Thailand. Delhi girl Amisha managed to reach over 21 million views on YouTube.
She performed to 'Cheap Thrills' by Sia, showing off her cool moves and challenging the stereotype of traditional Asian weddings.
In fact, this is what people liked about her. Amisha's couldn't-care-less attitude has got people talking.
In the video, she is wearing a pair of shorts, sunglasses and a chooda (traditional bangles) on her wrists.
Speaking to the media, the bride said: "I never imagined that people would go crazy about it. We shot it while I was getting ready and waiting for my bridegroom, Pranav, who was late.
"I was super angry, as it was a beachside wedding and I wanted it to be perfect. My videographer suggested that we dance to kill time.
"I didn't know that the video would be so cool. I'm getting friend requests and messages from people across the world.
"But the best compliment came from my husband. He said he is proud of me because I am so bindaas."
Although many people liked her performance, some criticised her for differing from a typical Indian bride.
In fact, Dhruv commented: "I hope her mother-in-law is alright! Please dress appropriately, otherwise go away."
Others defended her, for example, Gunjan who said: "You girl, you have guts. Believe in it. It's your life, your day. If you're sharing this with the world, all should bless her rather than shattering comments."
Watch Amisha's video here: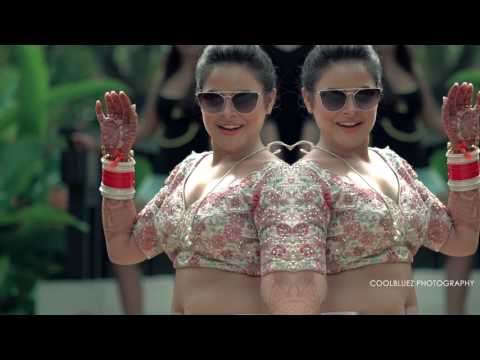 Sukha and Jasmeet
Sukha and Jasmeet's reception performance video received over 8 million views. The couple gained popularity after seeing their "surprise engagement performance" going viral, which reached 33 million people.
They spoke to DESIblitz and said: "To be completely honest we weren't ready for it. We hadn't really seen a performance go viral like that before and we didn't upload it with the intention of going viral.
"So when we uploaded it we thought our friends would see it and that would be it.
"However, It almost instantly went viral and it literally happened overnight after it started getting shared and a couple of random Facebook pages reposted it.
"Before we knew it our inboxes were full and we were getting phone calls from family around the world."
The engagement video shows the groom and his friends dancing for their guests. They are all wearing smart clothes.
They take it into turns. After the first performance on 'Muchh Rakh Hi Aa' by Jordan Sandhu, it is time for the bride and five other ladies to dance.
Jasmeet is wearing a white colour lehenga with a peachy colour dupatta. The first song she performed on is 'Paranda' by Kaur B.
Only during the last performance Sukha and Jasmeet dance together. They performed on "Valeti Boliyan" while all guests cheered loudly and applauded.
The couple was born and brought up in Canada, they are known to the public as "Your fav jodi".
Sukha and Jasmeet were introduced by a mutual friend, they said:
"Nancy spent months trying to get us to go on a date. Both of us weren't big on dating & Sukha brushed it off numerous times saying he was too busy.
"Eventually we ended up adding each other on Facebook and instantly hit it off."
Their first date was at Starbucks, where Sukha told Jasmeet he knew she was the girl he was going to marry.
Watch the couple's video here: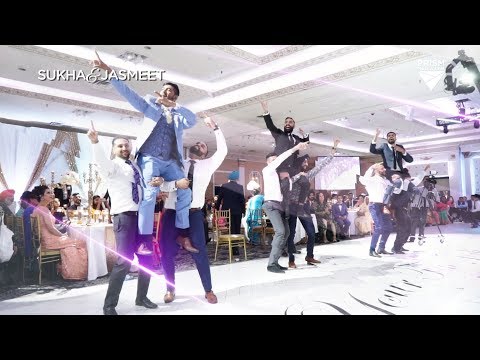 Ammara and Badar
Ammara and Badar, originally from Pakistan but living in Vancouver got married on July 31, 2016. They published a video that shows the Baraat highlights, which soon reached over 8 million views.
The video starts with 'Dil Diyan Gallan' by Atif Aslam playing in the background. It firstly shows the bride and the groom getting ready for the wedding.
Badar is wearing a very classy cream colour Sherwani with golden embellishments. Ammara instead chose an elegant red and golden colour Lehenga. The jewellery she wore perfectly matched with her dress.
The video focuses on every little detail. From the huge chandelier in the hall to the vintage car they sat in.
In Asian weddings, family play an important role and this is portrayed clearly in the video. It shows how relatives got together to give speeches, have fun and share love.
A very touching moment is when 'Baba Ki Rani Hoon' is playing while the bride has to say her goodbyes to the family.
Ammara, in a conversation with DESIblitz, said:
"I posted my wedding highlights one day and woke up the next morning with endless views and comments. I think what people love about my video is how much my family is involved.
"Through their interactions with us, the audience doesn't need to guess who my parents or brother or cousins are it's very apparent.
"And I think those interactions and endless love is portrayed really well in my wedding video."
Watch the couple's video here: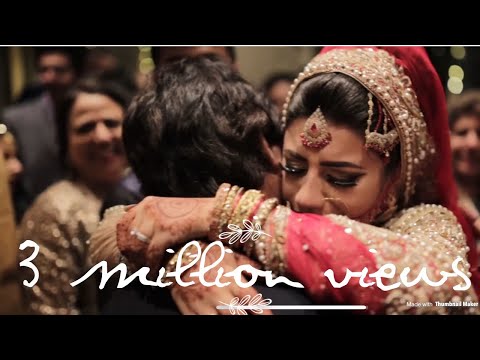 Niloy and Nabila
Niloy and Nabila's wedding is focused on highlighting the traditional Bangladeshi culture. The video lasts around 20 minutes and has reached more than 8 million views.
Colours such as gold and red reflect the traditional colours of Asian weddings. These are shown all throughout the film.
At the start of the video, Niloy is getting ready in a gold colour Sherwani with mehroon-colour embroidery.
The video shows him taking pictures with his family while they also help him wear his red turban. 'Rab Rakha' by Salim-Sulaiman is playing on the background.
Before leaving the house, Niloy takes blessings from his elders. This is a typical gesture of respect in a Desi culture.
Nabila is then introduced in the video, they show her getting ready for the special day. She has her hair up in a perfectly styled bun, with white-colour flowers placed in it.
The bride is wearing a traditional red saree with golden adornments. She smiles through the mirror while people help her prepare.
At the reception, Nabila is waiting for Niloy's arrival, whose car is preceded by a 'band-baja'. This is a band that may contain up to 10 members with quite loud musical instruments.
The video ends by showing the emotional "Vidaai" (goodbyes) of Nabila, who leaves with her husband.
What people loved the most in the video is the Bangladeshi culture being portrayed in a perfect way.
Watch the couple's video here: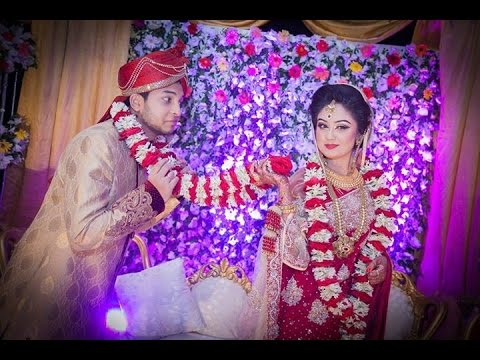 Asian wedding in Pakistan
What is particular about this video is that it is not shot by a professional cameraperson. In fact, it is a vlog-style video.
The quality and steadiness are not the greatest. Despite that, it has over 6 million views. The filming took place in a village in Pakistan.
One of the main reason it reached so many people is because of its simplicity. Many people want to see videos of traditional village weddings, but these are not usually uploaded on YouTube.
The bride's sister was responsible for filming the wedding as she starts rushing people to leave the house. She expressed how long she waited for the day to come.
The video showcases the small streets of the village, with its residents walking by. The bride side of the family is dancing on the beat of drums to express their joy.
A wedding ceremony called Sehra Bandi is also filmed happening. This is usually when a garland is tied to the groom's turban.
In Pakistani weddings, this can be a very emotional moment for the groom's family. Some see it as a transition from boyhood to manhood.
The bride's sister captured another special moment, which is when the couple gave consent for the wedding to happen.
This seems to have taken place at home, whilst celebrations continued afterwards at another venue.
The bride is presented to the guests by her family. She is wearing a light peach colour lehenga and holding a bouquet of roses.
At the end of the video, when the Doli ceremony is happening a small incident took place. Despite the minor blip, as Shakespeare said: "All's well that ends well."
Watch the video here: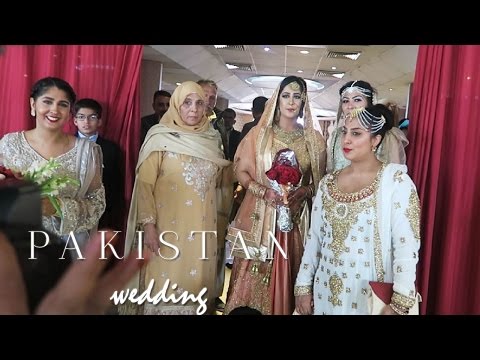 Tishya and Pradyut
Unlike other videos we spoke about, the popularity of this one has nothing to do with the bride and groom.
In fact, they have to thank Tishya's mother who gave a very heart-touching speech at her wedding. The video, which lasts around 15 minutes had over four million viewers.
"This is my daughter's story, so it's going to last long," the mother said to her guests. She then asked if they were going to be patient.
While the crowd cheered yes, she started telling them how her daughter came into the world a week late.
A mother's love towards her children is the purest and deepest of all, and this is what the video is all about.
With her kind words, she spoke about everyone related to Tishya and about the special moments they shared with her.
She mentioned how happy the bride's grandma was when she was born. About her "mamu", Tishya's uncle, who used to smile only when he saw his niece.
Her speech included many more people. While she was walking down memory lane, her daughter could not stop crying.
Here's what Tishya told DESIblitz:
"I am not someone who cries very easily, I was already living away from home for a long time anyway. It wasn't like anything huge was changing in my life.
"But I was sobbing like a baby the whole time. The cutest thing is that sitting next to me was my mother-in-law, who was crying as much as I was.
"It was just overwhelming, she captured my entire life in that speech, and she went through all those photos."
Tishya is originally from Delhi and Pradyut is from Bangalore. Despite being from different parts of India, they managed to meet in Mumbai.
People loved the speech, in fact, Shivani said:
"This family looks so educated and classy. Perfect example of modernisation yet holding tradition and values."
Geet instead wrote: "This speech made me cry. She is such a good writer and her voice is magical. You have an awesome mother. Tishya and Pradyut I wish you a very happy married life."
Watch the speech here:
Rosh and Revathy
This couple became husband and wife in Kerala on June 5, 2017. Rosh and Revathy – Traditional Royal Wedding Highlights is the title of this video, which went viral with over four million views.
Rosh and Revathy are posing in front of a car while they have rose petals thrown at them. The outfits are different from any other Indian wedding.
The groom is, in fact, wearing a bronze colour shirt and a white Veshti (silk dhoti). On the other hand, the bride is wearing a dark pink colour Saree with heavy gold jewellery.
While the South Indian song, 'Enthaaraa Enthaaraa' plays swiftly, the respective families of the bride and groom appear in the video for the filming.
The video doesn't fail to show their wealth. It captured, in fact, the big house, the gold, the car and various other accessories.
A huge crowd attended the wedding, with the hall full of people, they captured the Muhurtam. This is an auspicious moment when the groom ties a Mangalsutra around the bride's neck.
The bride and groom after the wedding changed their clothes and left for the reception party.
At the event they highlighted the music playing, people dancing and the food being endless.
Watch the couple's video here: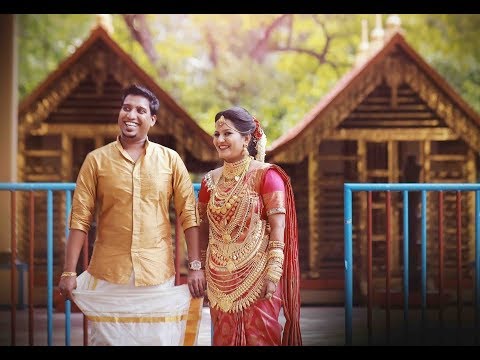 Sham and Saher
Pakistani-origin Sham Idrees, is a Canada-based YouTuber. His wife Saher, famous as Queen Froggy is also an online public figure.
There is only one word to describe their wedding, which is "dreamy". The video gained over a million and a half views.
What distinguishes this wedding from the other Asian weddings is that it has a funny side to it. People are playing with each other and Sham jokes on having a runaway bride.
They show the groom struggling to put a pocket square, therefore, requiring his brother's help.
Although the video starts with the groom getting ready for the day, it mainly concentrates on the reception party.
He arrived at the hall in an elegant white colour Rolls-Royce. A happy crowd went onto greet Sham next.
She chose to wear a very modest white dress. They danced, listened to stories from friends and relatives and shared lots of love.
Considering the couple already had a following, their fans were waiting impatiently for the wedding day.
In fact, one of their fans said: "Congrats Sham and Froggy. Finally, this day has come and honestly, I still cannot digest it."
Rasulla commented: "So happy for you guys, I always wish you a happy married life."
Another fan replied: "These two were going to prove boys and girls can be best friends now look at them."
Watch the couple's video here: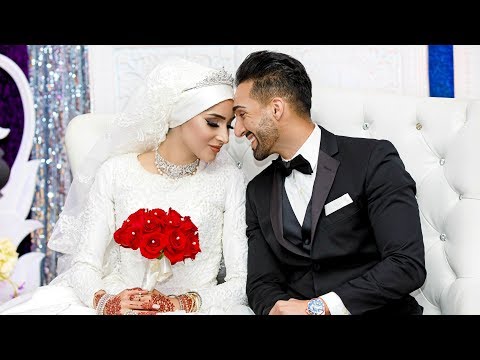 Tavneet and Kiran
Tavneet and Kiran's reception Bhangra video reached over a million views. People did enjoy their amazing performance as they were trending as #couplegoals.
The video starts with the groom and his friends dancing on Dilpreet Dhillon's song 'Location'. Kiran and the guests sit around the stage admiring the dance.
Wearing a charming white colour lehenga, Kiran reached the stage with her friends almost halfway through the video.
The party continued with everyone dancing together while entertaining their guests.
Their fans were waiting for a wedding performance video, as it came after the couple uploaded one for their engagement.
Tavneet, in fact, is the choreographer to a surprise dance involving his mom and dad. Their followers thought the video was "heartwarming".
Talking to DESIblitz, Kiran said: " We believe we started gaining popularity when Tavneet proposed to me.
"He spent 6 months making a scrapbook filled with pictures, tickets, notes, and drawings I gave him during our entire relationship.
"He even kept a bus transfer from the very first birthday he spent with me. On the very last page of the scrapbook, he asked me to marry him, it was beautiful.
"The proposal video was uploaded to YouTube and Instagram and we slowly started gaining followers."
Their fans also know them as "Jatt di Queen". The couple met at the age of 14 at a local dentist's office.
Kiran added: "We grew up with one another, shared every aspect of our lives with each other and overcame any obstacle you could think of.
"Thirteen years later here we are, best friends, married and so in love."
Watch the couple's video here: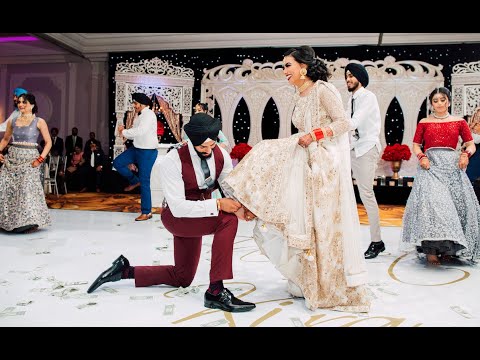 Asian weddings are quite a unique experience as visible in the above videos. Each one of them reached popularity for different reasons.
Some people fell in love with the couple's love story, others liked seeing a sassy bride in action. Many more instead wish they could have a wedding similar to these.
People are also displaying their videos on other easily accessible platforms, such as Instagram and Facebook.
Big fat Asian weddings are only getting bigger and fatter and accessible platforms are becoming more common places to showcase them.