"I think my video broke the stereotype of the shy Indian bride."
An Indian bride has become an internet sensation with a fun video, showing her getting ready for her wedding.
Amisha Bhardwaj created the video with CoolBluez Photography, which has quickly turned into a viral hit. It has currently gained over 7 million views, with 24,000 liking the footage.
However, while it appears fun and vibrant, the video also challenges typical attitudes towards Indian weddings. With a particular look on Indian brides.
The viral hit follows Amisha's wedding day, taking place in Huahin, Thailand. It depicts the young Indian bride lipsynching to Sia's 'Cheap Thrills'. Meanwhile, she gets ready for her big day, as others apply her makeup and help her put on her wedding outfit.
In other clips, Amisha Bhardwaj also poses and dances with her friends on the big day. Wearing casual clothes, they show off their intended wedding outfits on clothes hangers.
The Indian bride in question wears white shorts with her bridal top, along with sunglasses. But by the end, she looks stunning as she wears a peach-coloured lehenga, complete with dazzling jewellery.
Combined with her tongue-in-cheek nature, many have commented on the overall tone of the video. While some praised Amisha, others criticised her for differing from the typical Indian bride image.
Watch the viral video here: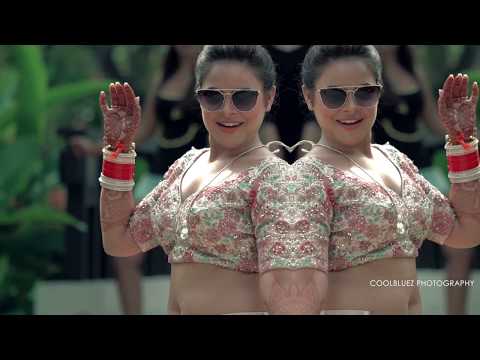 While Amisha Bhardwaj appeared surprised at the success of the footage, she believes it holds a great message for Indian weddings.
She said: "I think my video broke the stereotype of the shy Indian bride, who is not supposed to dance, and definitely not wear the kind of clothes I am wearing in the video.
"The script for the Indian bride has been the same for ages – she is supposed to be shy, not laugh and smile sporadically, and cry while leaving her parents' house. But now the modern Indian bride is writing her own script."
Amisha calls herself as "the confident young woman of modern India". And it certainly does seem that attitudes are changing in how grooms and brides should behave.
But what did Amisha's groom, Pravan Singh, think of the video? He explained: "I hope this video will give many people, especially grooms, a reason to believe that we must break the myth of the shy Indian bride."
But, Indian weddings have also seen an increase in special videos becoming created as a tribute to the big day. While Amisha has created an unusual, yet inspirational video, others have gone for montages of their actual wedding.
Famous examples include the YouTube video of Bipasha Basu and Karan Singh Grover's wedding.
The owners of CoolBluez Photography, Pawandeep Singh and Supreet Kaur, explained how Indian brides have changed their perception of their special day.
Supreet said: "Brides realise that the wedding is the most important event of their life, and they want to be their true self."
It seems that in time, the stereotype of the shy Indian bride will become a thing of the past.